2. California wildfires: Death toll sets record as Santa Ana winds continue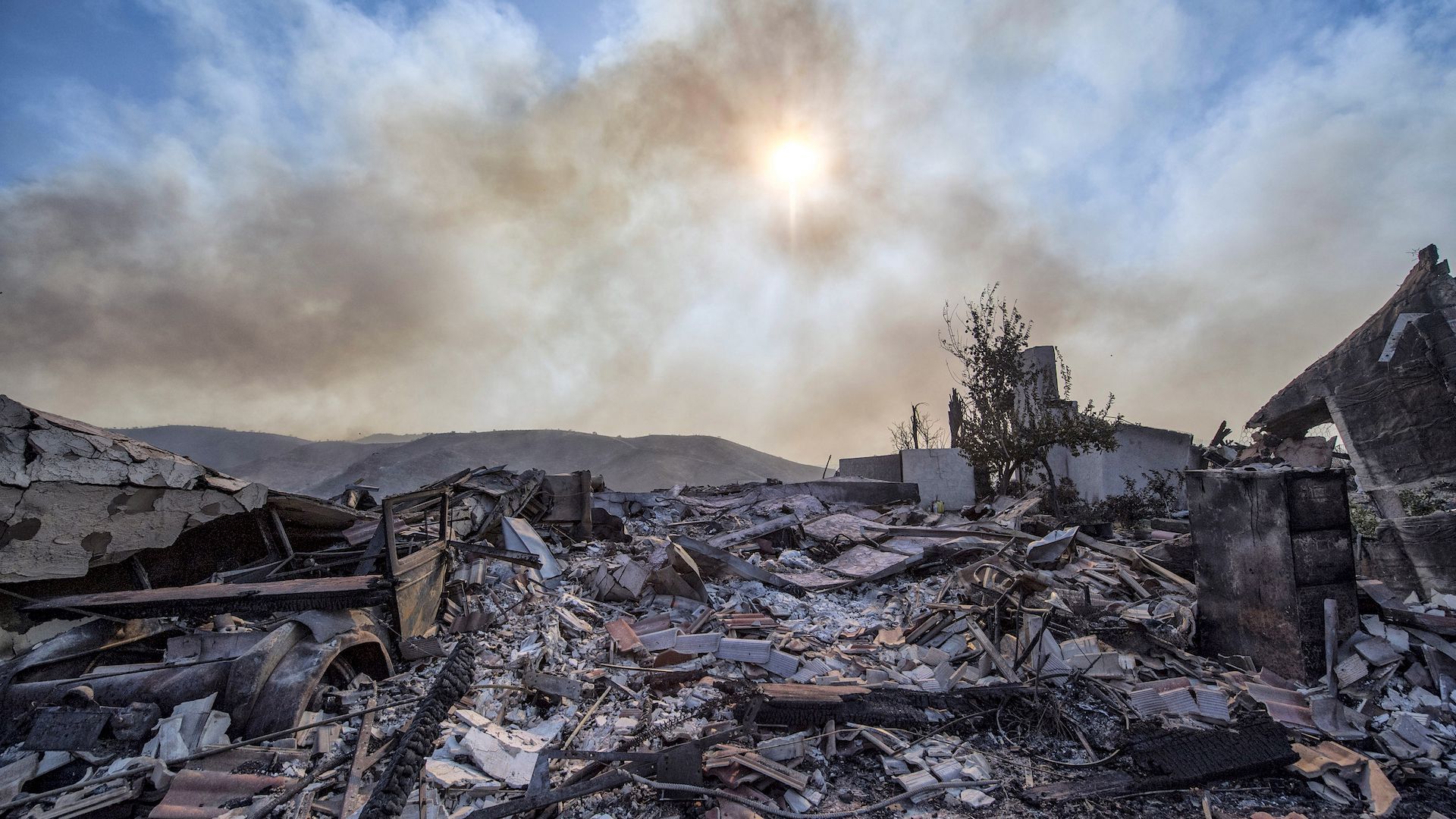 California's wildfire siege continues, and may yet worsen Monday and Tuesday as thousands of firefighters continue to battle massive blazes up and down the state. Fanned by strong Santa Ana winds and taking advantage of near-record dry conditions, the fires are roaring into both neighborhoods and the record books.
The big picture: With at least 29 fatalities as of Monday morning, the Camp Fire has become the state's deadliest wildfire on record since 1933. With more than 200 people still missing, this wildfire, which all but destroyed the town of Paradise, about 90 miles north of Sacramento, is likely to overtake the Griffith Park Fire to become the state's deadliest such event on record. It's already the state's most destructive fire, having consumed at least 6,713 structures, including more than 6,400 homes.
The latest: Another dry, warm and blustery day is forecast across California on Monday, with Santa Ana winds leading to "extremely critical" wildfire danger in areas affected by the Camp Fire and the Woolsey Fire, which is burning in Ventura and Los Angeles Counties. The fire danger will remain at unusually high levels through at least Tuesday, according to the National Weather Service.
The Woolsey Fire has burned 91,572 acres as of Monday morning and was 20% contained. It has destroyed an estimated 370 structures, killed at least two people, and forced the evacuation of the entire community of Malibu.
Nearly two dozen helicopters continuously dumped water and fire retardant on the blaze Sunday to protect more homes.
The broader context: Fire season is now running year-round in California, and studies show that warmer, more parched dry seasons that last longer into the fall are consistent with expectations from climate change. They are also a key part of what's elevating wildfire risk, according to researchers.
The trends: California is experiencing one of its worst wildfire seasons on record, on the heels of a historic 2017. This year, the Golden State had its hottest month in state history and was scorched by the largest fire the state has ever recorded.
One of the biggest changes firefighters are having to contend with is an uptick in instances of extreme fire behavior, such as the massive EF-4 fire tornado that accompanied the Carr Fire in July.
Other data shows stark trends, too:
At the regional level, northern California has had its worst fire season on record this year, in terms of acres burned.
California has had one of its warmest and driest six month periods on record since 1895 (May through October), according to NOAA. Much of California has not seen measurable rain in months, and vegetation moisture levels are near all-time lows. This provides abundant "fuel" for fires to burn.
Longer-term climate change, land management practices and population growth are combining to cause increased wildfire risk in California, including in highly populated areas.
The bottom line: The 2018 fire season is a preview of what's to come as California continues to experience the effects of climate change, population growth and other trends that are raising wildfire risks year-round. Go deeper:
Go deeper