Scoop: Democrats to probe Trump for targeting CNN, Washington Post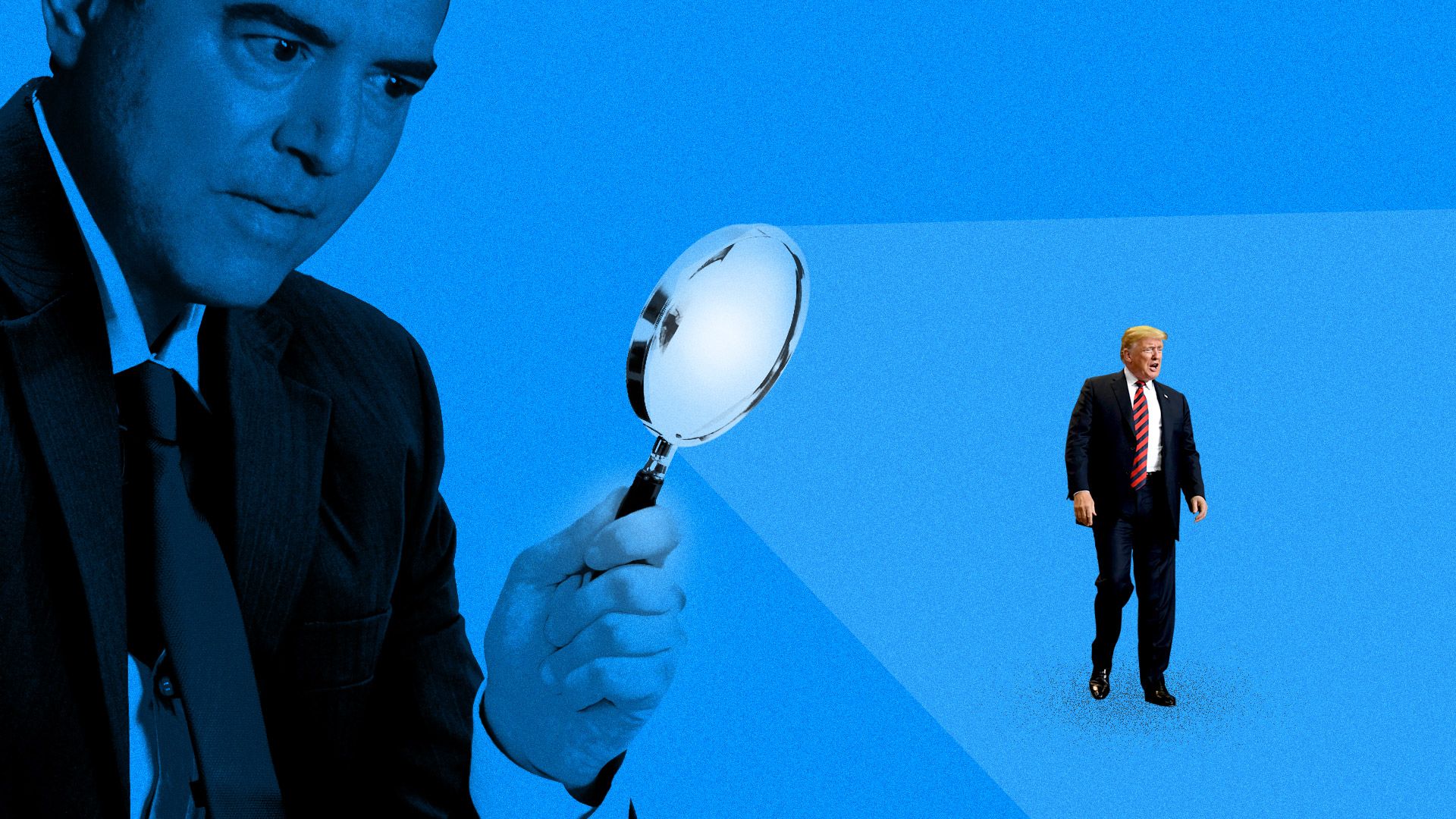 House Democrats plan to investigate whether President Trump abused White House power by targeting — and trying to punish with "instruments of state power" — the Washington Post and CNN, incoming House intelligence committee chairman Adam Schiff said in an interview for "Axios on HBO."
Why it matters: Until now, all Trump critics could do is complain about his escalating attacks on the media. With subpoena power and public hearings, the incoming House Democratic majority can demand emails and testimony to see if Trump used "the instruments of state power to punish the press," Schiff said. 
"It is very squarely within our responsibility to find out," he said in the interview, which will air Sunday evening on HBO. 
Schiff brought up two avenues of inquiry with press-freedom themes, aimed at investigating possible administration actions targeting two of the nation's highest profile corporations.
1) Schiff said Trump "was secretly meeting with the postmaster [general] in an effort to browbeat the postmaster [general] into raising postal rates on Amazon."
"This appears to be an effort by the president to use the instruments of state power to punish Jeff Bezos and the Washington Post," Schiff said. Jeff Bezos is founder, chairman and CEO of Amazon, and he owns the Washington Post. 
2) Schiff said Congress also needs to examine whether Trump attempted to block AT&T's merger with Time Warner as payback to CNN.
"We don't know, for example, whether the effort to hold up the merger of the parent of CNN was a concern over antitrust or whether this was an effort merely to punish CNN," Schiff said.
Between the lines: Schiff's warning comes amid the tensest showdowns between the presidency and the press in our lifetimes. Trump, who calls much of the media "the enemy of the people" and "fake news," this week took the extraordinary steps of revoking the press credentials of a CNN correspondent and berating another CNN correspondent for asking "stupid" questions.
Trump says other reporters might be banned from the White House, too. 
Be smart: Some senior White House officials were uncomfortable with Trump's fixation on his inaccurate belief Amazon was ripping off the U.S. Postal Service.
Several former senior officials tried to explain to Trump that the Postal Service's billion-dollar losses had nothing to do with Amazon. But Trump simply wouldn't accept their arguments, according to two sources with direct knowledge.
Trump, in private, often vents about Bezos and the Washington Post. In an interview with "Axios on HBO" last week, Trump said he's considering antitrust action against Amazon, but made plain he might not pursue it. 
Go deeper:
The second episode of Axios on HBO airs Sunday evening at 6:30 pm ET/PT. 
This episode includes: interviews with incoming congressional committee heads, House Democrats Nita Lowey and Adam Schiff; a poll that probes Republicans' and Democrats' perceptions of one another; and a look at a new style of campaigning by a record number of female candidates.
Go deeper