The uprising for higher wages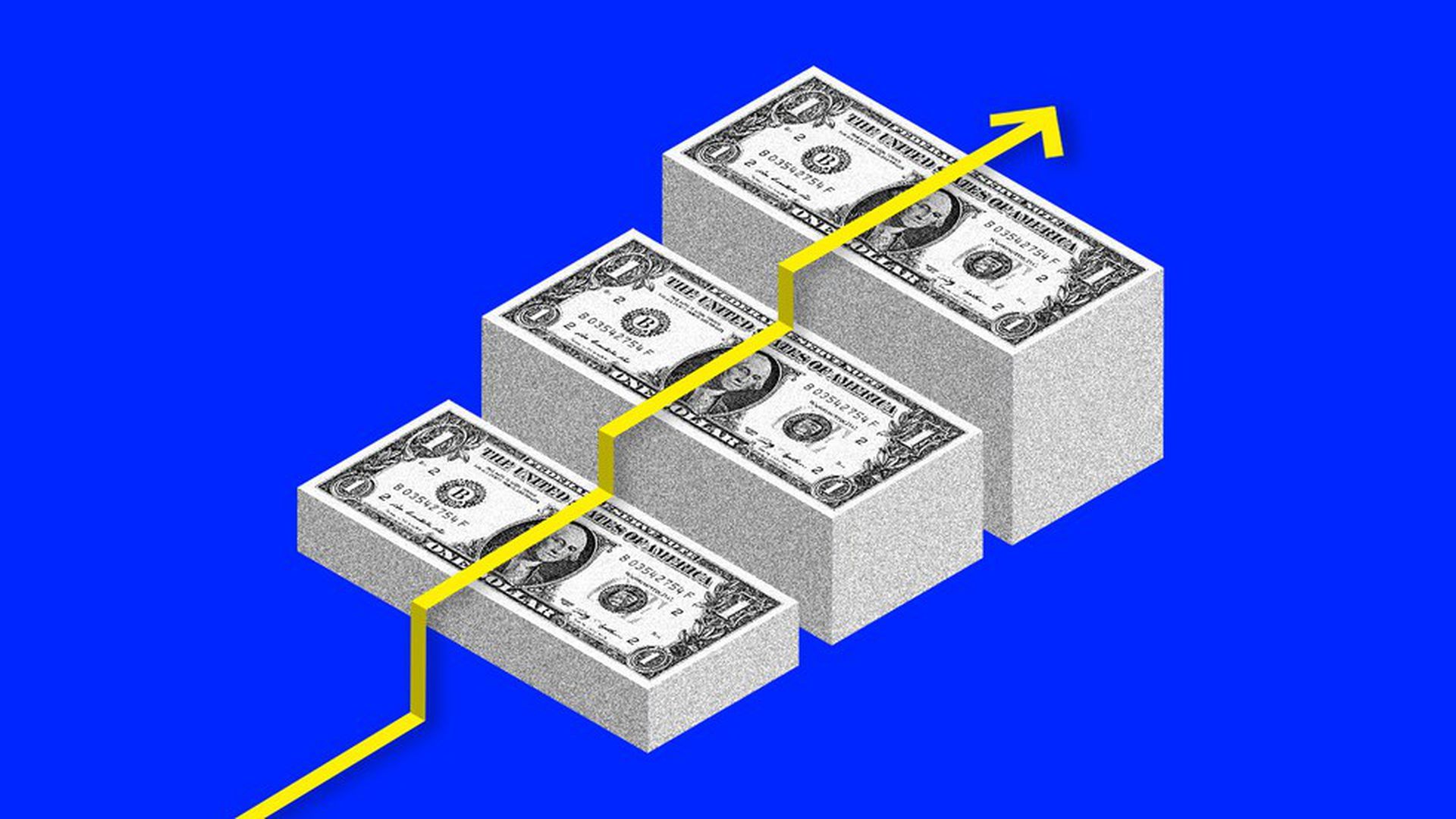 Facing stubborn company resistance to higher wages in the tightest U.S. labor market in a half century, increasing numbers of cities and states are forcing employers to push up their pay.
The big picture: Despite a tightening labor market, wage growth has remained sluggish. Against this trend, 10 large cities have passed $15-an-hour minimum wages, in addition to the state of California. New York has set a $15 minimum for fast-food workers, and Massachusetts for home health workers. In Tuesday's elections, two red states — Arkansas and Missouri — passed higher hourly minimums of $11 and $12, respectively.
By the numbers: Wages have risen by 3.1% year on year, the Bureau of Labor Statistics reported last week — well below the 3.5% to 4% they routinely increased during the tight labor markets of the 1990s and 2000s.
The backdrop: Labor's share of national income has plunged since 2000, according to the St. Louis Fed, and wages have been largely flat since. The rise in corporate profit is far outrunning labor income, the Fed branch said. (h/t Heather Long).
The tipping point for the pushback was the 2016 elections, in which Democratic presidential contender Bernie Sanders made a $15 minimum his central plank — more than double the $7.25 federal minimum.
At the time, his demand was widely seen as outlandish, but now it's been mainstreamed.
"There is some sign that the public is impatient with the state of affairs," Brookings' Mark Muro says. "If companies and the marketplace are not going to take care of us or their own, the public is stepping in."
Gad Levanon, chief economist at The Conference Board, a think tank, says the spurt in $15-an-hour minimums reflects not only public dissatisfaction, but company resignation to a new environment.
"The opposition of companies to a rise in the minimum wage is weakening when they realize they have to raise them anyway," Levanon says. "If you had a weaker labor market, they would fight more."
Between the lines: Leading economists are not convinced that the hikes — in both red and blue states — amount to a nascent pro-labor public groundswell.
Alan Krueger, chairman of the Council of Economic Advisers under President Obama, tells Axios that the economic and public policy environments have become decidedly less favorable for labor.
"A lot has changed," Krueger said. "Unions are weaker and the chance of unionization is lower; labor laws, such as an emphasis on arbitration over allowing the courts to adjudicate enforce workers' rights, have shifted against workers; employer concentration has increased, especially in national markets, etc."
The bottom line: David Autor, an MIT professor and one of the world's most respected labor economists, said low unemployment would have to continue for many years to reverse the decades of flat wages.
"And even if that were to come to pass (which it rarely done)," Autor tells Axios, "it's far from certain that this would restore the sizable fall in labor's share of national income since 2000."
Go deeper