Rick Scott files suit against election officials as Senate race tightens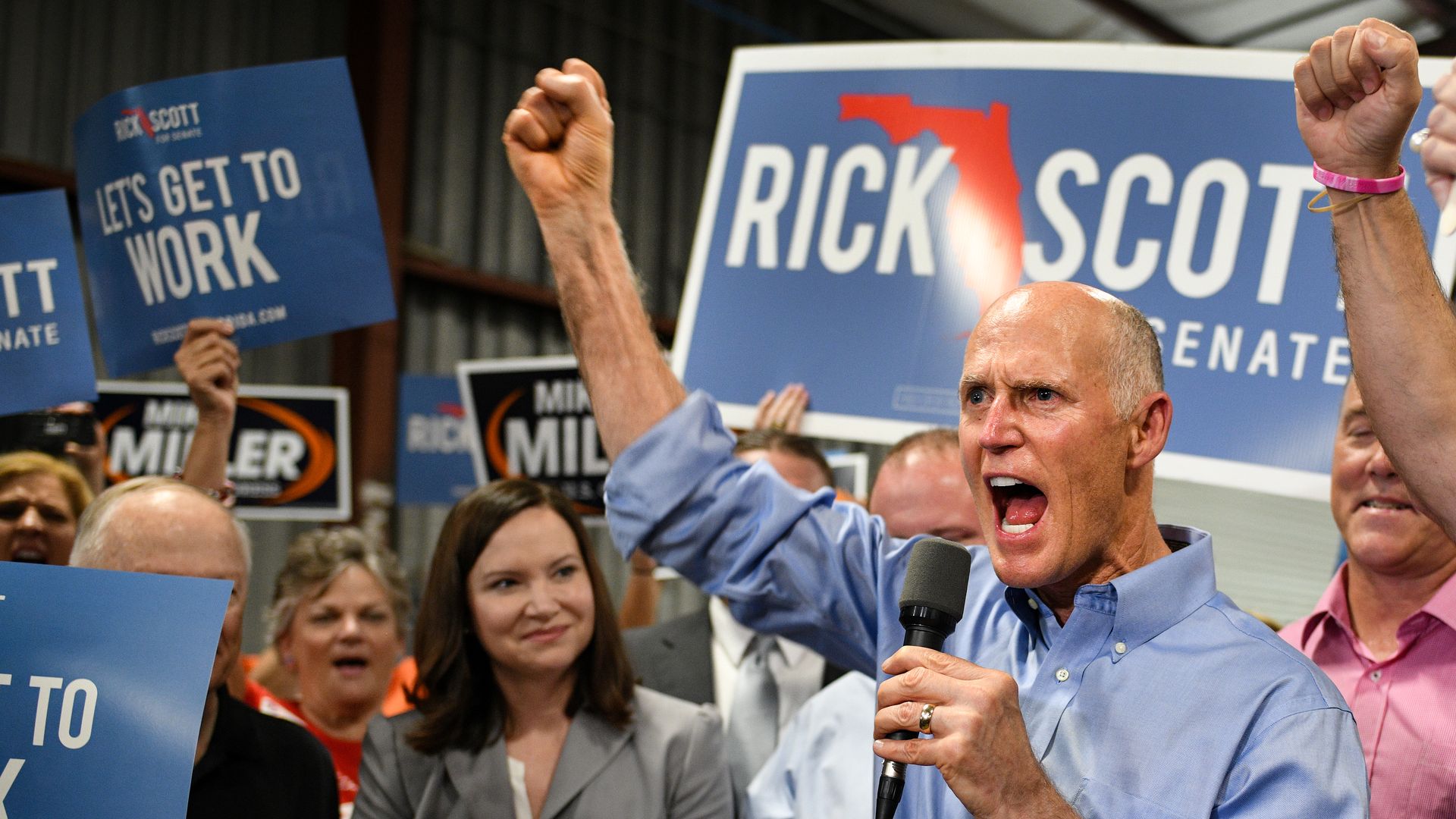 Florida Governor Rick Scott (R) and the National Republican Senatorial Committee filed a lawsuit late Thursday against the Broward County Supervisor of Elections alleging that the office withheld information on the number of outstanding ballots and how many people voted in the state's closely-watched Senate race, which could be headed to a recount.
What's happening: Scott claimed victory in the race Tuesday night against incumbent Democratic Senator Bill Nelson. But since then, the vote gap between the candidates has been narrowing. According to local reports, early voting and vote-by-mail ballots are still being counted in Broward County, and ballots that were mailed in are being tallied in Palm Beach County, both of which are heavily Democratic.
The backdrop: Florida's hotly contested gubernatorial race between Democrat Andrew Gillum and Republican Ron DeSantis is inching toward a mandated recount. DeSantis' lead has narrowed to a margin of 0.47%.
The details: "I will not sit idly by while unethical liberals try to steal this election," Scott told reporters at a press conference Thursday night. Scott called out Marc Elias, an attorney whom Nelson hired, and claimed that he's trying to "steal the election." They're "mysteriously finding more votes," Scott said.
The lawsuit demands an emergency court hearing on the matter.
The latest vote totals show Scott has a 0.18% margin over Nelson. Under state law, a recount is required when the winning margin is 0.5% or less.
In response to the suit, Nelson's campaign said in a statement: "The goal here is to see that all the votes in Florida are counted and counted accurately. Rick Scott's action appears to be politically motivated and borne out of desperation."
President Trump tweeted about the race Thursday evening saying, "Law Enforcement is looking into another big corruption scandal having to do with Election Fraud in #Broward and Palm Beach. Florida voted for Rick Scott!"
Go deeper