1. Trump makes voting great again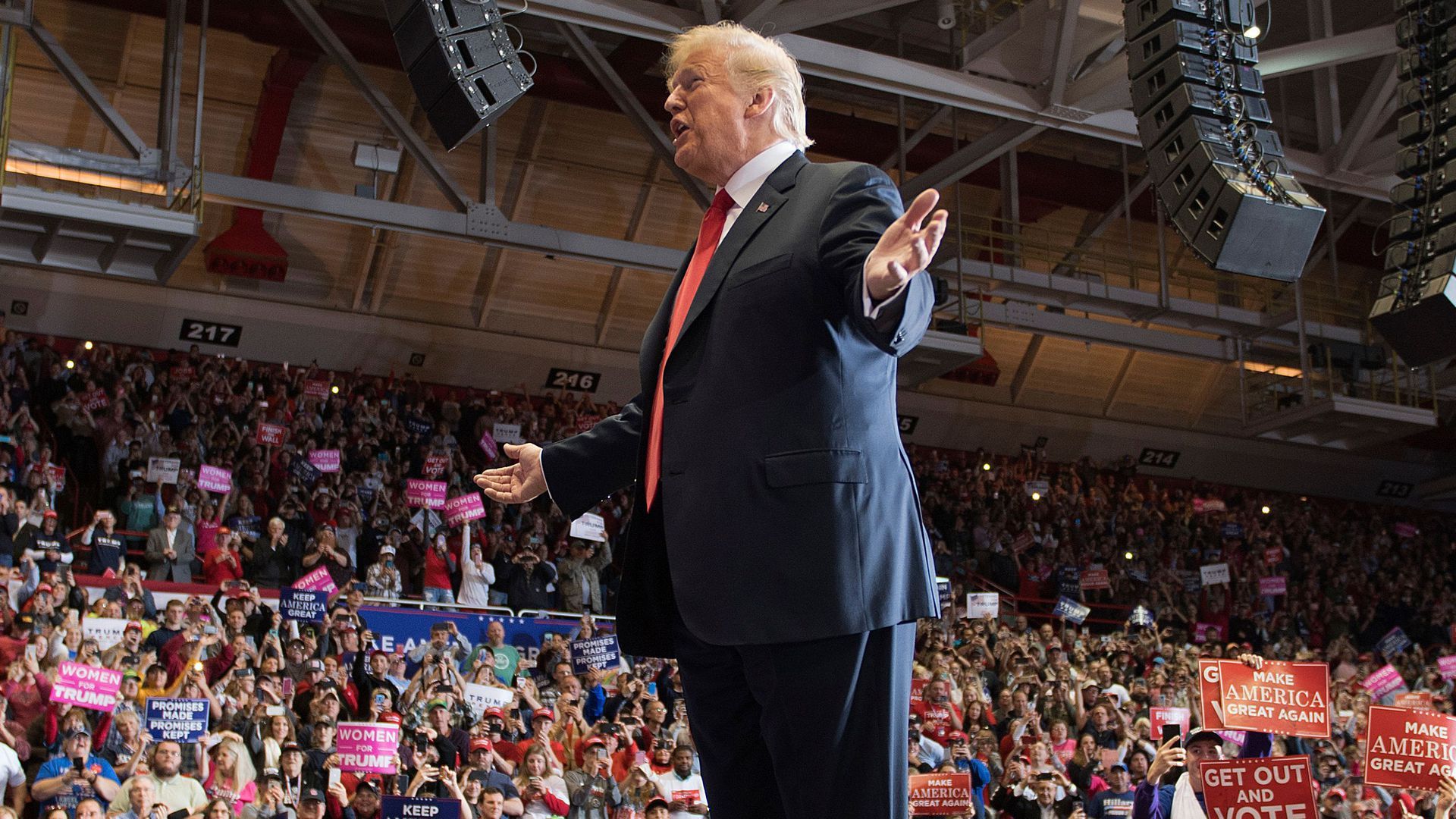 It took Donald J. Trump to do what do-gooders, activists, politicians and TV ads failed to do: get the American public interested in midterm elections and the consequences of voting.
The big picture: The dirty, sad truth of congressional elections is Democrats typically suck at voting in midterms. Mostly old, mostly white voters are usually the only ones bothering to show up. Hence, GOP dominance, especially in House races these past few decades. But no more: Everywhere you look you see signs of record-setting voting on both sides. It's the only bipartisan show in town! 
Polls show record interest in voting — both across the board, and among minority groups. The Wall Street Journal/NBC News poll found that 81% of likely voters expressed high levels of interest, the most in any midterm since the poll began tracking voter interest in 2006.
Polls show the possibility of record youth voting. More than 2.3 million voters under 30 have already voted this year, according to Tom Bonier, CEO of the Democratic political data firm TargetSmart. At this point in the 2014 midterm cycle, 849,876 voters under 30 had cast ballots.
And early voting is setting records across the board (at least partly because it's more available): 30 states reported exceeding their total number of mail and in-person votes cast ahead of the 2014 midterms, per AP.
The current president, the last president and celebrities engaged as never seen before:
Trump's fall road show culminated with 11 rallies in eight states in six days, with a triple-header yesterday.
In an unprecedented swing for a former president, President Obama held a dozen rallies in 16 days. Yesterday, Obama surprised volunteers at a Fairfax County, Va., field office for Sen. Tim Kaine.
Jeff Bridges, who played The Dude in "The Big Lebowski," campaigned for Sen. Jon Tester (D-Mont.).
Be smart: To the delight of both sides, in a series of technically local and state races, Trump succeeded in his dream of putting himself on the midterm ballot.
P.S. ... The WashPost's Josh Dawsey has a look at Trump's final push: "Early in the day, the president said that people once didn't care about the 'boring' midterm elections. 'Now it's like the hottest thing,' he said."
Go deeper:
Go deeper