Oil-rich Norway, loved by Trump, tries to go big on climate change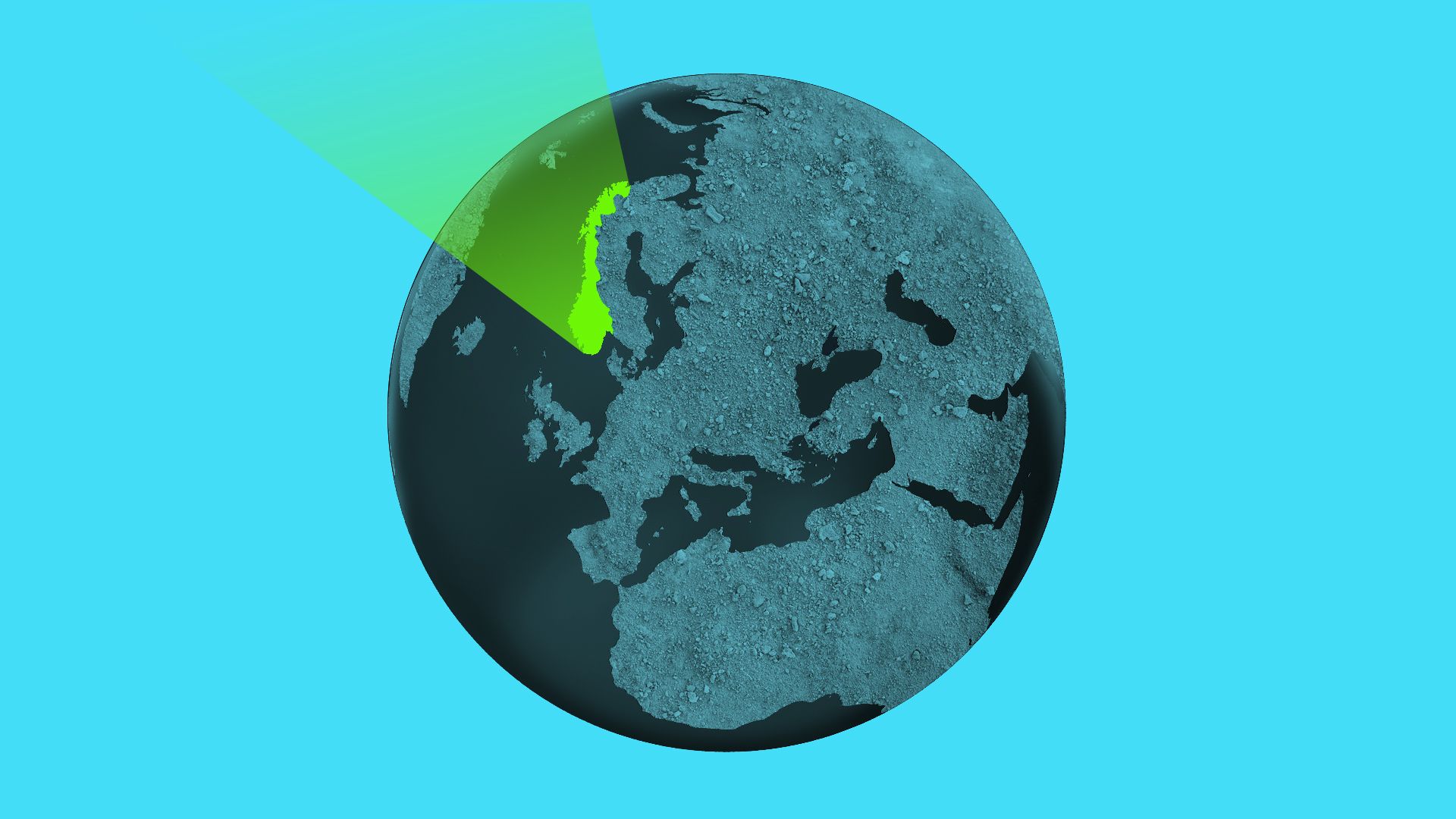 MONGSTAD, Norway — This Nordic nation offers a window into how an economy fueled by oil and natural gas can attempt aggressive action on climate change.
Why it matters: It sounds contradictory, but given that our world has remained 81% dependent upon fossil fuels for the past 30 years, cutting greenhouse gas emissions while using these fuels is probably going to be unavoidable. In two separate upcoming decisions, Norway will show the extent to which it's committed to its climate ambitions and diversifying its wealth, which is largely derived from oil.
The big picture: President Trump has said he likes Norway, though it's not clear why.
This admiration comes despite the fact that Norway has some socialist policies, most notably its staggering tax rate of 78% on oil and natural gas production.
The money raised goes into its sovereign wealth fund, the largest in the world at nearly $1 trillion.
That high tax rate was left out of a White House report issued last week seeking, in part, to debunk the notion that Nordic countries have socialist policies by pointing to their low corporate tax rates.
Driving the news:
The Norwegian government will decide this autumn whether its sovereign wealth fund will divest from oil and natural gas stocks. If it does, it would boost efforts around the world to urge investors to drop fossil-fuel investments as concerns grow about climate change.
Norway is also set to decide in the coming years whether to fund what would be one of the world's most ambitious initiatives to capture and store underground carbon dioxide emissions. The technology is technically possible, but prohibitively expensive in most instances.
If Norway follows through here, it would be a pivotal step toward showing the financial commitment many experts say is needed to address climate change in our fossil-fuel driven world, including commitments laid out in the 2015 Paris climate accord.
Between the lines: Inaction on either of these fronts would raise a difficult prospect: If Norway — rich from its fossil fuels and genuinely ambitious about addressing climate change — doesn't follow through, who would?
The intrigue: One misty October morning, I was on a tour of an industrial site here considered the largest test facility in the world for technologies capturing CO2 emissions, 10 times larger than the biggest one in America. Owned by four European energy companies and the Norwegian government, the facility is now a testing ground for several American companies.
The Energy Department has this year awarded funding for five U.S. companies to do work here, for a total of roughly $35 million.
This type of technology is crucial "so that the United States and the world can use fossil fuels and reduce greenhouse gas emissions," said Steve Winberg, assistant secretary for fossil energy at the Energy Department, who visited Norway this summer.
Indeed, technology capturing CO2 emissions is vital for oil and natural gas to thrive in a world addressing climate change. Norway's actions are as much for its own economic survival as they are for the planet.
Norway's oil and natural gas sector accounts for almost 40% of its export revenues and more than 15% of the country's gross domestic product.
That economic backdrop has the government considering divesting from oil and gas stocks in its sovereign wealth fund.
Norwegian officials say its decision isn't related to climate change, but that's a distinction without a difference. Concerns are growing about being too dependent upon oil and gas precisely because the world is looking to curb emissions from fossil fuels.
"We are so exposed to oil and gas because a large part of our economy is based on oil and gas activities," Ingvil Smines Tybring-Gjedde, State Secretary of Norway's Ministry of Petroleum and Energy, said in an interview after a recent dinner event in Oslo. "It's a huge misunderstanding. We did not want to withdraw from oil and gas because it's oil and gas. It's to be not exposed as much to oil and gas."
What's next: After the imminent decision about the sovereign wealth fund, the focus will turn to whether the carbon capturing project goes through.
That €1.6 billion proposal includes capturing emissions at two separate facilities — a cement manufacturer and a power plant that burns garbage for electricity — and then storing the CO2 under the seafloor.
The catch, as Tybring-Gjedde said at the Oslo event, is that the Norwegian government says it can't fund the project on its own.
"It is necessary to do something about the climate that we are looking at," Tybring-Gjedde said. "However, we need European partners because it will be difficult to carry the financial burden of this project on our own."
Go deeper