The outrage over insulin prices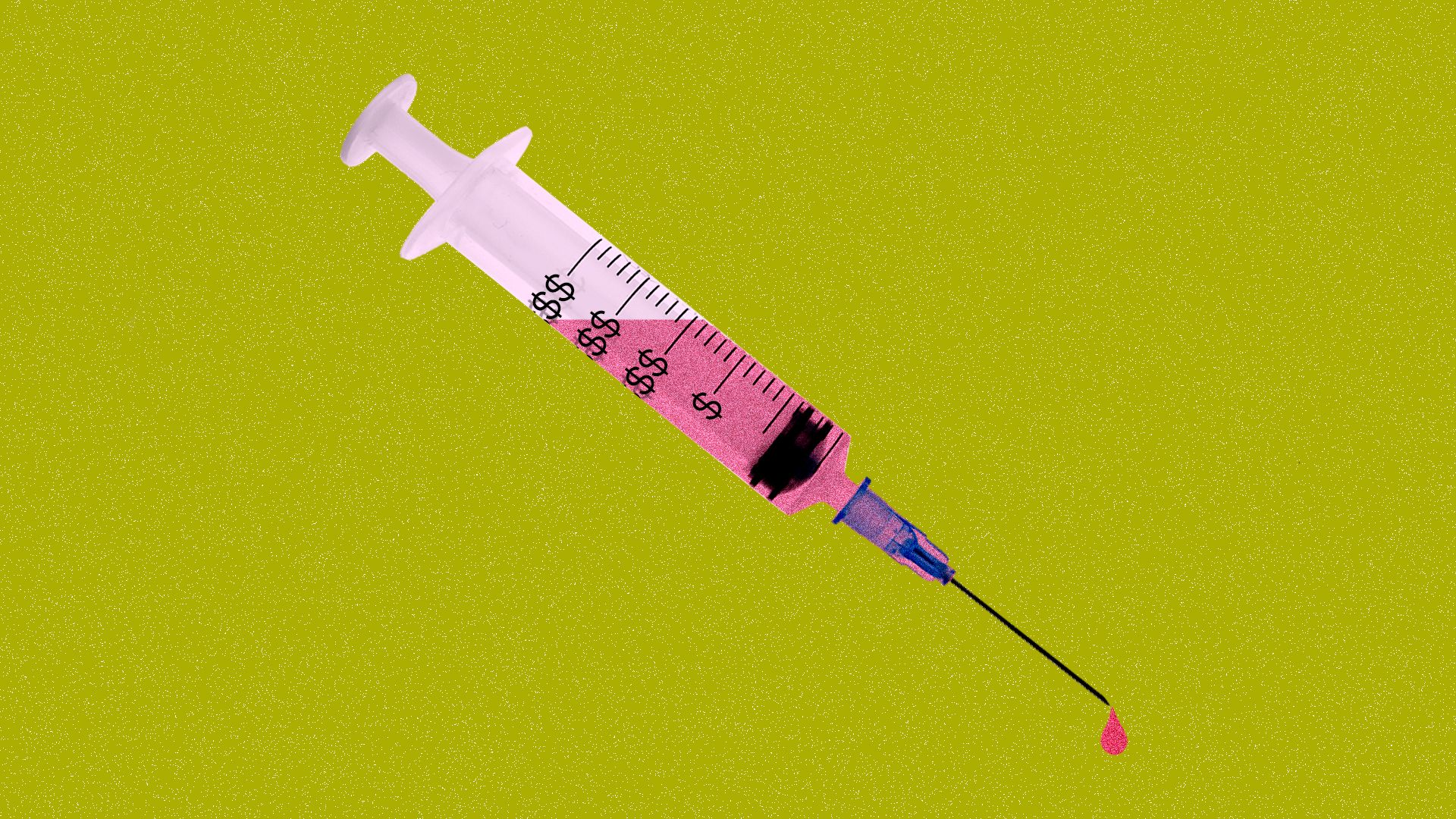 The rising price of insulin has created a multibillion-dollar business for the pharmaceutical oligopoly that controls the market — and a deep sense of anger and fear among people who need the drug to stay alive.
The big picture: Insulin pricing is especially urgent because it's an old drug with no alternatives that millions of people depend on. But unless drug makers voluntarily lower their prices, after raising them for years, there's no easy path to make insulin more affordable.
By the numbers: Eli Lilly, Novo Nordisk and Sanofi control almost the entire insulin market. Together, those companies had about $22 billion in global insulin revenue in 2017.
These are the per-vial list prices for common insulin brands, according to Elsevier's Gold Standard Drug Database:
Novo Nordisk's Novolog: $289
Eli Lilly's Humalog: $275
Sanofi's Lantus: $270
Walmart sells an older type of insulin for $25 a vial, but many patients don't want to switch treatments.
Between the lines: Most patients don't pay the full list price for insulin, but people who are uninsured or have a high-deductible insurance plan do.
Why it matters: "It's really one of my greatest fears," said Clayton McCook, who has to meet a $3,000 annual deductible to cover medication and supplies for his diabetic 10-year-old daughter. "If insulin is $300 a vial now, what's it going to look like in 20 years when she's on her own?"
What they're saying: Eli Lilly did not respond to requests for comment. Novo Nordisk and Sanofi submitted comments, saying they have been working on ways to lower insulin costs for years.
Generally, the companies also have placed blame on insurance middlemen, arguing they're taking bigger cuts of the insulin market through rebates.
That's true — but the drug companies have also raised their prices and used the patent system to keep them high.
Today's insulin is better than past versions, said Jeremy Greene, a primary care doctor and historian at Johns Hopkins Medicine who has studied insulin. But incremental patenting has led to "wild inflation in the cost of living for a person living with diabetes," he said.
Northwestern University health economist Craig Garthwaite said higher prices suggest newer insulin is better, and "that is an innovation that has been priced in."
There are few easy solutions to bring down insulin prices.
Civica Rx, the new not-for-profit drug company, may manufacture insulin in the future. But insulin is a complex drug to manufacture, and existing manufacturers have created patent thickets to shield their products from competition.
Nationalizing insulin production would lower costs, but it would face major backlash.
Many policy analysts want to entice companies to make biosimilar versions of insulin, which would be cheaper than brand-name products. However, biosimilars don't lead to the same steep discounts that traditional generics produce. Biosimilar insulin would "not get us back to $7 or $15 or even $50 a vial," Greene said.
Redirecting middlemen's rebates to patients at the pharmacy counter would help reduce out-of-pocket costs, but would lead to higher insurance premiums, Garthwaite said. And it would not help the uninsured.
Update: The story has been updated with comments from Sanofi.
Go deeper:
Go deeper