In Washington state, a test of progressive climate policy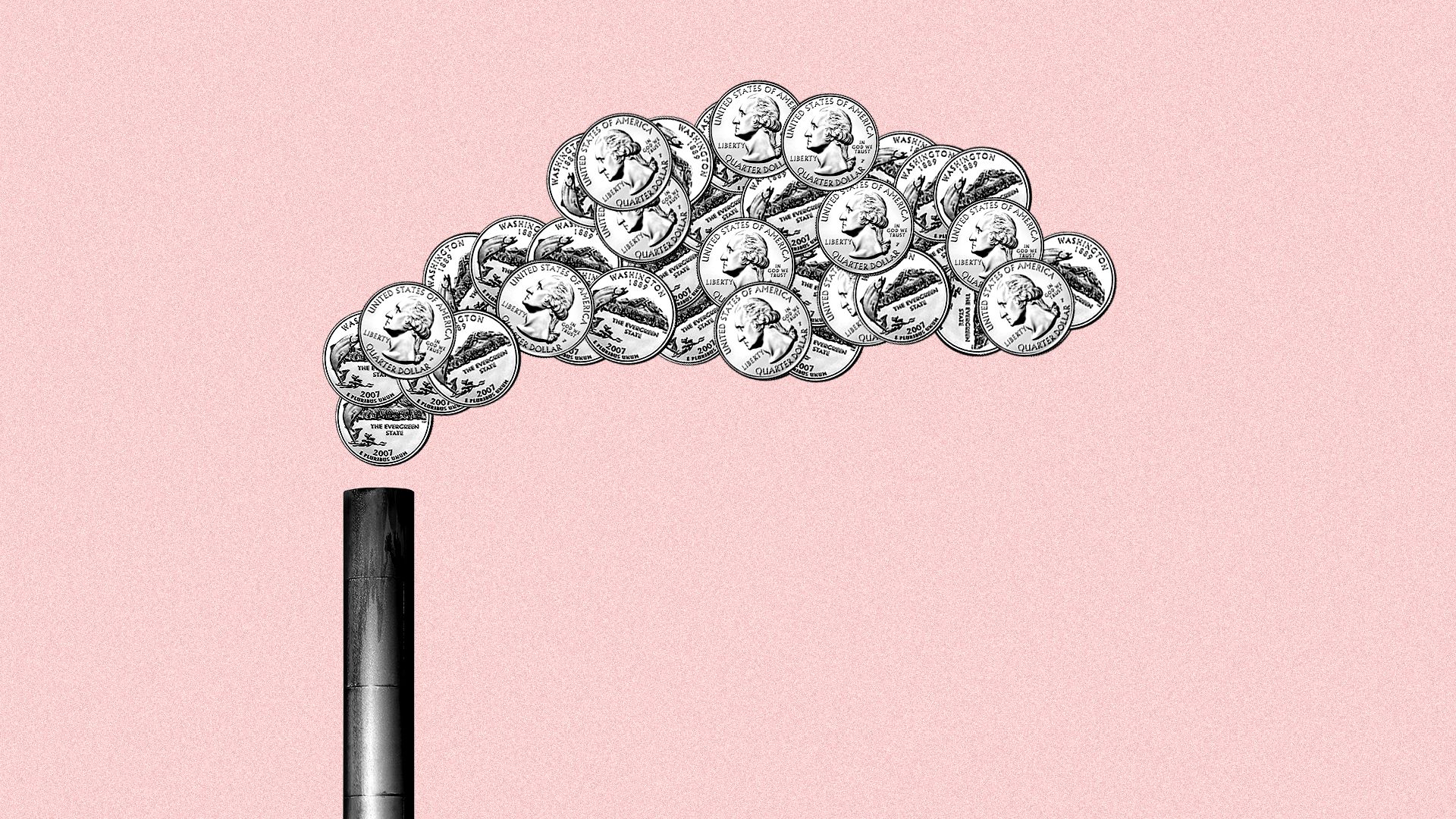 OLYMPIA, Wash. — The political landscape is ripe for this progressive state to approve a carbon price after a decade of failed attempts, fueled by disgruntlement with President Trump and a uniquely broad coalition.
Why it matters: If voters approve a ballot initiative this November imposing a fee on carbon dioxide emissions, it would reinvigorate liberal leaders despondent over Trump's anti-climate change policies. If the measure fails, it'll reinforce a prevailing notion that carbon prices are politically unpopular.
"If we are going to move toward more state-driven climate policies, the question of whether a state could adopt a carbon price is pretty significant."
— Barry Rabe, University of Michigan professor
The big picture: Putting a price on carbon emissions is considered an essential piece of addressing climate change, but it also makes energy products that run our lives more expensive — most notably prices at the pump.
Flashback: Two years ago, Washington voters rejected a similar ballot initiative that had more support among conservatives. A lot has changed since 2016, so there are signs that this year's proposal has a higher chance of passing, despite deep uncertainties about the policy and a more aggressive opposition than last time.
Trump
Washington Gov. Jay Inslee, a Democrat flirting with a 2020 presidential run, says a vote against the proposal is a vote for Trump's anti-climate change positions. That's a leap in logic, but it could be effective messaging to discontented voters in the mostly blue state of Washington.
"Let me tell you, if you're voting against the [ballot] initiative, you're going to be voting with Donald Trump, who is a climate denier," Inslee told me in an interview at the governor's mansion in Olympia last month.
Broad coalition
Organizers of the proposal have convened a coalition larger and more progressive than the last effort. Backers include billionaire Microsoft co-founder Bill Gates and an array of environmental groups.
The money raised from the carbon fee — technically it's not a tax — would fund clean-energy investments and other causes (clean energy would get 70%). That's a more progressive policy than the 2016 initiative that lowered other taxes.
Clean-energy investments would drive most of the emission reductions because the fee is too low to change consumer behavior on its own, said Inslee, who has been fundraising for the proposal on his personal time.
The price begins at $15 a ton in 2020 and rises $2 each year for the next 15 years.
The policy's goal is to cut greenhouse gas emissions by 20 million tons — about 25% — by 2035.
Backers of the proposal estimate the policy would add at most $10 a month in costs to the average family.
Opponents estimate the monthly cost closer to $440 a year (about $37 a month).
Moneyed opposition
Washington is America's fifth-largest refining state, so it's not surprising opposition is coming largely from petroleum companies. The industry was mostly neutral on the 2016 proposal, reflecting that measure's more conservative and industry-friendly cred.
Led by Phillips 66, BP and Andeavor, this year's opposition campaign has raised more than $20 million.
Organizers have raised more than $10 million, far more than last time.
The current grand total has some observers predicting it will be Washington state's most expensive ballot initiative.
Support has dropped as the opposition campaign has ramped up. In July, backers of the carbon fee found 63% support with their own private polling, according to those involved. As of early October, that was down to 50%, according to public polling.
The companies' main reasons for opposing it now are that it exempts several other sectors, such as aluminum manufacturers and a cement plant. The state considers them vulnerable to losing business to other countries if they face higher energy costs. Another reason is the uncertainty about how to spend the money.
Policy uncertainty
The proposal doesn't get into details about how the money would be spent other than dividing it into general categories. The policy authors say those details will be filled in upon passage. Experts worry it could lead to unintended consequences, political favoritism and/or no actual emission reductions.
"You certainly want to avoid a situation where the money is being spent for political reasons," said Noah Kaufman, an economist at Columbia University who recently reviewed the proposal.
The vagueness surrounding the revenue is the top reason Cliff Mass, an atmospheric sciences professor at the University of Washington well known throughout the state, is opposed to the measure.
Accountability on the funding was also why The Seattle Times recommended a no vote on the proposal over the weekend.
What's next: If it passes, expect other states to replicate it, says Rabe, the University of Michigan professor. If it doesn't pass, Inslee says he'll keep fighting — in the state legislature and at the ballot box. He might even pursue it from the White House, if he follows through with a 2020 run.
The bottom line: "I don't think failure to pass is necessarily the kiss of death for other states or nationally," Rabe says. "But, it would further underscore the political difficulty of doing this."
Go deeper