A private prod to the Saudis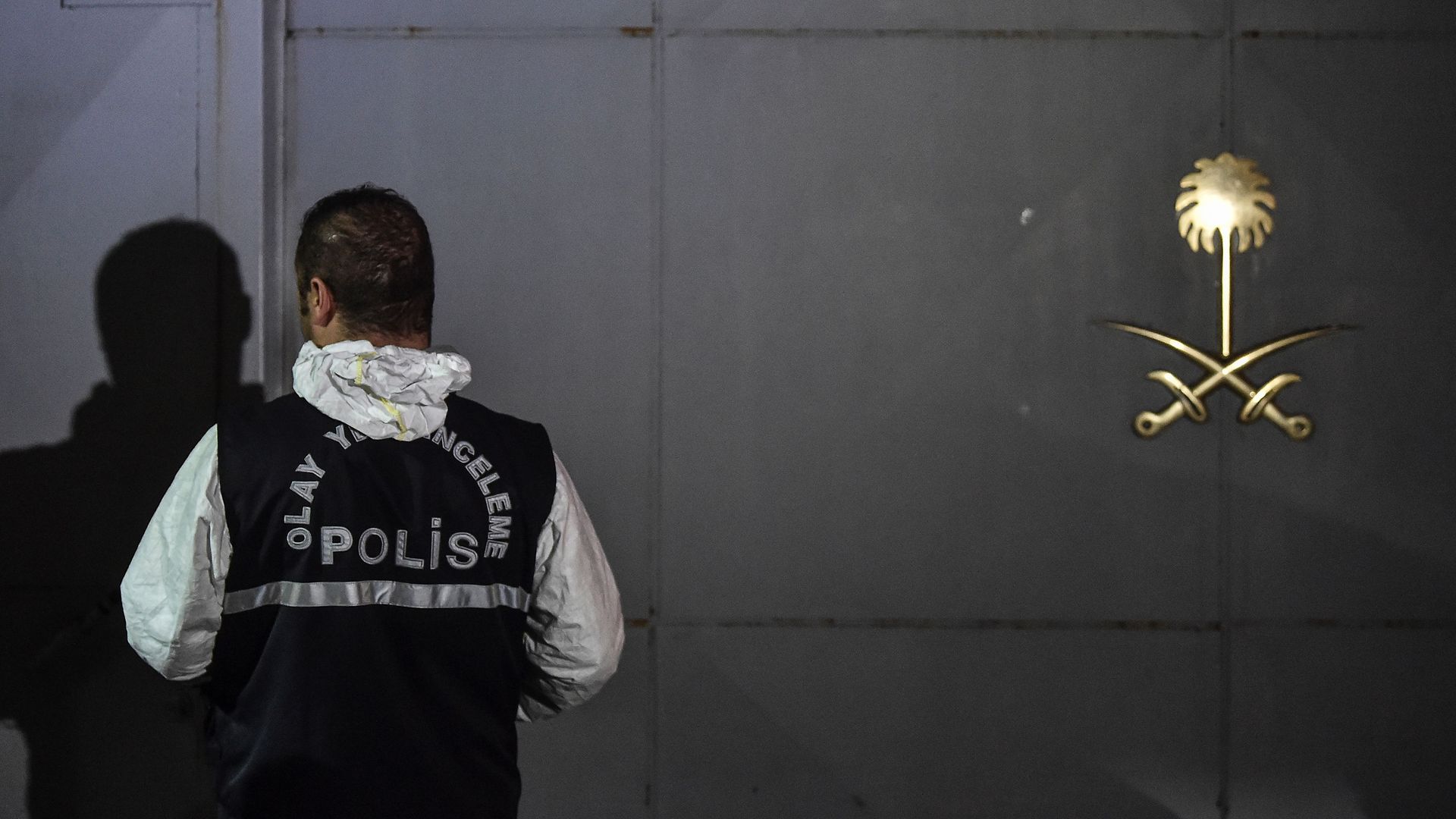 While President Trump took a soft stance, Secretary of State Mike Pompeo told Saudi Crown Prince Mohammed bin Salman he had 72 hours to complete his "investigation" into the murder of journalist Jamal Khashoggi, or risk wrecking the kingdom's place on the world stage.
What we're hearing: A source with knowledge of the conversation told Axios that Pompeo told MBS, in their Tuesday meeting, that he needs to "own" the situation. Pompeo stressed the timeline for dealing with the situation is "limited" because global pressure is mounting.
The State Department declined to comment on the remarks, some of which were first reported by CNN. A Saudi spokeswoman acknowledged receipt of Axios' email but did not comment by deadline. 
Why this matters: Defending the Saudis is becoming less tenable for Trump by the day, as a flood of reporting supports that Khashoggi was gruesomely murdered inside the Saudi consulate in Istanbul.
MBS has sought to distance himself from the murder, and President Trump, eager to keep doing business with the Saudis, has amplified the Saudi denials and even volunteered the theory that "rogue" killers might have done it. 
At the same time, the N.Y. Times reports, "American intelligence officials are increasingly convinced that [the crown prince] is culpable in the killing."
Our thought bubble: Despite the all-smiles photos, it seems like Pompeo had a fairly tense conversation with MBS.
Pompeo wanted to stress that this wasn't something the Saudis could brush past, and to make clear to MBS that the facts are going to come out whether the crown prince likes it or not — so he should act quickly against the perpetrators.
Trump's public rhetoric has been, for the most part, exactly what the Saudis want to hear and provides them with plenty of cover.
Be smart: It's very likely MBS will find some scapegoats, and claim he knew nothing. And Trump's public signals have suggested he's eager to accept Saudi denials, and try to move back to business as usual.
The latest ... N.Y. Times lead story: "Saudi agents were waiting when Jamal Khashoggi walked into their country's consulate in Istanbul two weeks ago. Mr. Khashoggi was dead within minutes, beheaded, dismembered, his fingers severed, and within two hours the killers were gone, according to details from audio recordings described by a senior Turkish official."
Go deeper: What we know about what happened to Jamal Khashoggi
Go deeper