The battle for the future of TV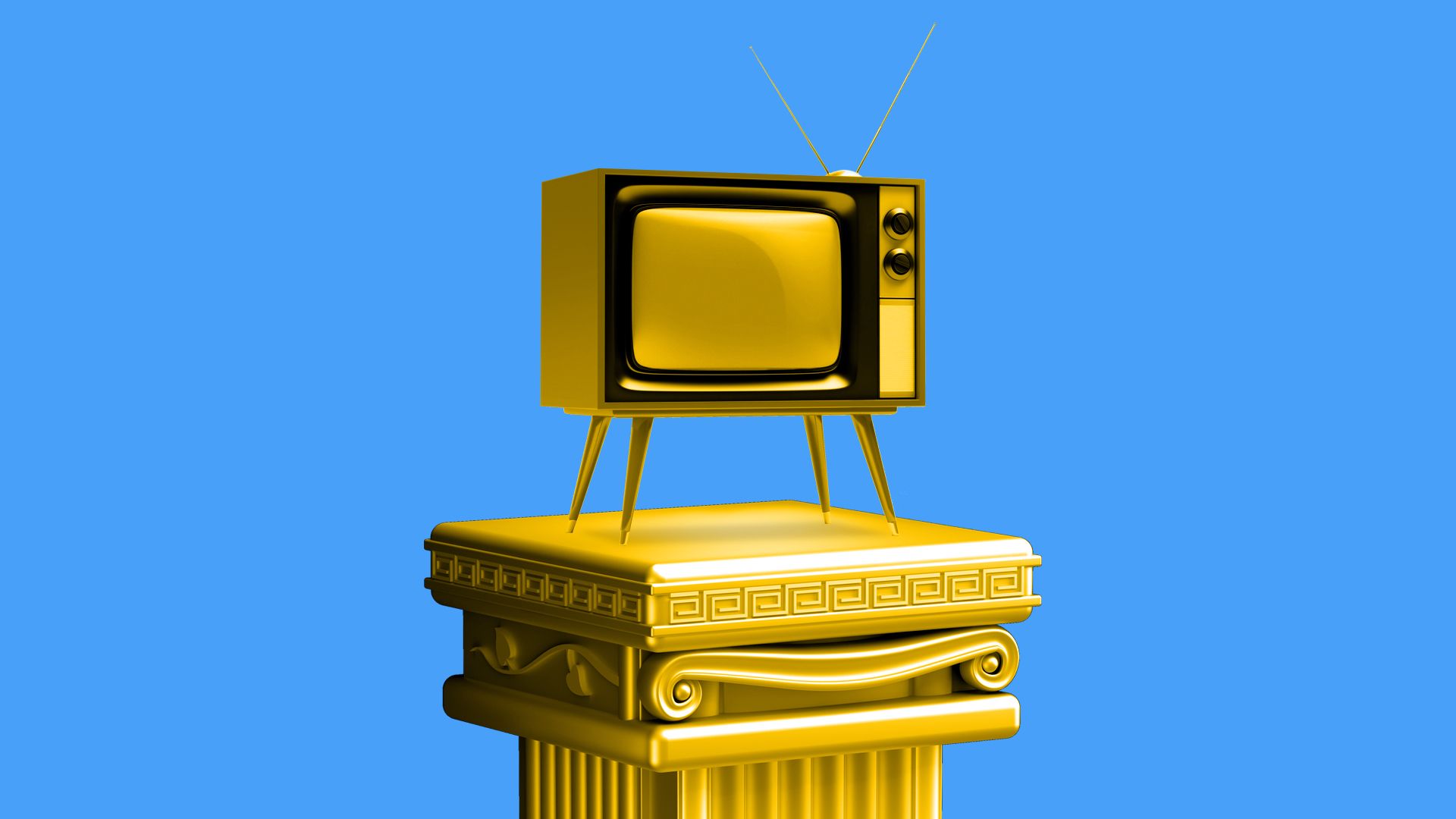 The race to own the future of TV is intensifying, with mobile and streaming video companies looking to build or expand video services that will launch by next year. 
Why it matters: There's billions of dollars at stake for whichever company can win the attention of younger generations, who are abandoning traditional TV in droves. The scramble is so urgent that five of the new initiatives in this space were announced within hours of each other Wednesday.
By the numbers: Over 60% of young adults in the U.S. say the primary way they watch television now is via streaming services on the internet. By comparison, only 31% say they mostly watch via a cable or satellite subscription, and just 5% say they mainly watch with a digital antenna, according to a Pew Research Center survey.
Be smart: Traditional TV is not being replaced by one medium, but by a combination of video services across the internet, most of which can be separated into two buckets: mobile video and subscription video on demand (SVOD).
Mobile video is typically shot vertically and tends to be shorter in length (usually between 2–10 minutes). It engages viewers actively through methods like tap or swipe scene navigation.
It's often free, and it's supported by data-driven advertising. Mobile video often complements TV programming and isn't always intended to displace it.
Subscription video is filmed horizontally and is meant to be consumed passively on bigger screen sizes (like TVs or tablets). It's typically around 25 minutes per episode.
It's often accessed through paid subscriptions that are ad-free, and it has stopped short (so far) of completely displacing traditional TV because it doesn't yet include live programming.
The big players for mobile video:
Snapchat was the first mobile company to use vertical video in 2014. It unveiled "Snap Originals" Wednesday — its first full slate of roughly a dozen serialized original shows, including scripted series and docuseries.
Quibi (short for "quick bites") was revealed on Wednesday as the name of Jeffrey Katzenberg and Meg Whitman's highly anticipated mobile video startup. Formerly called "NewTV," the service will launch in late 2019. It has raised $1 billion in funding from all of the major Hollywood studios and Alibaba, among others.
Instagram launched IGTV earlier this year as a stand-alone vertical video app. On Wednesday, it announced new partnerships with Meredith and Vice to make original series for the platform. Its parent company, Facebook, currently dominates the digital video ad landscape.
YouTube, Google's video service that drives a huge chunk of its advertising revenue, generates most of its content from everyday users. Thanks to YouTube, Google is the most popular video service by traffic across desktop and mobile, according to comScore.
Twitch, Amazon's popular gaming streaming service, is built around user-generated content, mostly esports. But while it's growing fast, it's still nowhere near as big or global as YouTube.
The big players for subscription video:
Netflix and Amazon currently lead the pack. Both companies have accrued more than 100 million paid subscribers over the past few years. Some analysts see limited opportunities for them to continue growing their customer bases in the U.S., which is why both companies are investing billions in international programming.
AT&T announced Wednesday that it will launch a new direct-to-consumer streaming service in late 2019 that will be based around HBO programming, as well as some other Time Warner content. 
Disney boss Bob Iger continues to drop more details about the direct-to-consumer video subscription service he plans to launch late next year. The service, meant to compete with Netflix, will include Disney-owned content from its cable networks (including Disney and FX), as well as from its studios and franchises (including Buena Vista, Fox Searchlight, Marvel and Pixar).
Apple will give away free original content to owners of its hardware products (Apple TV, iPhone, etc.) as part of its new digital TV strategy, according to a new report out Wednesday from CNBC. The tech company is reportedly going to mix free content with subscription channels and its current digital video services.
Hulu is currently owned by four of the six major Hollywood studios, and it offers ad-supported and ad-free subscription tiers. Soon, Disney will own a 60% stake in the streamer, once it officially closes its deal with Fox on Jan. 1, 2019. Its complex ownership structure has hindered its growth.
The bottom line: None of these companies that are looking to own the future of television are TV networks, and only a few are telecom companies. Technology companies are mostly the ones looking to upend the traditional TV landscape through innovative distribution of video content via the internet.
Go deeper