The companies who have backed away from Saudi business over Khashoggi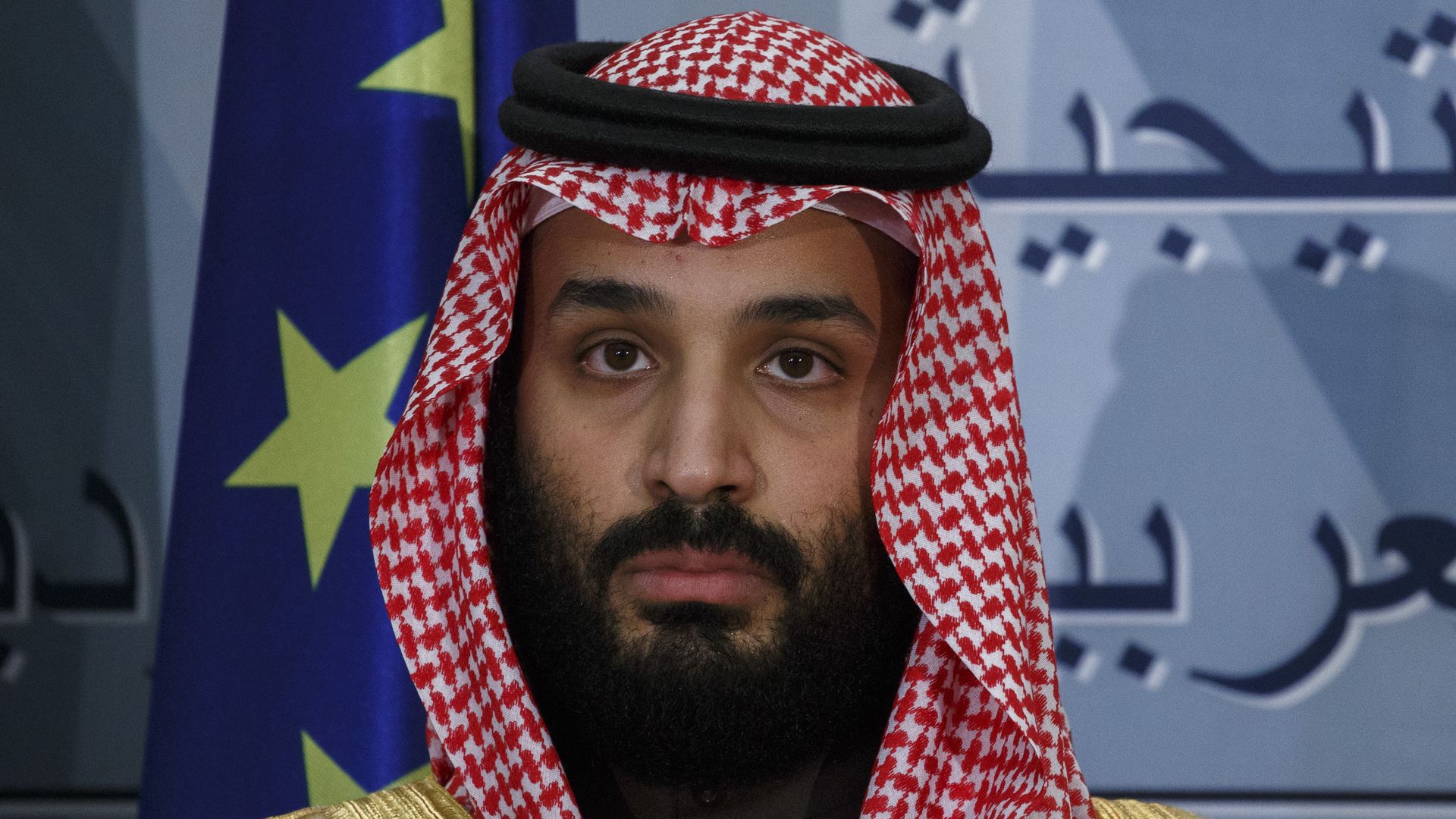 A number of companies and individuals are backing away from doing business with Saudi Arabia until more answers are provided on the disappearance of journalist Jamal Khashoggi, who Turkish officials believe was murdered inside the Saudi Consulate in Istanbul.
The big picture: Many of the world's largest prospective financial deals involve Saudi Arabia and are predicated on trust in Saudi Crown Prince Mohammed bin Salman (MBS) as a reformer. Meanwhile, there is speculation that MBS was personally involved in Khashoggi's disappearance.
The fallout
Several companies and individuals have pulled out of Saudi Arabia's Future Investment Initiative (FII), a massive conference colloquially known as "Davos in the Desert" hosted by MBS and the kingdom's sovereign wealth fund from Oct. 23-25, while the investigation into Khashoggi's disappearance continues.
The announcements, in chronological order:
The New York Times was the first to pull its sponsorship of the conference. Columnist Andrew Sorkin will also no longer attend.
Media mogul Arianna Huffington, who has also resigned her position on the advisory board for the conference.
Patrick Soon-Shiong, owner of the LA Times, (The Daily Beast).
CNN, CNBC, the Financial Times and Bloomberg have all withdrawn as media sponsors.
Japanese media company Nikkei has withdrawn from the event (CNN).
Viacom CEO Bob Bakish will not attend (NBC News).
Steve Case, co-founder of AOL and chairman of Case Foundation, tweeted he is putting his "plans on hold" to speak at the conference.
Uber CEO Dara Khosrowshahi in a statement: "I'm very troubled by the reports to date about Jamal Khashoggi. We are following the situation closely, and unless a substantially different set of facts emerges, I won't be attending the FII conference in Riyadh."
World Bank President Jim Yong Kim, (The Financial Times).
J.P. Morgan Chase CEO Jamie Dimon, BlackRock CEO Larry Fink, Blackstone CEO Stephen Schwarzman, Ford chairman Bill Ford, and MasterCard CEO Ajay Banga (CNBC).
Sotheby's CEO Tad Smith (Bloomberg).
General David Petraeus, chairman of the KKR Global Institute (Reuters).
Sinovation Ventures CEO Kai-Fu Lee (CNN).
Google Cloud CEO Diane Greene (CNBC).
Virgin Hyperloop One's CEO Rob Lloyd, a spokesperson confirmed to Axios.
HSBC CEO John Flint, Credit Suisse CEO Tidjane Thiam, and Standard Chartered CEO Bill Winters (WSJ).
David Bonderman, co-founder and chairman of TPG Capital, according to a source familiar with the situation.
Christine Lagarde, managing director of the International Monetary Fund, (CNBC).
President of the New York Stock Exchange Stacey Cunningham, citing scheduling conflict with SEC market data roundtable.
Brad Keywell, co-founder and CEO of Uptake Technologies (also co-founded Groupon).
Billionaire venture capitalist Vinod Khosla, who tells Axios he had canceled prior to the Khashoggi situation.
Andy Rubin, co-founder of Android and current CEO of Essential.
U.K. Trade Secretary Liam Fox, French Finance Minister Bruno Le Maire and Dutch Finance Minister Wopke Hoekstra.
Seth Bannon, founding partner of seed fund Fifty Years.
U.S. Treasury Secretary Steve Mnuchin, who was among the latest to announce he would withdraw.
Goldman Sachs executive and former White House Deputy National Security Adviser Dina Powell
Fox Business withdrew as a media sponsor and said host Maria Bartiromo will not attend unless offered an "unrestricted interview" with the crown prince.
IHS Markit has also announced it will not attend the conference. Axios' Ben Geman points out that the company often has the top Saudi and Aramco officials at their huge CERAWeek conferences.
Joe Landy, co-CEO of Warburg Pincus.
Former U.S. Solicitor General Ted Olson will not be lobbying on behalf of the kingdom.
Softbank COO Marcelo Claure, per Bloomberg.
Siemens CEO Joe Kaeser, who explained his decision in a lengthy LinkedIn post.
ARM Holdings CEO Simon Segars, sources tell Axios.
Softbank CEO Masayoshi Son will not speak at the event, though he may attend, per the WSJ.
Australia announced Saturday that "official Australian representation at the forthcoming Future Investment Initiative event in Riyadh is no longer appropriate," per Reuters citing a joint statement from Foreign Minister Marise Payne and Trade Minister Simon Birmingham.
Notable companies and individuals who are still attending FII:
EDF CEO Jean-Bernard Lévy, per CNN.
Venture capitalist Jim Breyer.
Total CEO Patrick Pouyanné, per Reuters.
Companies and individuals cutting business ties:
Be smart: As Axios' Dan Primack writes, it's "much easier to bail on a conference than it is to unwind complex and lucrative business relationships."
Go deeper: Primack and New York Times columnist Nicholas Kristof discuss the Khashoggi news on Axios' Pro Rata Podcast.
This is an updating list.
Go deeper