Key global warming target slipping out of reach, UN scientists warn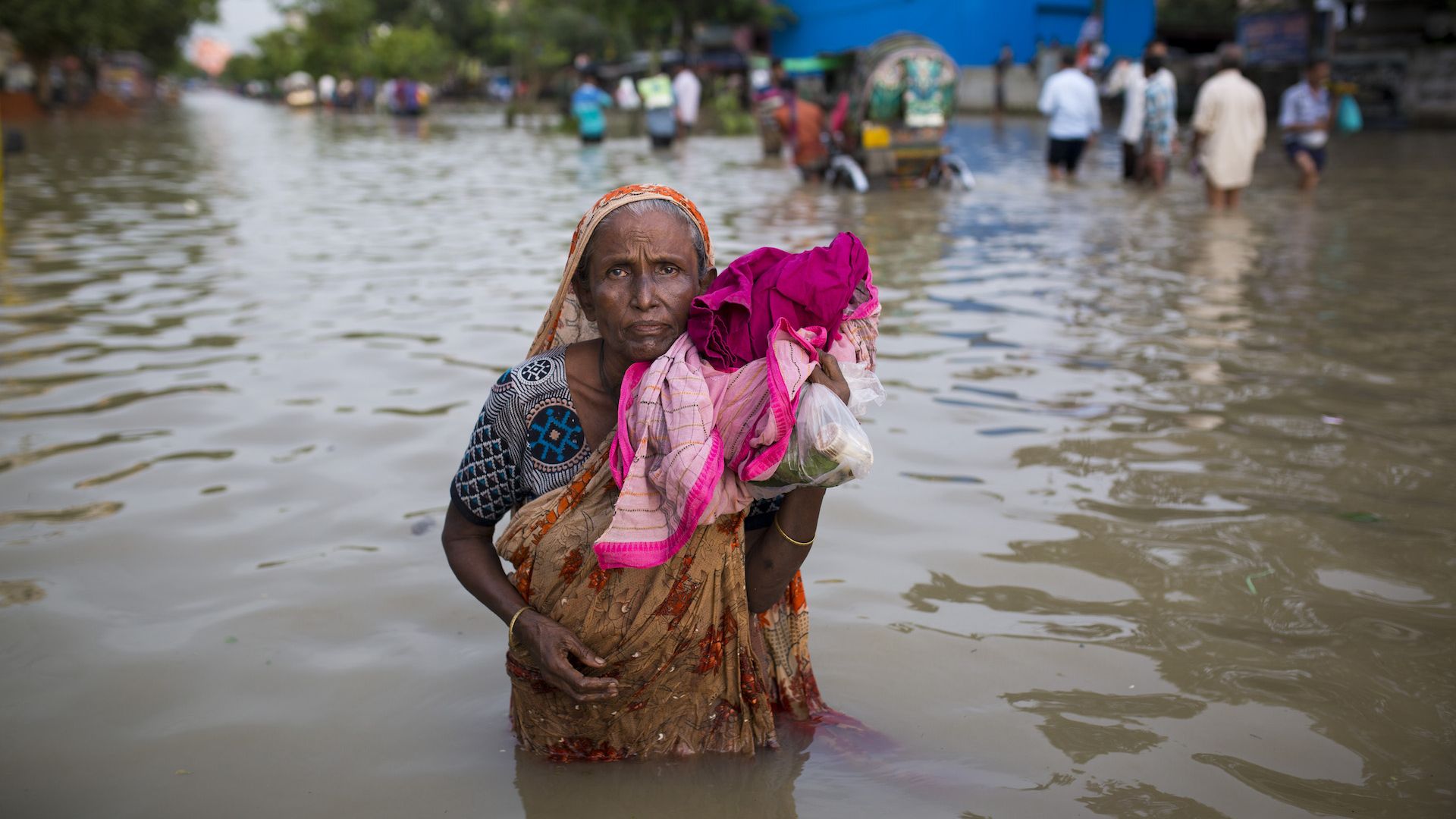 Global warming can still be held to 1.5°C relative to preindustrial levels, but only if countries take "unprecedented" steps to rein in greenhouse gas emissions and change how we live, according to a landmark science report released Sunday night by the UN Intergovernmental Panel on Climate Change.
Why it matters: Global warming will have far more severe consequences if temperatures are allowed to creep past 1.5°C, or 2.7°F, of warming, scientists concluded. They noted that there are already deadly impacts from the 1°C, or 1.8°F, of warming so far — including more severe and longer lasting heat waves, more heavy precipitation events, and ocean warming that is killing many of the planet's coral reefs.
The special report was requested by world governments in 2018, following the adoption of the Paris Climate Agreement. That agreement calls for countries to limit global warming to "well below 2°C" of warming, relative to preindustrial levels, with an aspirational target of 1.5°C of warming.
A team of 91 scientists from around the world reviewed over 6,000 studies and 42,000 peer review comments to produce this report.
The report found that the effects of global warming are already being felt around the world, particularly by poor and vulnerable populations, and that these impacts will only grow. "The lower we can keep global warming, the less the impacts will be," IPCC co-author Natalie Mahowald told reporters on Sunday.
For nearly every global warming impact, from droughts to sea level rise, the report finds that adhering to just 1.5°C of warming would make a major, concrete difference for millions of people and hundreds, if not thousands, of species.
Since the last major IPCC assessment in 2014, it's become clearer that global carbon emissions have not yet made 1.5°C of warming inevitable. However, if present emissions trends continue, that target will likely be hit around 2040, the report states.
Threat level: The differences in impacts between 1.5°C of warming and 2°C, or 3.6°F, of warming are significant, the report found:
There would be less of a risk for irreversible changes, including ecosystem losses and the destabilization of parts of Greenland and Antarctica, at 1.5°C of warming compared to 2°C.
By 2100, sea level rise is expected to be about .1 meter, or 4 inches, lower under the lower global warming amount compared to a 2-degree scenario. That may sound small, but the report states this translates to 10 million fewer people exposed to flood risks, based on 2010 population levels.
Huge amounts of carbon and methane are locked up in frozen soil in the Arctic, which is thawing as temperatures increase. Limiting warming to 1.5°C, as compared to 2°C, would prevent 1.5 to 2.5 million square kilometers of permafrost from thawing, the report finds.
The likelihood of an Arctic Ocean free of sea ice in summer would be once per century with global warming of 1.5°C, compared with at least once per decade with 2 degrees.
Yes, but: Meeting the 1.5-degree target would require a Herculean effort to transform how we generate and use energy, invent new ways to store carbon, slash non-carbon greenhouse gases like methane and drastically scale up renewable energy sources.
The report presents several energy "pathways," or scenarios, in which the climate would not warm by much more than 1.5 degrees through the year 2100.
Greenhouse gas emissions would need to be cut by about 45% by 2030, relative to 2010 levels.
Emissions would need to decline to net zero in 2050, and in some scenarios be negative by the year 2100.
Some of these scenarios require a role for cutting-edge carbon sequestration technologies that are currently in their infancy, including direct air capture.
The report will now inform the next round of UN climate talks in Poland in December.
"The message is, over to governments at this stage, we've told you the scientific facts, the evidence, the costs. It is up to the governments now to decide what to do with it."
— Jim Skea, climate scientist and co-chair of IPCC Working Group III.
Go deeper: UN report: Massive changes needed to stem warming; The stark reality of the IPCC's 1.5-degree climate report
Go deeper