A novel drug to replace opioids for pain management shows promise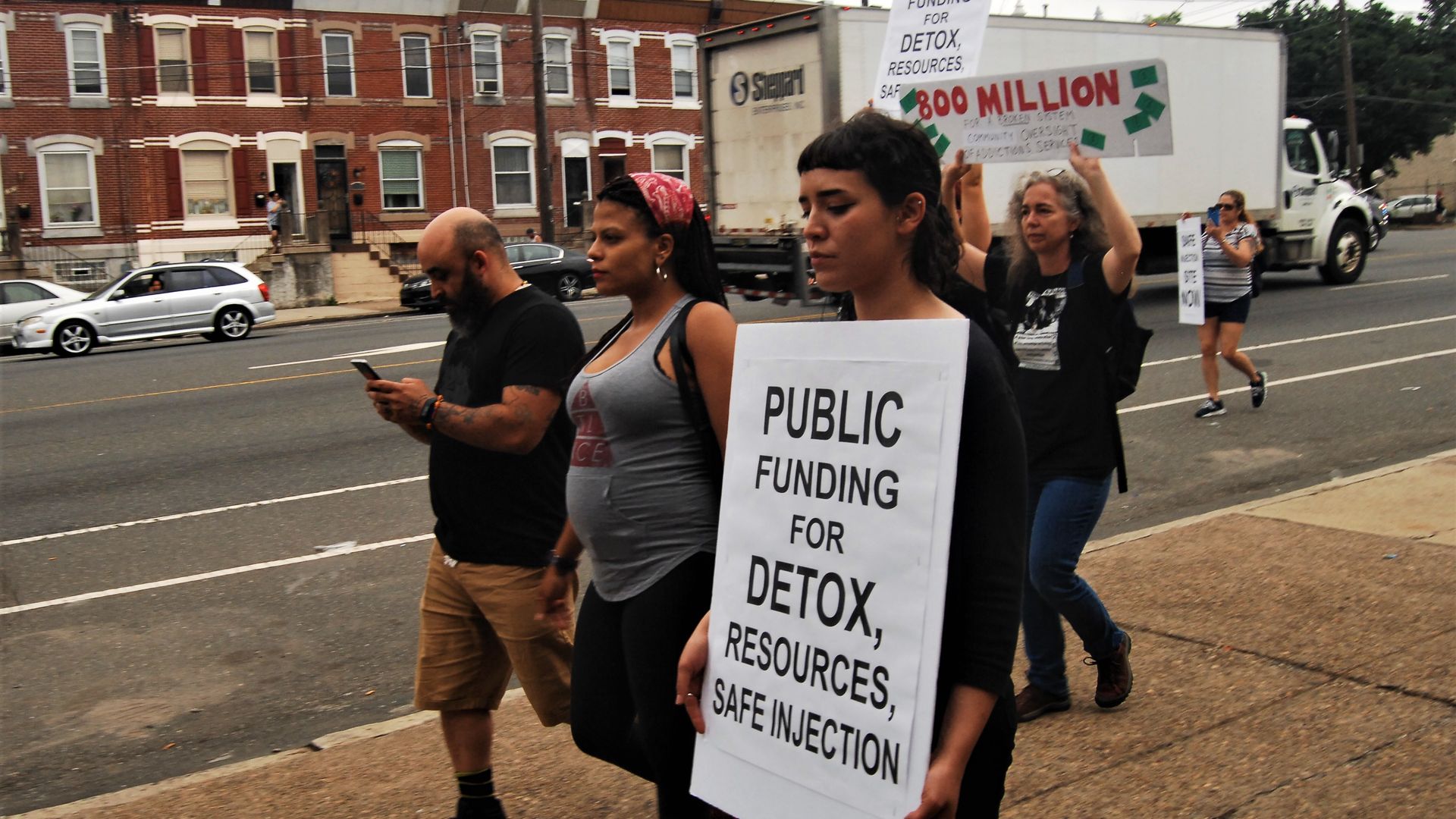 A team of scientists say they may have developed a new compound that kills pain similarly to opioids while muting the addictive components, according to a new study of animal models in Science Translational Medicine published Wednesday.
Why it matters: From 1999 to 2016, more than 200,000 Americans died from overdoses related to prescription opioids — a five-fold increase during that period. Yet, these drugs remain the most effective options for treating many cases of acute or chronic pain. Several of the authors are employees of Astraea Therapeutics, which is developing the potential drug.
Background: Prescription opioids like morphine and oxycodone are the standard of care for severely needed pain relief, despite their addictive qualities, because they effectively target tiny parts of neurons called opioid receptors. Once they attach to the receptors, they send a signal to the brain that blocks pain, slows breathing and can result in a calming effect.
Particular receptors known as "Mu receptors," in particular, are targeted by opioids to relieve pain and provide pleasure.
This stimulates the dopamine system, which tries to reward life-sustaining activities with pleasurable feelings, but in these cases are thought by some to cause an addictive euphoria.
The addictive side effects are considered "on-target effects" where the same mechanism that produces the pain relief also causes the addictive side effect, says study author Nurulain Zaveri, who is founder, president and chief scientific officer at Astraea Therapeutics.
"It is critically important to find new analgesic (so-called pain killing) medications that target the body differently than morphine, heroin, oxycontin, and codeine," said Lance R. McMahon, a professor at the University of Florida's College of Pharmacy. He was not involved in the new research.
"The reason is that activating the target of these medications (mu opioid receptors) not only leads to reduced pain experience, but also decreased breathing rate (which kills), as well as constipation, physical dependence, and associated withdrawal .. none of which are deadly but nonetheless debilitating," McMahon told Axios.
"The holy grail is a medication that provides pain relief without the side effects, and it's just not clear that such a goal can be realized by exclusively relying on the same old target."
— Lance R. McMahon
What they did: The researchers looked at a different but closely related receptor (called nociceptin) to target, along with the traditional mu receptor. They developed a possible drug, known as AT-121, to combine a strong painkiller but blocking the addictive side effect.
What they found: In nonhuman primates, they found AT-121 provides pain relief that is 100 times higher than that from morphine, but without most of the addictive qualities.
Zaveri says that they found that the compound also acts similar to buprenorphine, which is an opioid commonly used for medication-assisted treatment of opioid addiction.
The AT-121 was able to block the addictive effect of oxycodone similarly to buprenorphine, but at a dose 3 times lower, she said.
"We are hoping this approach will lead us to the next generation of drugs," Wake Forest School of Medicine's Mei-Chuan Ko, a coauthor of the study, tells Axios.
Reaction: McMahon says the study explores a possible creative workaround — a drug that targets both the old receptor and engages a new one — to provide pain relief without most of the side effects.
"These so-called "dirty" drugs [that have multiple targets] are critical because simply doing the same thing with the same old drugs will perpetuate the alarming opioid-related death spiral," McMahon says.
What's next: Zaveri says they've submitted some patent applications and are in the preclinical stages of development. They hope to start human clinical trials in about 18 months.
Go deeper:
Go deeper