The coming yearlong U.S. trade war with China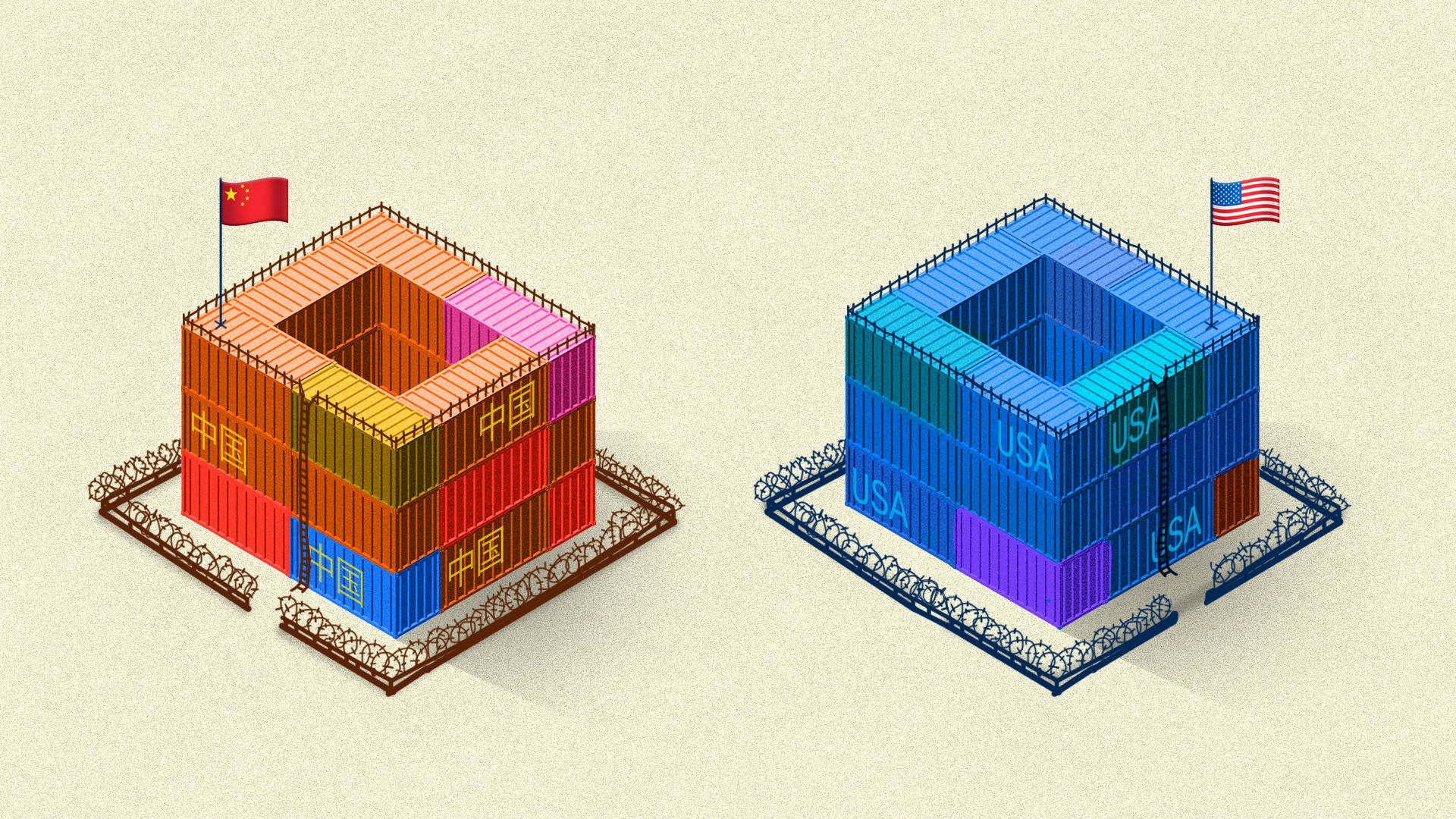 The United States' trade war with China is likely to last much longer than originally thought — extending well into the second half of next year and perhaps beyond, experts say.
The main reason: Neither side is prepared to appear politically weak at home, and both are ready to absorb economic pain.
Why it matters: The winners of a one-year or longer trade war without resolution are not clear, but here are some of the probable losers:
In the U.S.: Farmers, users of steel, and consumers. And in earning calls last week, U.S. retailers "were sounding the alarm" about yet another escalation of tariffs threatened by President Trump, reports Axios' Courtenay Brown.
In China: Manufacturers of all types will see business leave to neighbors like Vietnam and Malaysia, experts tell Axios.
For both: Economic growth will be slightly less next year, and — depending on other factors such as the psychology of stock and commodities markets — there is a small chance that part or much of the world tips into recession.
The background: Last week, the two sides boosted the tariffs to cover $100 billion in trade between the countries. As early as Sept. 6 — 10 days from now — the U.S. may substantially escalate, levying tariffs on $200 billion in trade, and Beijing is expected to strike back.
The aim: Trump says he is determined to get China to stop hacking U.S. commercial secrets and forcing American companies to disgorge their intellectual property to Chinese rivals.
But while that is the intellectual backdrop, politically speaking, neither Trump nor China's Xi Jinping can be seen publicly buckling under to the other.
And, for economic reasons, neither feels he has to. The tariffs are unlikely to inflict a killer blow. "No question it will be bad, but not calamitous" for the U.S. or China, says Adam Posen, president of the Peterson Institute for International Economics.
Adding to the time clock: On the U.S. side, Trump's most hawkish advisers actually want the talks to go on longer because they smell blood. They think the tariffs threaten the Chinese miracle, and want to wait for the suffering to start biting, report the WSJ's Lingling Wei and Bob Davis.
Most of the China experts who Axios spoke with dispute this thinking. Brad Setser, an expert on China's economy at the Council on Foreign Relations, expects only about a 0.5% hit to Chinese GDP next year should Trump, as he has threatened, escalate to tariffs on $250 billion of Chinese goods — or half its exports to the U.S.
In Alibaba's earnings call Thursday, Joe Tsai, the company's executive vice chairman, underscored this point. He said China's economic strength relies mostly on domestic demand and local investment, not exports. In terms of Alibaba's business, he said, "The world is a big place."
What's next: Ian Bremmer, president of the Eurasia Group, is forecasting the unfolding of a new Cold War next year between the U.S. and China, built on technology and foreign influence. "By the end of 2019, I suspect the biggest headlines on U.S.-China will be more focused on a changing global power balance than a direct trade war," he tells Axios in an email exchange.
But as things now stand, handicapping the conflict, Claude Barfield, a trade expert at the American Enterprise Institute, said that it comes down to one question: "Can the Trump administration hold out against a rising political reaction to negative fallout from tariffs versus Chinese economic imperatives and pressures stemming from a falling currency, capital outflows, and a slowing economy?"
The bottom line: There is an outside chance that the trade war spirals out of control, such as the enactment of "Buy American" procurement rules or China deciding to block U.S. ships in port, Posen said.
Get more stories like this by signing up for Bill Bishop's indispensable Axios China newsletter. 
Go deeper