Trump's epic Mueller gamble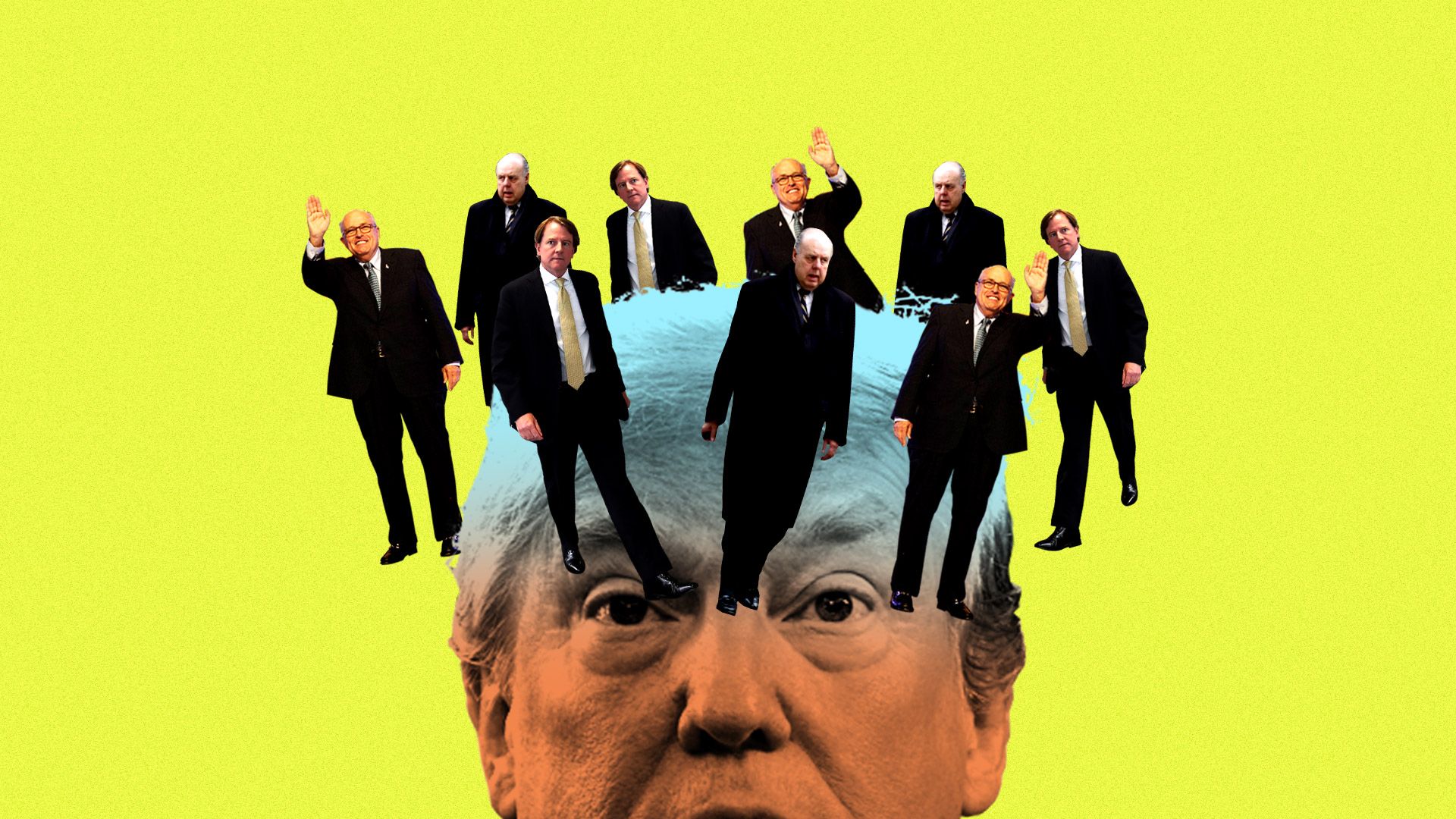 Several top White House officials thought then and think now that President Trump made an epic error in rolling over to cooperate with Robert Mueller in the early stages of the special counsel investigation.
Why it matters: Trump himself tells associates [Updated] that he thought then and thinks now that he personally has nothing to lose because he personally did nothing wrong. Who's right might very well decide the fate of the Trump presidency.
One source close to the Trump team told us the full acquiescence to Mueller was "dumb" and "idiotic."
A top source said White House counsel Don McGahn and his lawyer, William Burck, never thought it was a good idea to cooperate the way Trump has, but realized they had no choice once the decision was made.
The White House made an epic gamble to try to placate Mueller rather than fight him:
The N.Y. Times' Mike Schmidt and Maggie Haberman report in the Sunday paper's lead story that McGahn gave "at least three voluntary interviews with investigators that totaled 30 hours over the past nine months."
The sessions included "detailed accounts about the episodes at the heart of the inquiry into whether President Trump obstructed justice, including some that investigators would not have learned of otherwise," The Times reports.
"McGahn described the president's fury toward the Russia investigation" and recounted "the president's most intimate moments with his lawyer."
Why it matters: "Lawyers are rarely so open with investigators, not only because they are advocating on behalf of their clients but also because their conversations with clients are potentially shielded by attorney-client privilege, and in the case of presidents, executive privilege."
Trump tweeted this morning: "The failing @nytimes wrote a Fake piece today implying that because White House Councel Don McGahn was giving hours of testimony to the Special Councel, he must be a John Dean type 'RAT.'"
"But I allowed him and all others to testify - I didn't have to. I have nothing to hide."
"So many lives have been ruined over nothing - McCarthyism at its WORST!"
Asked about the Trump team's logic, sources told Axios that his lawyers believe the president isn't in personal legal jeopardy, and so eagerly cooperated and allowed testimony:
"We all think that the president can't be charged with obstruction," said a source familiar with the situation. "And McGahn had some good things to say."
"In the two meetings to [discuss firing] Comey, the president was instructed [by aides] that this is not going to end the investigation — it's only going to make it worse, the heat will be turned up."
"And [Trump] said, 'I understand that, but I have no confidence in him. So I'm going to fire him.'"
"That's a good fact," the source continued, "as compared to [him saying], 'I'll fire him so we'll end the investigation.' It was the opposite."
John Dowd, who left Trump's legal team in March, was an architect of the cooperation strategy, and defended it in emails:
McGahn, Dowd said, "was a very strong witness for the President."
"The strategy is working," Dowd added. "[A]ll of [Mueller's] questions have been answered by 37 cooperating witnesses, 1.4 million documents."
"We protected President by not asserting attorney-client privilege."
Dowd explained that if the White House counsel and other aides had not given interviews and instead had been called to testify before a grand jury, that would have cost POTUS the executive privilege as to all White House documents and witnesses.
Be smart: Trump's relationship with McGahn was already very strained, and has been for a long time.
Trump gets frustrated by him, and sources who've watched them interact say McGahn simply doesn't know how to speak to Trump.
The president has vented his frustration that McGahn's instinct is always to tell him "no" rather than look for creative ways to get him what he wants.
McGahn has at times vented to colleagues about the crazy demands Trump makes of him, according to sources who've spoken with McGahn.
The Times notes: "Trump's behavior has so exasperated Mr. McGahn that he has called the president 'King Kong' behind his back, to connote his volcanic anger."
Go deeper