"Milestone" wheat gene map could help food security and allergies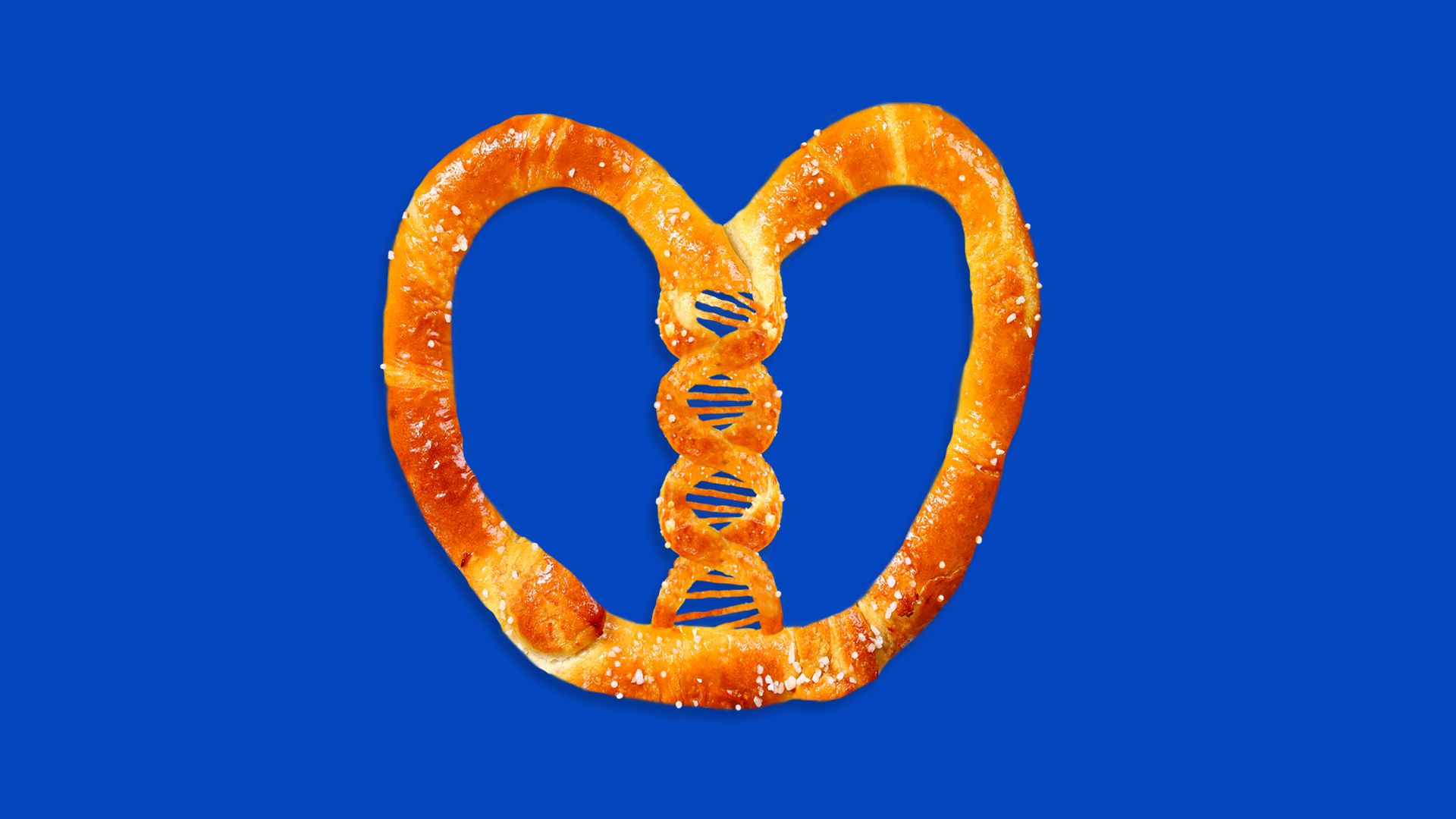 Scientists announced today they have mapped out more than 94% of the genome of Chinese Spring bread wheat — adding that by manipulating its genetic code, people could eventually improve global food security and possibly alleviate some immune disorders like celiac disease or wheat allergies.
Why it matters: According to the new research, by 2050, the world is expected to have around 9.8 billion people (up from 7.6 billion today). As the staple of more than a third of all people, this means wheat productivity must increase by 1.6% each year — but rather than farming more scarce land, the researchers hope wheat genes can be manipulated to enhance nutrition, improve sustainability and production, and lessen immune reactions.
"[This] is a true milestone in wheat research. This is the foundation for future breeding strategies that will help develop improved wheat cultivars that are resistant to climate change, pests and pathogens while providing good agricultural performance in terms of yield and nutrient density."
— Katharina Scherf, of the Leibniz-Institute for Food Systems Biology, Technical University of Munich
Background: The 13-year collaboration of more than 200 scientists coordinated by the International Wheat Genome Sequencing Consortium successfully accomplished what was once considered impossible — sequencing the genome, which is huge (5 times longer than the human genome) and complex (it has 3 subgenomes).
What they found: The teams mapped out the sequence of 21 chromosomes, with the precise location of 107,891 genes.
This includes 828 genes related to immune-responsive proteins, which play a role in wheat allergies like baker's asthma or wheat-dependent exercise-induced anaphylaxis (WDEIA). These genes also play a role in celiac disease, which is an autoimmune disease where the CD4 T-cells react to gluten from wheat (and other grains), damaging the small intestine.
They also identified more than 4 million molecular markers plus the sequencing information that influences the expression of genes. Some of these are suspected to play a role in other diseases like multiple sclerosis and colitis ulcerosa, says Scherf, who was not part of the study.
They also found that temperatures before or during the "flowering" of the wheat plant can affect the levels of proteins that can be harmful to certain people with wheat allergens or celiac disease.
Possible impact: By using faster methods like the gene editing tool CRISPR, Scherf says scientists should be able to develop new varieties that would be more durable, nutritious and trigger fewer immune responses, bypassing the normal breeding time of roughly 10 years.
"This is time we can no longer afford to spend, because of dwindling natural resources and a growing world population. To achieve the target of zero hunger, a wider variety of wheats need to be developed that are adapted to different environmental conditions while providing yield, disease and pest resistance," Scherf says.
"It will take some time before the benefit to the breeding community is realized," Ravi Singh from the International Maize and Wheat Improvement Center in Mexico tells The Atlantic. "But in our own program, we are already using this resource to identify important genomic regions behind traits like grain yield, disease resistance, tolerance to heat and drought, and nutritional quality."
What's next: Besides using gene editing and breeding techniques to test for new wheat varieties, Scherf says more research is needed, including to learn more about some types of immunoresponsive proteins like glutenins, which are linked to celiac disease and WDEIA, and to identify the true cause of rising allergies.
The IWGSC also is looking for support to fund a deep learning annotation pilot project to help reach the full potential of its massive genome sequencing, according to Wired.
Go deeper