Updated Jul 27, 2018 -

World
How U.S. tech powers China's surveillance state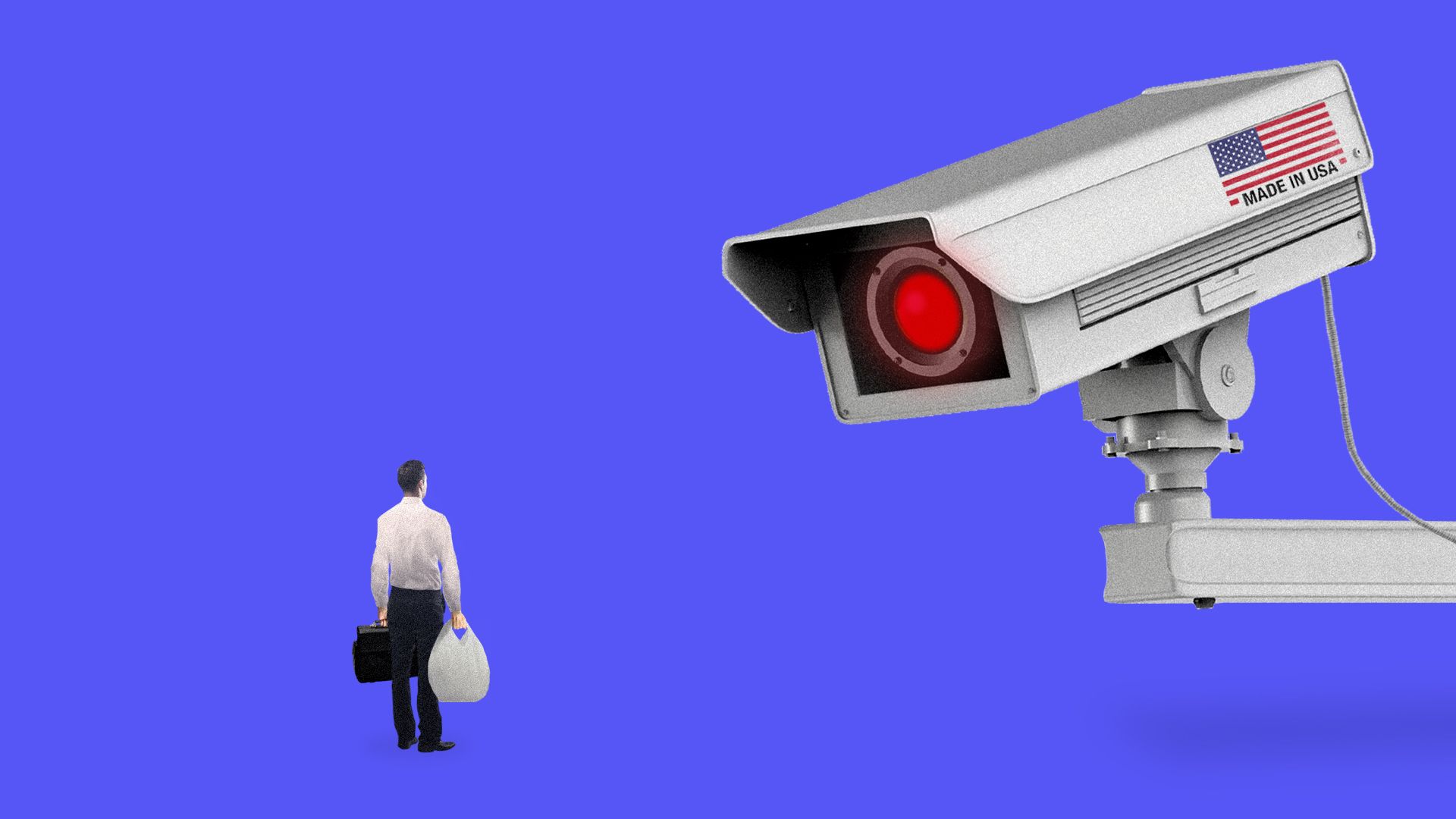 American companies eager to enter China's massive market brace themselves for potential intellectual property theft or forced technology transfers. But there's another threat at play: their technology is being used for surveillance.
The big picture: China has sophisticated systems of state surveillance, and elements of these systems have long been powered by technologies developed by American companies. Beijing has used U.S. tech to surveil its citizens, violate human rights and even modernize its military.
The entanglement
Companies doing business in China often get caught in a web: Beijing uses its economic leverage to draw them in and then uses their technology for police-state tactics. As a result, "there are American companies enabling or complicit in major human rights abuses," says Elsa Kania, a technology and national security expert at the Center for a New American Security.
Another concern is American universities and research institutions partnering with Chinese companies that work with state security, she says.
Tech giants, like Facebook, Apple and LinkedIn, have faced scrutiny in the past for censoring or reportedly offering to censor content in China.
"Not all of these companies realize the extent to which their activities could be exploited," Kania says.
Companies often take on projects for the Chinese government in the name of curbing crime, according to Scott Kennedy of the Center for Strategic and International Studies, but "the boundary between promoting public safety and protecting the state is increasingly blurred with these types of technologies."
The other side: Axios reached out to all of the companies listed above. The responses we received by deadline:
Thermo Fisher Scientific: "We design our products with great care and work with governments to contribute to good global policy. We are proud to be a part of the many positive ways in which DNA identification has been applied — from reducing human trafficking to exonerating the unjustly accused."
Cisco said it "has never custom-tailored our products for any market, and the products that we sell in China are the same products we sell everywhere else ... We do not and will not supply video surveillance cameras or video surveillance monitoring software in our public infrastructure projects."
Oath, which now owns Yahoo: "We're deeply committed to protecting and advocating for the rights to free expression and privacy of our users around the world."
LinkedIn: "[A]s we said at the time of our launch in February 2014, it's clear to us that in order to create value for our members in China and around the world, we will need to implement the Chinese government's restrictions on content, when and to the extent required."
The stakes
"A lot of people wanted very much to believe that once China had exposure to the outside world, political liberalization would come with economic liberalization," Sophie Richardson, China director at Human Rights Watch, tells Axios. "They're getting a lot richer and a lot more powerful and no more politically liberal."
What's next:
Some companies have pulled out of China of their own accord in the past. Google refused to censor its search engine in China in 2010, leading to its ouster from the country. Other companies may follow suit if they realize their technology is being misused, says Kania.
If companies cannot be held accountable by internal ethics guidelines, shareholders or users, the government may need to step in through export controls or limits on funding to researchers that collaborate with China, she says.
Worth noting: There's already a U.S. law that prohibits the export of crime-control products to China, but the sale of cameras and other dual use technologies that could be used for surveillance are not banned, reports the Wall Street Journal.
Go deeper: The rise of AI-powered surveillance
Go deeper