Reality check: Why MGM is suing the Las Vegas shooting victims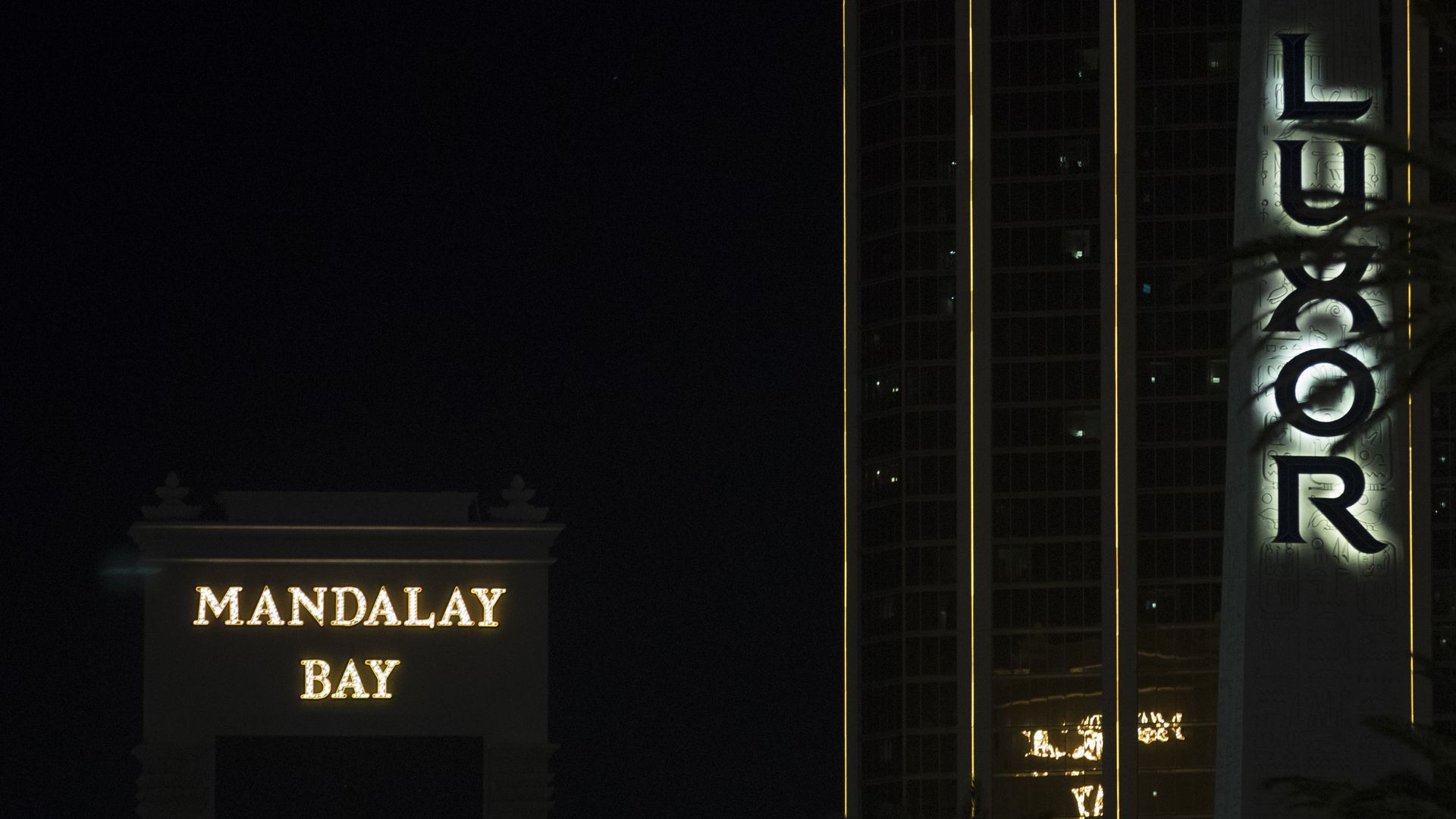 MGM Resorts International, the parent company of the Mandalay Bay Resort and Casino, has filed a complaint in federal court in Las Vegas that names the Las Vegas shooting victims who have sued or who have given notice they intend to sue over the October 1 shooting during the Route 91 Harvest Festival.
Between the lines: Technically, MGM is suing the victims. But, this is not a standard "personal injury" suit — MGM is not demanding money from the victims and the victims won't be providing testimony, per NBC News. Instead, MGM is seeking the federal court's judgement on whether the court can rule out the possibility that MGM has liability in this case, in the context of a law enacted in 2002.
What's happening: MGM cites a federal act, the Support Anti-Terrorism by Fostering Effective Technologies Act (SAFETY) Act, intended to limit liability for security equipment manufacturers and security service providers that failed to prevent a terrorist attack.
The SAFETY Act was rolled out in 2002 following the 9/11 terrorist attacks, after which many security companies' liability landscape changed.
MGM claims that it should be shielded from liability under the act because MGM meets two conditions; it contracted out security services to a vendor, Contemporary Services Corporation (CSC), and MGM considers the shooting as an act of terrorism.
If the court finds that the victims can't hold MGM liable, it is still possible they could sue the vendor, CSC, per NBC News. A ruling in MGM's favor would also likely provide resolution for the lawsuits already filed and expected to be filed.
What to watch: The case could hinge on whether the shooting is classified as an "act of terrorism." CSC, the vendor, has been lobbying the Department of Homeland Security to classify it as such. MGM, whose case would benefit from the event being classified as terrorism, would not comment to the New York Times on whether it has been lobbying the DHS as well.
Be smart: It's not clear whether MGM's claim is possible to entertain. The law has never been used before to try to block a company from liability, reports the NYT citing MGM's lawyer.
Go deeper