Politicians are using fake news schemes to get elected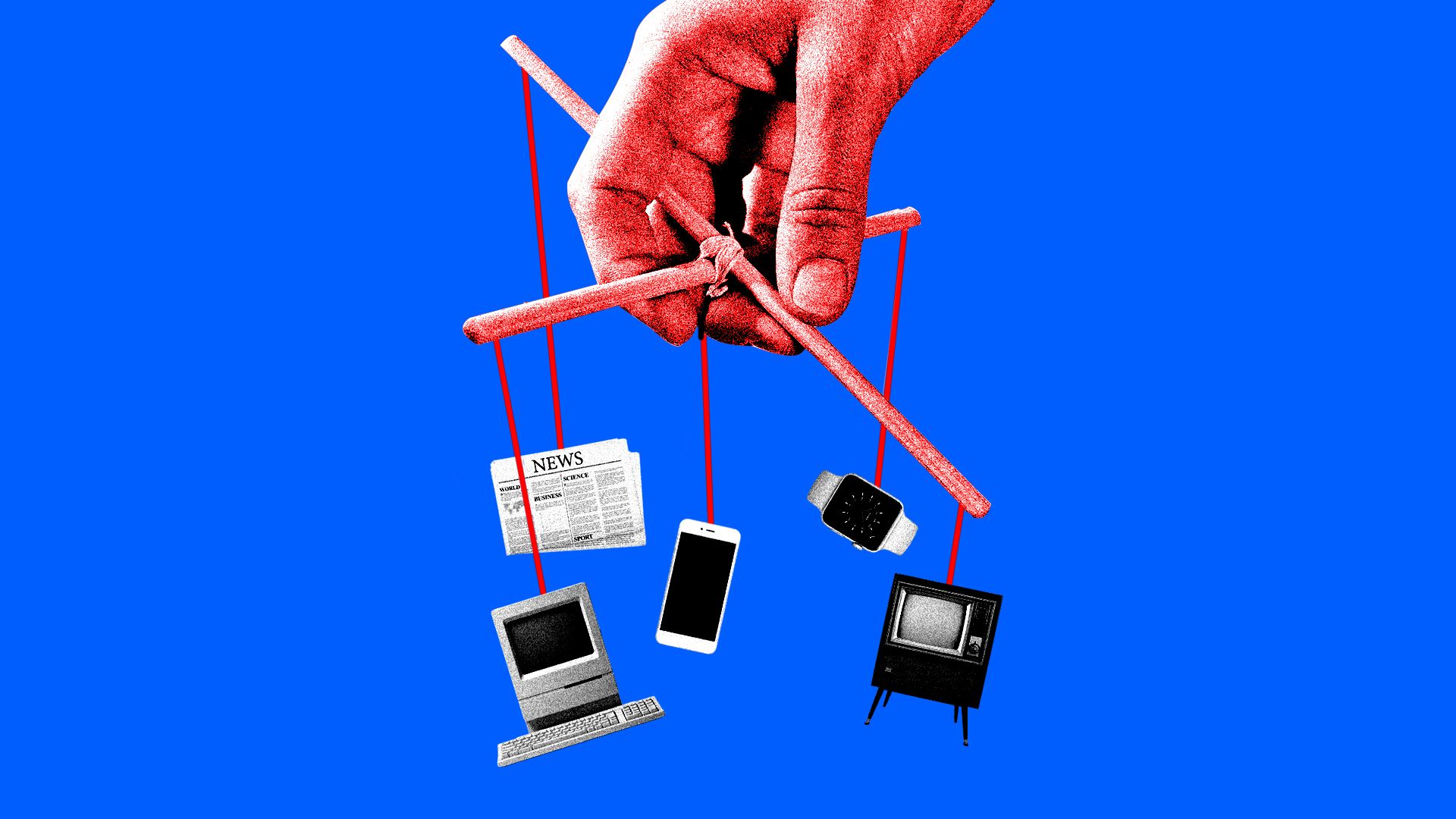 Politicians on the left and right are manipulating the news to bolster their election efforts with fake headlines, websites and articles.
Why it matters: Media manipulation has always been a part of the political playbook, but technology has enabled politicians to take the practice a step further by changing or mimicking real stories and news outlets to mislead voters.
The latest on the left: New Jersey Sen. Bob Menendez has set up a website called HealthNewsNJ.com that at first glance looks like an upstart health website, but is actually backed by the senator's campaign, per STAT.
The headline article reads, "How greedy drug company CEO Bob Hugin gouged cancer patients and enabled Donald Trump." Hugin is running against Menendez for Senate.
On the right, fake news websites backed by political candidates and groups have been popping up all over the country.
In February, Arizona Senate candidate Kelli Ward touted an endorsement from a fake-news site to voters, per Politico. The endorsement came from a site that is part of a string of fake news websites backed by Republicans, built to look and sound like real news websites.
Last fall, the Republican Governors Association launched the "Free Telegraph," a website filled with articles that look like real journalism, but only provide one-sided support for Republicans. The RGA didn't disclose its affiliation with the site until the group was asked about it after the site launched.
Manipulating headlines of real stories on social media is another way politicians are using fake news to mislead voters.
Last year, the staff of Maryland Gov. Larry Hogan altered the headline on a news story posted to his Facebook page in a way that falsely implied that one of the governor's policy priorities was gaining more support than it was, per The Baltimore Sun.
A similar incident happened during the 2016 election in Virginia, when the staff of Republican Virginia gubernatorial candidate Corey Stewart altered the Facebook headline of a Washington Post article about his opponent's stance on whether to remove a statue of confederate General Robert E. Lee.
Facebook has since disabled the ability for users to manipulate headlines of news stories on its platform.
Be smart: Politicians are harnessing internet stories and websites to mislead voters because users are less discerning over what is real and fake online.
"The major new challenge in reporting news is the new shape of truth," says Kevin Kelly, co-founder of Wired magazine, in Pew's latest report on misinformation online. "Truth is no longer dictated by authorities, but is networked by peers. For every fact there is a counterfact and all these counterfacts and facts look identical online, which is confusing to most people."
Go deeper