Why Trump gives Putin a pass on Mueller revelations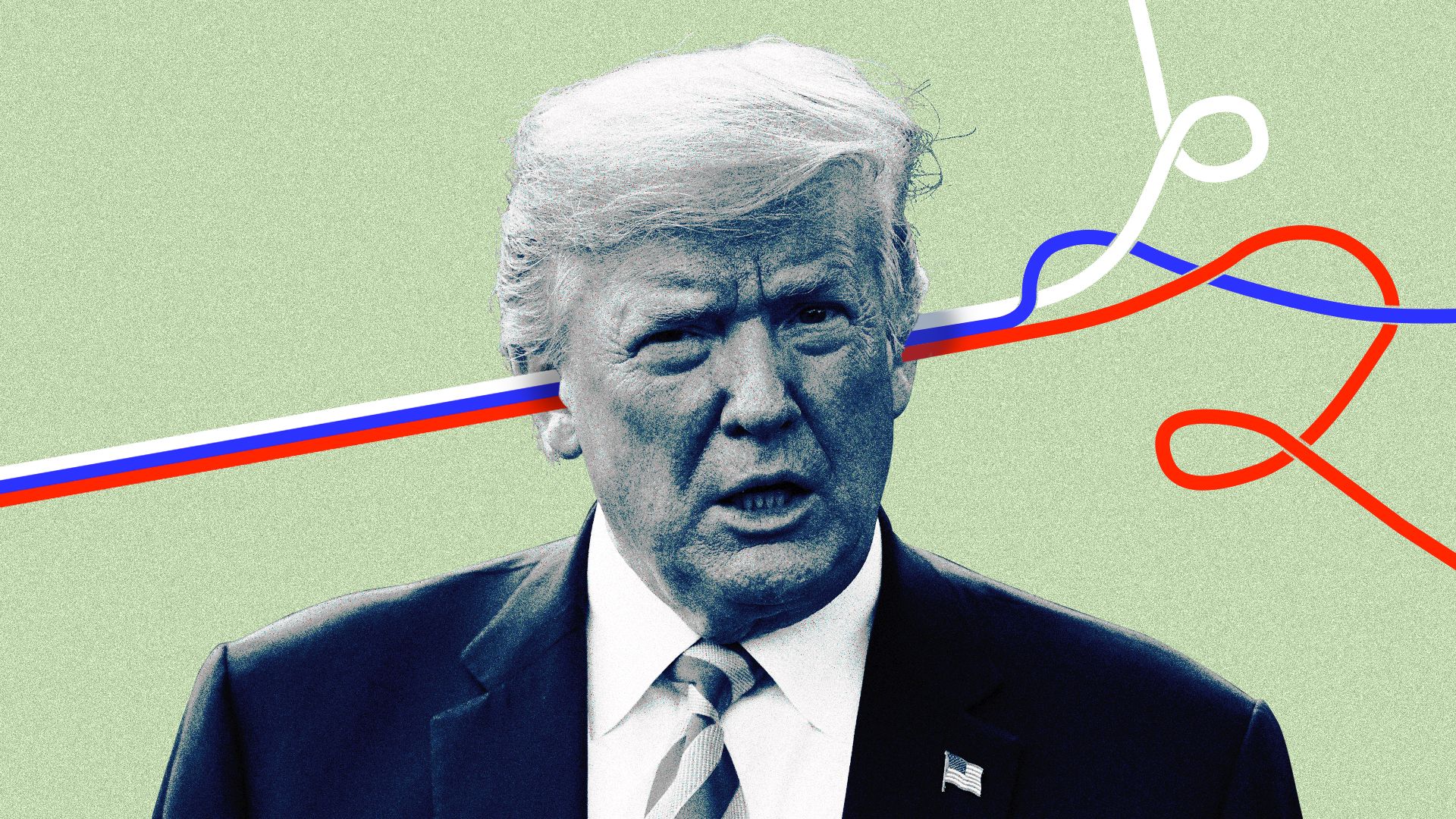 President Trump no longer doubts the basic intelligence assessment that Russia interfered in the 2016 election — he just seems incapable of taking it seriously, and tells staff that is simply what nations do, several sources close to Trump tell me.
Between the lines: There is no evidence that could ever change Trump's mind, the sources said. 
Why it matters: 
To the extent that Trump does confront Putin over meddling at tomorrow's summit in Finland with Vladimir Putin — and the president has publicly promised to — it's not with any genuine seriousness or enthusiasm, the sources say.
It'll be purely for domestic/media consumption. Trump has signaled as much in the sarcastic way he's talked about this with the press.
In excerpts just posted, Trump told "CBS Evening News" anchor Jeff Glor in an interview in Scotland yesterday that he "hadn't thought of" asking Putin to extradite Russians indicted by Mueller.
"Well, I might," Trump said. "I hadn't thought of that. But I certainly, I'll be asking about it. But again, this was during the Obama administration. They were doing whatever it was during the Obama administration."
Trump said he has "low expectations" for the summit.
Trump told Glor it's too early to say whether he will meet one-on-one with Putin, without translators or aides.
A source who's discussed the matter with Trump tells me:
"On election meddling, a big part of it is a refusal to give in to anything that could give the impression that the election outcome resulted from anything besides his skill and success as a candidate."
"It's not about Russia. It could be evidence of Chinese or Canadian interference, and it wouldn't make any difference."
In Trump's mind, "he won the election based on political superiority, and no one is going to suggest otherwise."
More than a half a dozen sources who've discussed election meddling with Trump say that the president sees the Mueller investigation purely through the "witch hunt" lens:
It's not that Trump doesn't believe the Russians didn't meddle. But he doesn't take it anywhere near as seriously as some senior national security officials would like him to.
When we talk to Trump administration officials about Russian election meddling and the intelligence community's assessment that it's a major threat to America, they tell us there's nothing they could say that could authentically persuade Trump to take a serious interest.
"He just can't get past ... ," a senior administration official told us, his voice trailing off, "that it's about his election."
Trump's attitude toward the whole issue is summed up by his reply to reporters at his NATO presser, in a voice drenched in sarcasm: "We will, of course, ask your favorite question about meddling. I will be asking that question again."
That's a signal to Putin that it's not with any enthusiasm or genuineness that Trump will be raising the issue when they meet — just ticking a box for domestic political consumption. Then they can get down to business.
A scene from the West Wing also captures the president's view:
Last year in the dining room adjoining the Oval Office, Trump was watching a CNN (!) segment on Russia and, in a visitor's recollection, turned to his guest and said: "Putin, Putin, Putin. That's all CNN wants to talk about —Putin and Russia. It's a complete joke. They're not living in the real world. Because let's be honest, some of our friends are some real beauties, too."
Get more stories like this by signing up for our weekly political lookahead newsletter, Axios Sneak Peek. 
Go deeper