What they're saying: Lawmakers respond to Trump's Germany slam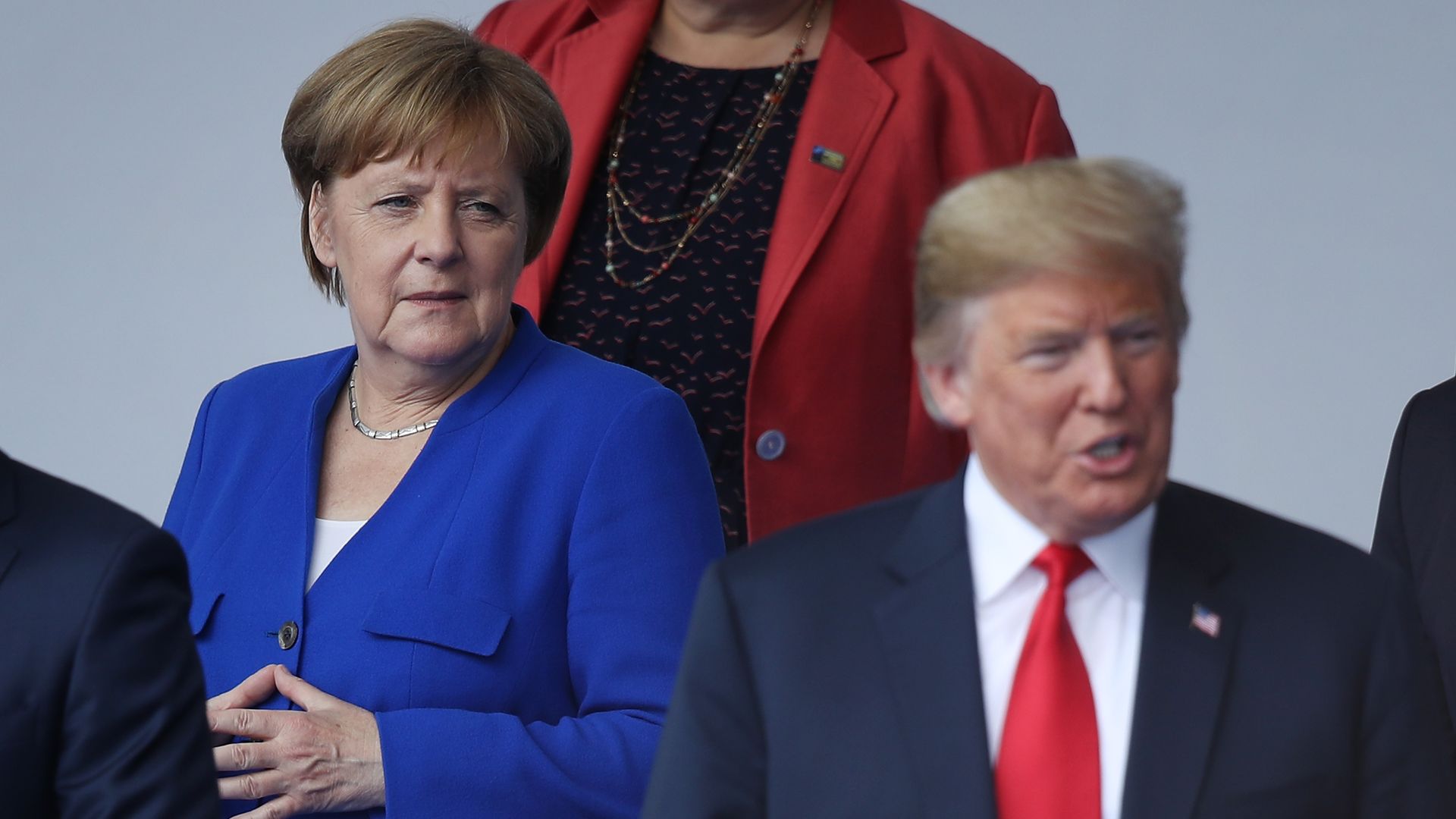 During today's NATO summit in Brussels, German Chancellor Angela Merkel responded to President Donald Trump's comments that Germany is "totally controlled by Russia" due to an oil and gas deal between Russia and Germany. Merkel responded with her experience growing up in East Germany, saying, "It is good that we are independent today."
The backdrop: Current and former U.S. lawmakers are rebuking the exchange, saying that Trump's comment about Russia and Germany was unacceptable — or outright calling it out as false.
Former Secretary of State John Kerry led off a statement: "I've never seen a President say anything as strange or counterproductive as President Trump's harangue against NATO and Germany. It was disgraceful, destructive, and flies in the face of the actual interests of the United States of America."
Congressional Democratic leadership, House Minority Leader Nancy Pelosi and Senate Minority Leader Chuck Schumer, said in a statement: "President Trump's brazen insults and denigration of one of America's most steadfast allies, Germany, is an embarrassment.  His behavior this morning is another profoundly disturbing signal that the President is more loyal to President Putin than to our NATO allies."
Democratic Sen. Tim Kane of Virginia tweeted a pithy response: "Projecting much?"
Democratic Congressman Ted Lieu of California tweeted, "Last time I checked, Russia did not help Merkel win her election. But Russia did help you in 2016. You may want to recalibrate your NATO comments."
House Speaker Paul Ryan said he won't criticize President Trump while he is overseas. "NATO is indispensable," Ryan said.
Republican Utah Sen. Orrin Hatch: "I think sometimes he can be a little too critical of the other counterparts, and I don't think he should be critical," per ABC.
Republican Sen. Cory Gardner of Colorado defended Trump on Fox News, saying, "I think he's simply trying to say to our great NATO allies and friends, 'Let's make sure that we're all rowing in the same direction, so to speak. Let's make sure that we're living up to our expectations and obligations,'" per Think Progress.
Go deeper