What to watch as Trump heads to Europe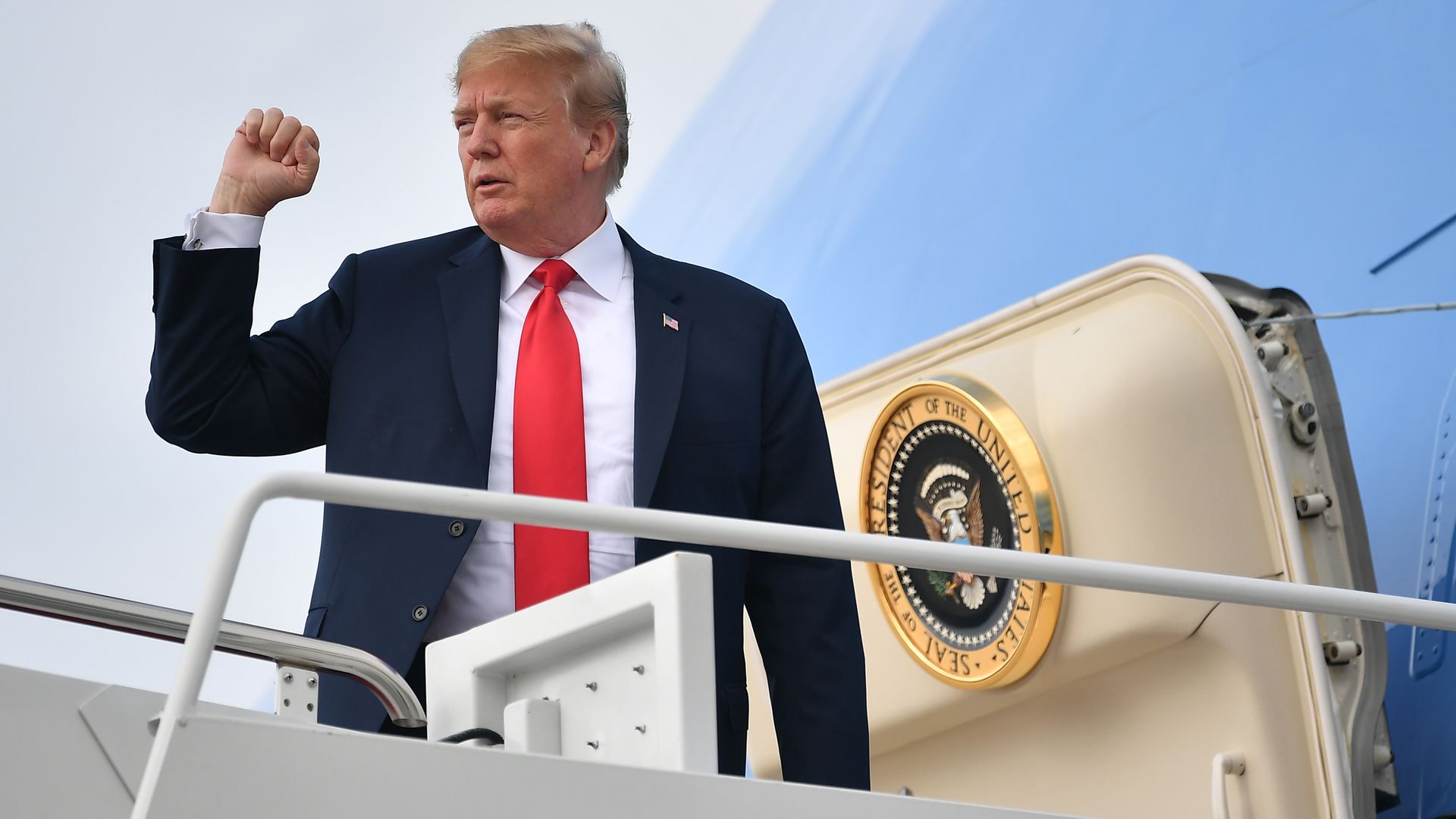 I fly to Europe this week to cover President Trump as he meets with NATO allies in Brussels, Theresa May in London, then Helsinki for his first one-on-one summit with Russia's Vladimir Putin.
What we're hearing: Senior European officials have told Axios they are worried that Trump will spend the entire NATO summit beating up on America's closest allies — especially Germany — for not spending enough on their defense. They're worried he'll make these deficiencies the focus of the summit rather than solidarity in face of the Russian threat. And that he'll have a friendlier summit with Putin just a few days after a tense NATO gathering.
They also fear that Trump will say something that suggests America's commitment to defend NATO allies against attacks is conditional upon the allies meeting their defense spending targets. They're stressed about any suggestion from Trump that he'll draw down U.S. troops stationed in Europe.
Another possibility: Trump will side with the populist, Putin-friendly leaders at the expense of America's closest allies.
Behind the scenes: Senior officials from NATO member nations have told us that Trump administration officials, including Defense Secretary Mattis, have sought to reassure them leading into the summit.
These officials have been told, at various moments, that Trump is in a "good place" and has an "ironclad" commitment to support NATO's Article 5 — which commits each member state to consider an armed attack against one to be an attack against them all.
Trump officials have also signaled to allies that the president is ready to take a victory lap to celebrate how NATO members have bumped up their defense spending levels (thanks to Trump's pressure, he would say).
Between the lines: The European officials we've spoken to would love nothing more than for Trump to take a victory lap and claim credit for them boosting their defense spending. (Anything to avoid divisive scenes in Brussels that would make Putin's day.) And they would love to believe these reassuring words from Trump administration officials.
The bottom line: But we've yet to speak to a NATO member official who feels confident that Trump will actually say what his aides say he will say. And that's a uniquely severe problem for foreign officials dealing with this administration.
"When you're talking to Mattis it's a normal conversation and you imagine for a moment you're dealing with a normal administration," a senior European official told us. "But then you look at Trump's Twitter feed and you realize none of it matters."
Go deeper