The big picture: Conservatives win big at Supreme Court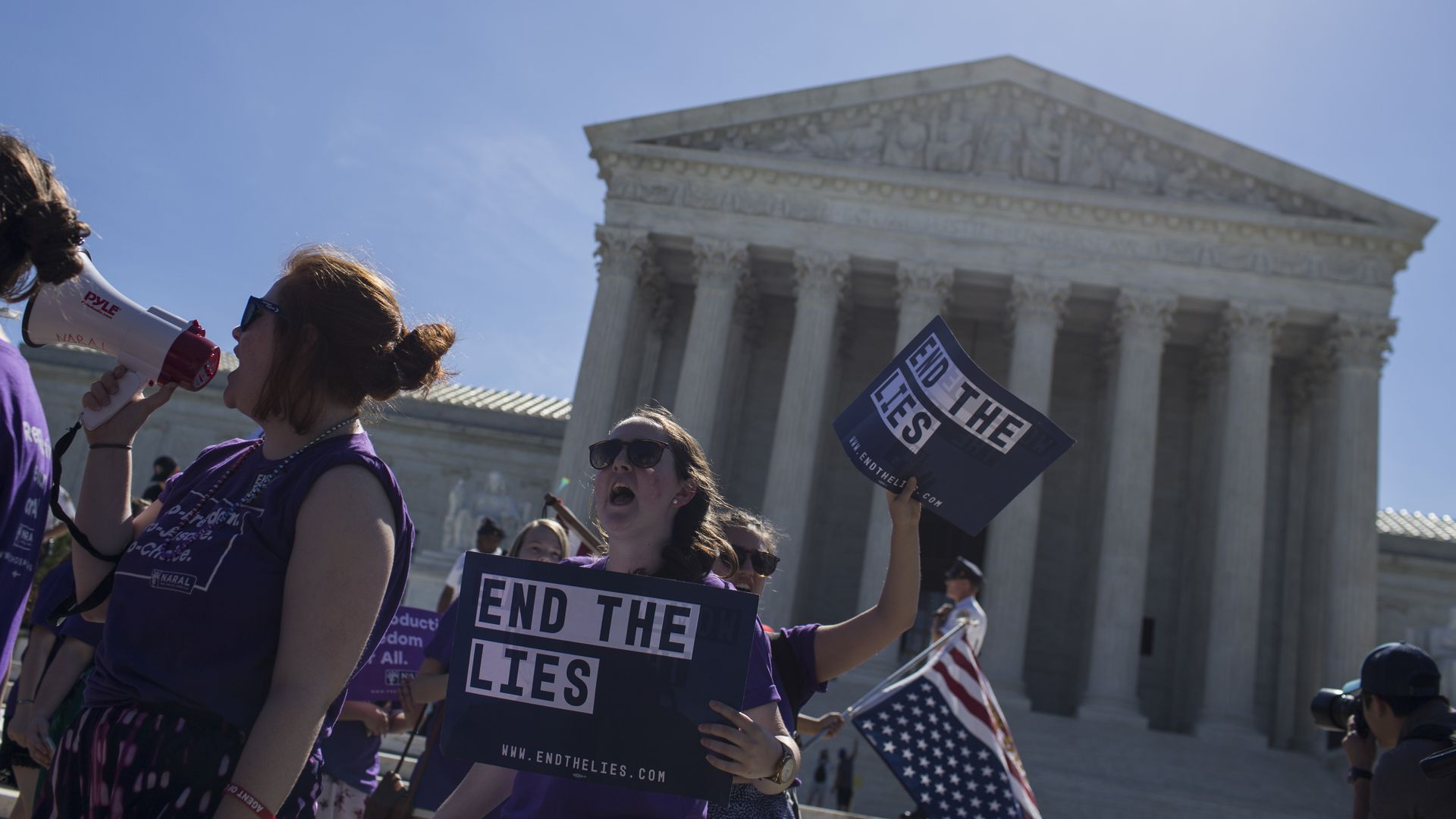 Conservatives are on a winning streak at the Supreme Court, and Justice Anthony Kennedy will decide how long it lasts.
The big picture: In just the past two weeks, the court has sided with anti-abortion advocates, a Christian baker who objects to same-sex marriage, and the Trump administration's travel ban. But it has also left itself some flexibility to change its mind in the future.
This is why Senate Majority Leader Mitch McConnell held the court's vacant seat open for more than a year, so that Trump could fill it instead of President Obama. It worked.
Between the lines: In the most important cases of its current term, which ends tomorrow, the court has either sided with conservatives directly or handed them temporary wins by punting.
What's next: The court likely will deal a major blow to public-sector unions tomorrow.
Yes, but: Some of these conservative victories may not be permanent.
The baker's case was narrowly decided, and Kennedy explicitly said similar cases could go the other way in the future.
Kennedy also fired something of a warning shot on the travel ban, writing that, although this policy is legal, "an anxious world must know that our government remains committed always to the liberties the Constitution seeks to preserve."
Because it didn't make a decision on partisan gerrymandering, a new crop of cases can eventually return to the high court.
It's all about Kennedy. Because Kennedy is the court's swing vote, it's hard to build a five-justice majority without him. And that means the court's biggest decisions largely reflect his ideology — mostly conservative, but with a penchant for leaving some wiggle room, and highly attuned to concerns about personal dignity.
But if Kennedy chooses to retire, he'll likely be replaced by a more staunchly conservative justice who would be far less inclined to exercise the flexibility Kennedy has gone out of his way to preserve.
(Editor's note: Get more stories like this by signing up for our daily morning newsletter, Axios AM.)
Go deeper