Marjory Stoneman Douglas students to embark on summer tour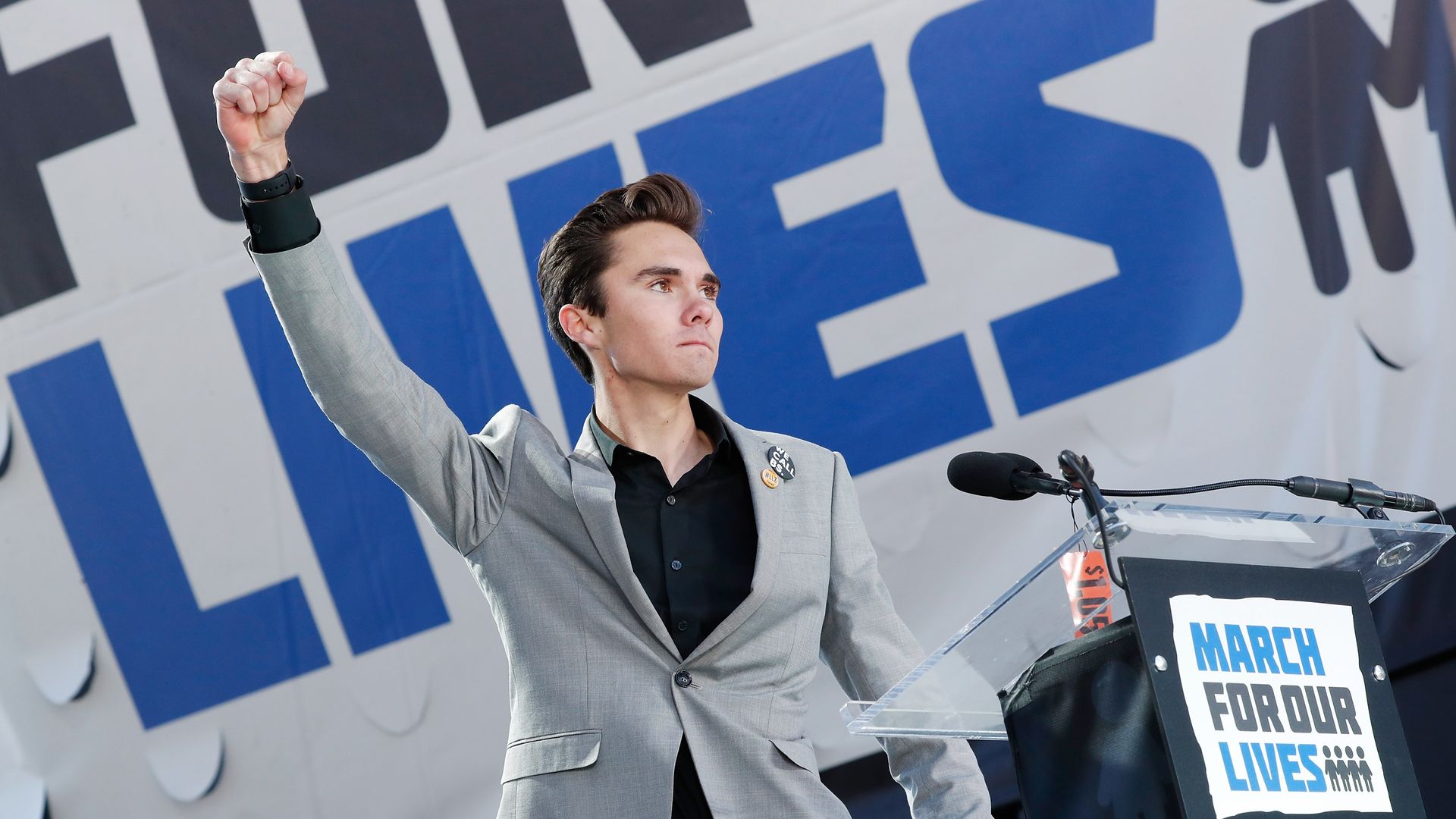 The students of March for Our Lives, including survivors of the Parkland high school shooting, today will announce a 60-day, 20-state, 75-stop summer bus tour to register young people to vote and to promote gun law reform.
A key quote: David Hogg, 18, who graduated yesterday with the other seniors of Marjory Stoneman Douglas High School, told me in an interview Saturday to promote the tour that his biggest surprise as he travels the country has been: "There's a lot more love than hate out there."
Hogg, who plans to work on voter registration during his gap year ahead, said: "I'm glad I'm getting my diploma and not my death certificate."
The bus tour, "March for Our Lives: Road to Change," will include meetings with victims and survivors. It follows the 850 rallies and protests that drew hundreds of thousands of people around the globe on March 24.
Another key leader of the tour is Parkland grad Emma González, 18, whose powerful moment of silence was a highlight of the Washington rally.
Emma, now stopped for selfies wherever she goes, is headed to the New College of Florida in Sarasota.
She told me her message to politicians about gun reform is: "If you don't support this, ... it'll look like you're going against kids."
The tour launches Friday, June 15, at a Peace March in Chicago, led by students from St. Sabina Academy. From there, students will make 50 stops in states that include Texas, California, South Carolina and Connecticut.
A separate, simultaneous Florida tour will make more than 25 stops in the state, visiting every congressional district.
"More than 4 million Americans turned 18 this year, making them eligible to vote for the first time," says a March for Our Lives news release.
What the students are calling for: "universal, comprehensive background checks; creating a searchable database for gun owners; funding the Centers for Disease Control to research gun violence; ... and banning high-capacity magazines and semi-automatic assault rifles."
1 more thing: MSD students graduated in a Sunday ceremony where NBC "Tonight Show" host Jimmy Fallon was the surprise speaker.
In a video of his address, reported by AP, Fallon said: "You are not just the future — you are the present. Keep changing the world. Keep making us proud."
"First thing is this: When something feels hard, remember that it gets better."
Fallon joked that the students "won't be classmates any more. You'll be adults who will Facebook search each other at 2 in the morning for the next 10 years."
Go deeper: How the Parkland teens spearheaded a worldwide movement
Get more stories like this by signing up for our daily morning newsletter, Axios AM. 
Go deeper