Scoop: Trump repeatedly pressured Sessions on Mueller investigation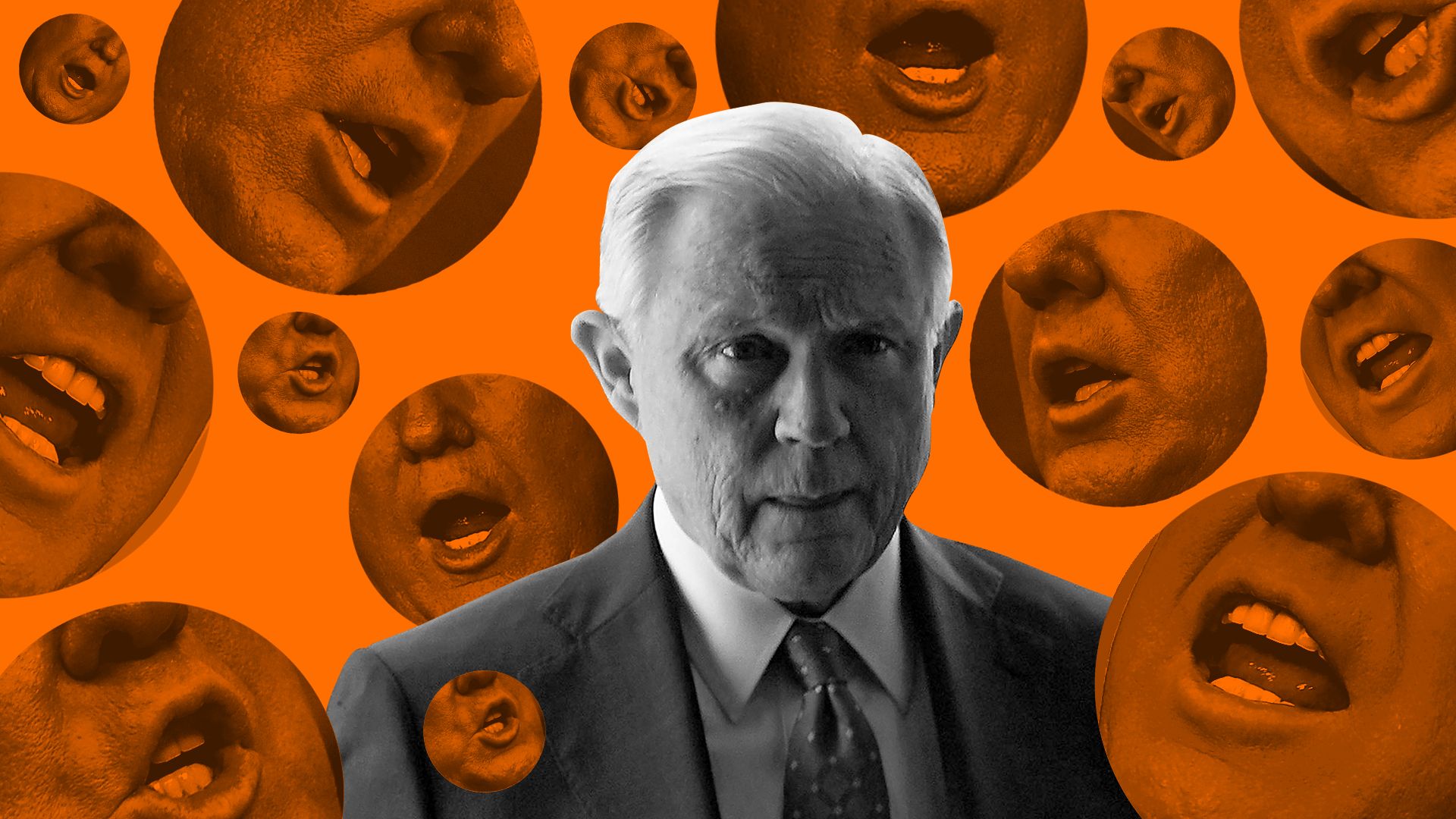 President Trump pressured Attorney General Jeff Sessions to reclaim control of the Russia investigation on at least four separate occasions, three times in person and once over the phone, according to sources familiar with the conversations.
Why it matters: The fact that there were multiple conversations shows that Trump's pressure on Sessions to stop recusing himself was heavier than previously known. The sustained pressure made several officials uncomfortable, because they viewed it as improper and worry that it could be politically and legally problematic.
What we're hearing: The New York Times this week reported on one of these conversations— which occurred at Mar-a-Lago in March 2017 — and said Robert Mueller is investigating it. But Trump's other direct conversations with Sessions about the subject have not been previously reported.
A source with knowledge of the conversations said they occurred throughout last year, until fairly late in the year — not just in the short period after Sessions recused himself last March.
The details: Two sources familiar with the conversations told me the president never, to their knowledge, ordered Sessions to cancel his recusal from the Russia investigation. Instead, he asked Sessions whether he'd "thought about" un-recusing himself.
Trump told Sessions he'd be a "hero" to conservatives if he did the "right thing" and took back control over the Russia investigation, according to two sources with knowledge of their conversations.
Trump also told Sessions he'd be a hero if he investigated Hillary Clinton, according to one of the sources.
Trump also repeated the "hero" line separately to aides and privately mused about whether it would be possible to limit the scope of the Mueller investigation to avoid his business affairs.
The White House declined to comment, as did a spokeswoman for Sessions.
"It's not just payback; it's punishment. It's never enough to win. There's never too much blood. There's never too many guts on the floor. That's his mentality. If you give him a paper cut he'll never forget that paper cut."
— Source who talks frequently to Trump
Behind the scenes: Four sources with direct knowledge told me Trump has been obsessed by the Mueller investigation over the past year. That's been clear from his tweets. But privately he's been brooding about it so persistently, people close to him worry he can't help but make the situation worse for himself.
He views the phrase "witch hunt" as his PR branding of the investigation, but he also truly believes he has been wronged. Much of his desire for investigating Clinton and Barack Obama comes from a desire for retribution, sources who have discussed the matter with Trump told me.
Trump takes out much of his anger on the White House Counsel Don McGahn, according to sources who've watched them interact. McGahn made it clear to White House staff from the outset that he was the person who should be communicating with the Justice Department.
The New York Times first reported that McGahn, following Trump's orders, lobbied Sessions to remain in charge of the Russia investigation. A source with knowledge of their conversations shared more details with Axios:
McGahn spoke to Sessions about the recusal before Sessions decided to recuse himself. According to a source with knowledge of the situation, Sessions told McGahn he was considering recusal and McGahn asked the Attorney General whether he'd exhausted all his options, and whether he'd looked at the Department of Justice guidelines carefully.
Sessions told McGahn he'd already asked Justice Department ethics officials for their opinion. "At that point Don said, 'well I'm out of it'," the source said.
Go deeper:
Get more stories like this by signing up for our weekly political lookahead newsletter, Axios Sneak Peek. 
Go deeper