Hurricane Maria killed more people than 9/11 or Katrina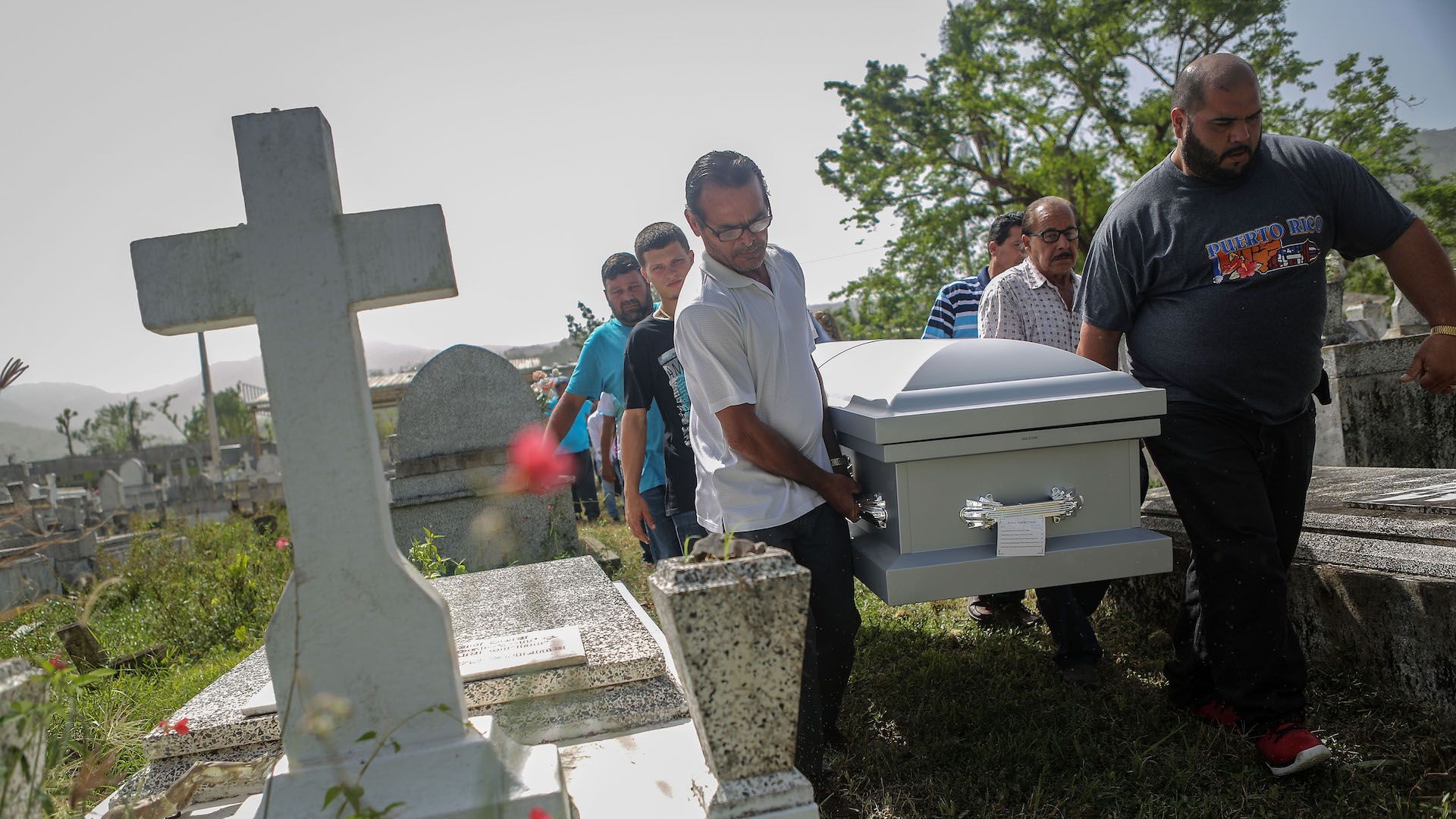 Officials still don't have an agreed upon number of storm-related casualties from Hurricane Maria, which slammed the island of Puerto Rico on Sept. 20, 2017, causing massive destruction to the island's infrastructure and knocking out the entire power grid.
Why it matters: Now a new study, published in the New England Journal of Medicine on Monday, finds a far higher estimate for the actual death toll, 4,645, than the official estimate of just 64.
Context: The death toll from this study means that Hurricane Maria killed more people than Hurricane Katrina did in 2005. That storm killed at least 1,833. It also eclipses the death toll on the day of the September 11, 2001 terrorist attacks, which killed 2,977.
Details:
The study found that the post-hurricane mortality rate was 14.3 deaths per 1,000 persons, which was a 62 percent increase from the pre-storm mortality rate during the same period in 2016.
Researchers say their estimated death toll is "likely to be an underestimate."
The study, by a group of Harvard University researchers as well as experts in Puerto Rico and elsewhere, found that the death toll from the Category 4 storm was actually 70 times higher than the official estimate.
The study's findings are consistent with other recent investigations that have found that storm deaths were far higher than the official count.
The big picture: The biggest factors leading to the higher death toll were disrupted medical services, including access to medication and medical facilities, the study found.
The government of Puerto Rico has requested an independent review of death-registry data to arrive at a more accurate official count of storm-related deaths, but the timing of this is unknown.
How they did it: Researchers surveyed 3,299 randomly chosen households across Puerto Rico to arrive at an independent mortality rate for all causes after the hurricane. They calculated excess deaths by comparing post-hurricane mortality rates with the same period the year before, when there was no major storm. According to the study, the death toll may have exceeded 5,000.
Between the lines: Public health experts remain deeply skeptical of the low death count in Puerto Rico from the most intense hurricane to hit that island in more than 80 years. This new study is the latest to dramatically increase the number of deaths, but it's unclear when the official count will be changed.
Go deeper: Thirty years of Atlantic hurricanes
Go deeper