Donald Trump Jr. under Mueller investigation microscope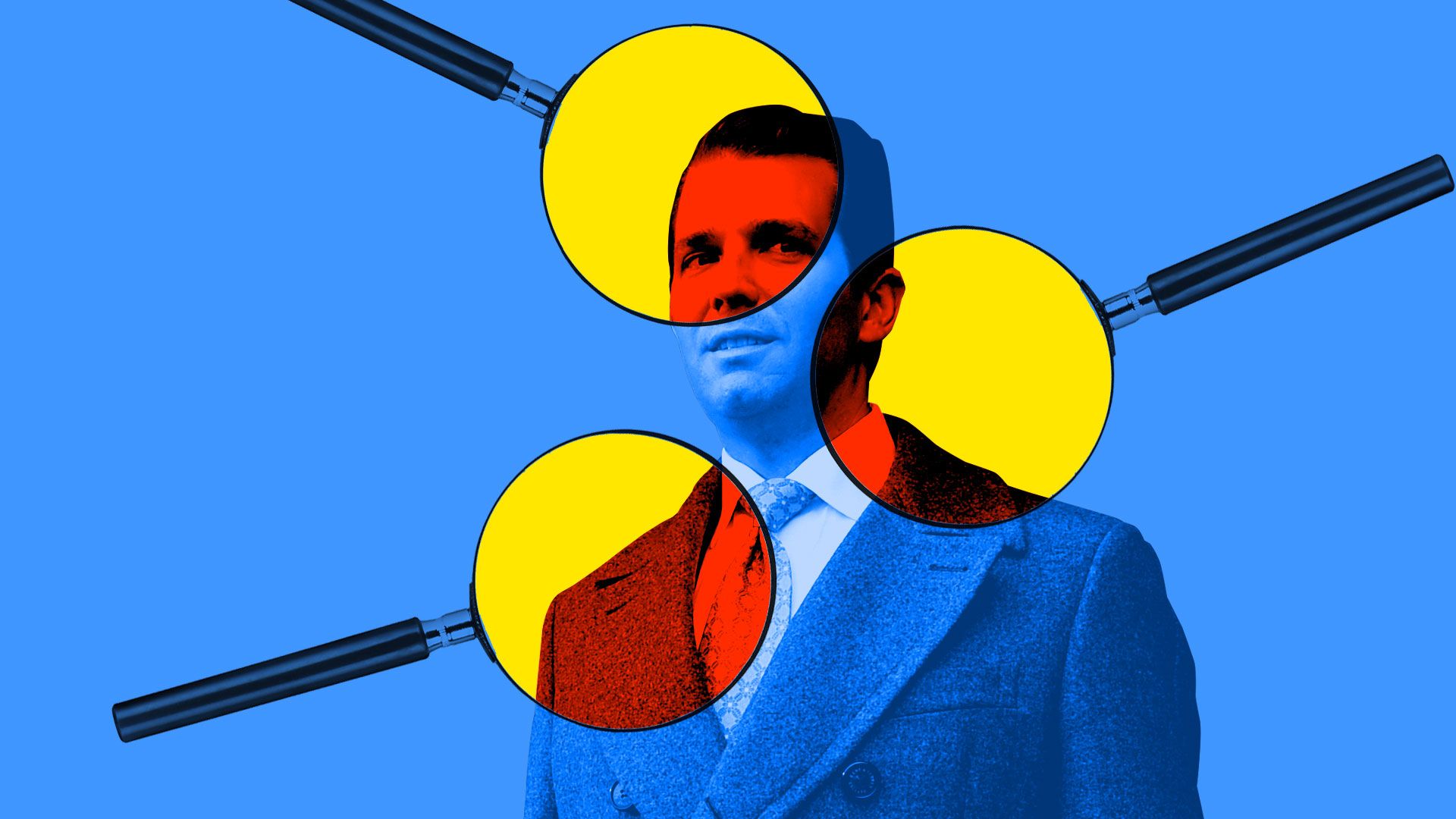 Donald Trump Jr., the president's eldest son, turns out to be a recurring character in the Mueller drama, in a way that complicates Republican efforts to dismiss the investigation as "nothing to see here." First, Don Jr. was at the center of the Trump Tower campaign meeting with a Russian lawyer, emailing "I love it" after the first overture and later putting out a statement that President Trump helped prepare, and was inaccurate.
The latest: Now, the N.Y. Times reports in Sunday's lead story — under the headline, "Trump Inquiry Grows to Include Contacts in Gulf" — that Mueller is looking into another meeting Don Jr. held at Trump Tower.
This one, three months before the election, included, per The Times, a) Joel Zamel, an Israeli specialist in social media manipulation, and b) George Nader, an emissary for two wealthy Arab princes, from Saudi Arabia and the United Arab Emirates.
The Times says the meeting was organized and attended by Erik Prince, the former head of Blackwater, a Republican donor with a controversial past in the Middle East as a private security contractor.
"Nader explained to Donald Trump Jr. that the two princes saw the elder Mr. Trump as a strong leader who would fill the power vacuum that they believed Mr. Obama had left in the Middle East, and Mr. Nader went on to say that he and his friends would be glad to support Mr. Trump as much as they could."
Why it matters: So many Mueller-related revelations spill out, often multiple times a day, that sometimes we have to pause and have a "Wait! What?" moment:
This is the now-president's son, then a key campaign adviser, who carries his father's name and runs the president's business empire (along with his younger brother, Eric).
Remember, as noted by the N.Y. Times: "It is illegal for foreign governments or individuals to be involved in American elections."
Ironically, Trump — who now rides roughshod over longtime alliances — had his own coalition of the willing that wanted to help get him elected.
A statement from a lawyer for Don Jr., Alan Futerfas:
"Prior to the 2016 election, Donald Trump Jr. recalls a meeting with Eric Prince, George Nader, and another individual who may be Joel Zamel. They pitched Mr. Trump Jr. on a social media platform or marketing strategy. He was not interested and that was the end of it."
A source close to Don Jr. said he barely remembers the meeting, and that "nothing came of it."
The source says Don Jr. is "the king of people wanting to leave a meeting happy, whether or not he intends to follow up."
Even now, someone will walk up to Don Jr. at the Trump International Hotel in D.C. and want to take a selfie, and a friend will have to warn: "Not that person."
The source told me: "He just trusts people way too much."
Be smart ... A source close to the White House tells us foreign governments exploited the Trump campaign's naiveté: "They saw a bunch of inexperienced people who suddenly found themselves in political roles. They took advantage."
Go deeper