Ronny Jackson withdraws as VA Secretary nominee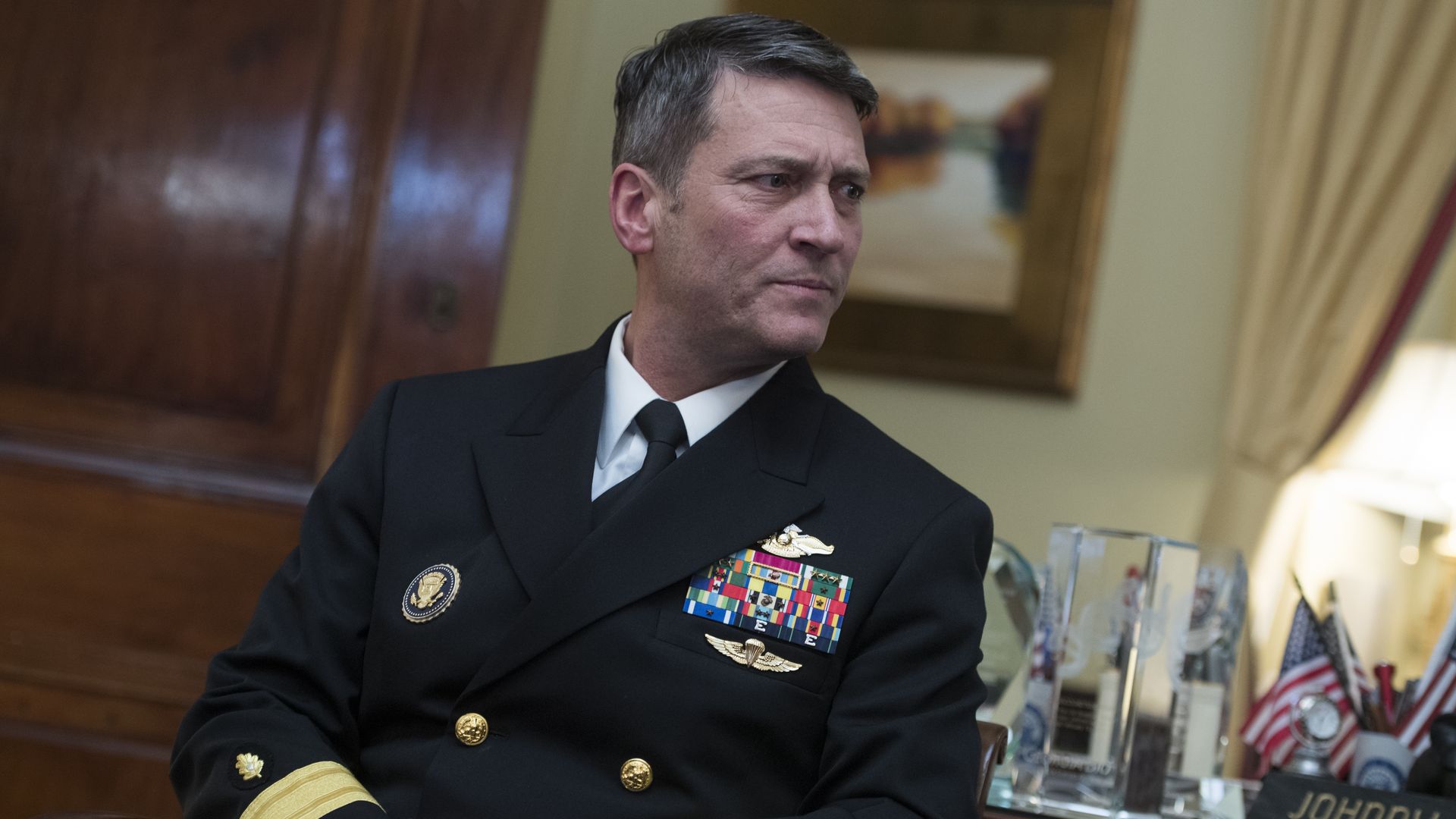 Ronny Jackson has withdrawn his nomination as President Trump's nominee for VA Secretary, calling the allegations against him of alcohol abuse and overprescription of medication "false and fabricated."
Why it matters: While Jackson's withdrawal rids the White House of one looming headache, it resets Trump's search for a new head of the executive branch's second-largest department back to square one. However, it seems that President Trump wasn't surprised by Jackson's decision, telling Fox & Friends during an interview this morning: "I even told him a day or two ago. I saw where this was going."
Who's next: Trump told Fox & Friends that he knows who he's going to nominate next, though he refused to provide a name. He said it was someone with "political capabilities."
Why the White House held on to Jackson for so long, as reported by Axios' Jonathan Swan earlier this morning:
What if the goal is to get Democrats to pile on an admiral who passed background checks across Republican and Democratic administrations?
Also, White House staff are genuinely defensive of Jackson — a man who's well liked in the building — against what staff see as unfair airing of unverified allegations. 
It's the view of some Republicans that going all-in could backfire on Democrats, especially if some of the allegations are disproven.
Adding fuel to that idea, Trump told Fox & Friends this morning that the debacle might cause re-election issues for Montana Democratic Sen. Jon Tester, who circulated the allegations against Jackson: "I think this is going to cause him a lot of problems in his state."
Jackson's full statement:
"One of the greatest honors in my life has been to serve this country as a physician both on the battlefield with United States Marines and as proud member of the United States Navy.
It has been my distinct honor and privilege to work at the White House and serve three Presidents.
Going into this process, I expected tough questions about how to best care for our veterans, but I did not expect to have to dignify baseless and anonymous attacks on my character and integrity.
The allegations against me are completely false and fabricated. If they had any merit, I would not have been selected, promoted and entrusted to serve in such a sensitive and important role as physician to three presidents over the past 12 years.
In my role as a doctor, I have tirelessly worked to provide excellent care for all my patients. In doing so, I have always adhered to the highest ethical standards.
Unfortunately, because of how Washington works, these false allegations have become a distraction for this President and the important issue we must be addressing – how we give the best care to our nation's heroes.
While I will forever be grateful for the trust and confidence President Trump has placed in me by giving me this opportunity, I am regretfully withdrawing my nomination to be Secretary for the Department of Veterans Affairs.
I am proud of my service to the country and will always be committed to the brave veterans who volunteer to defend our freedoms."
Go deeper