The twisted world of social media influencers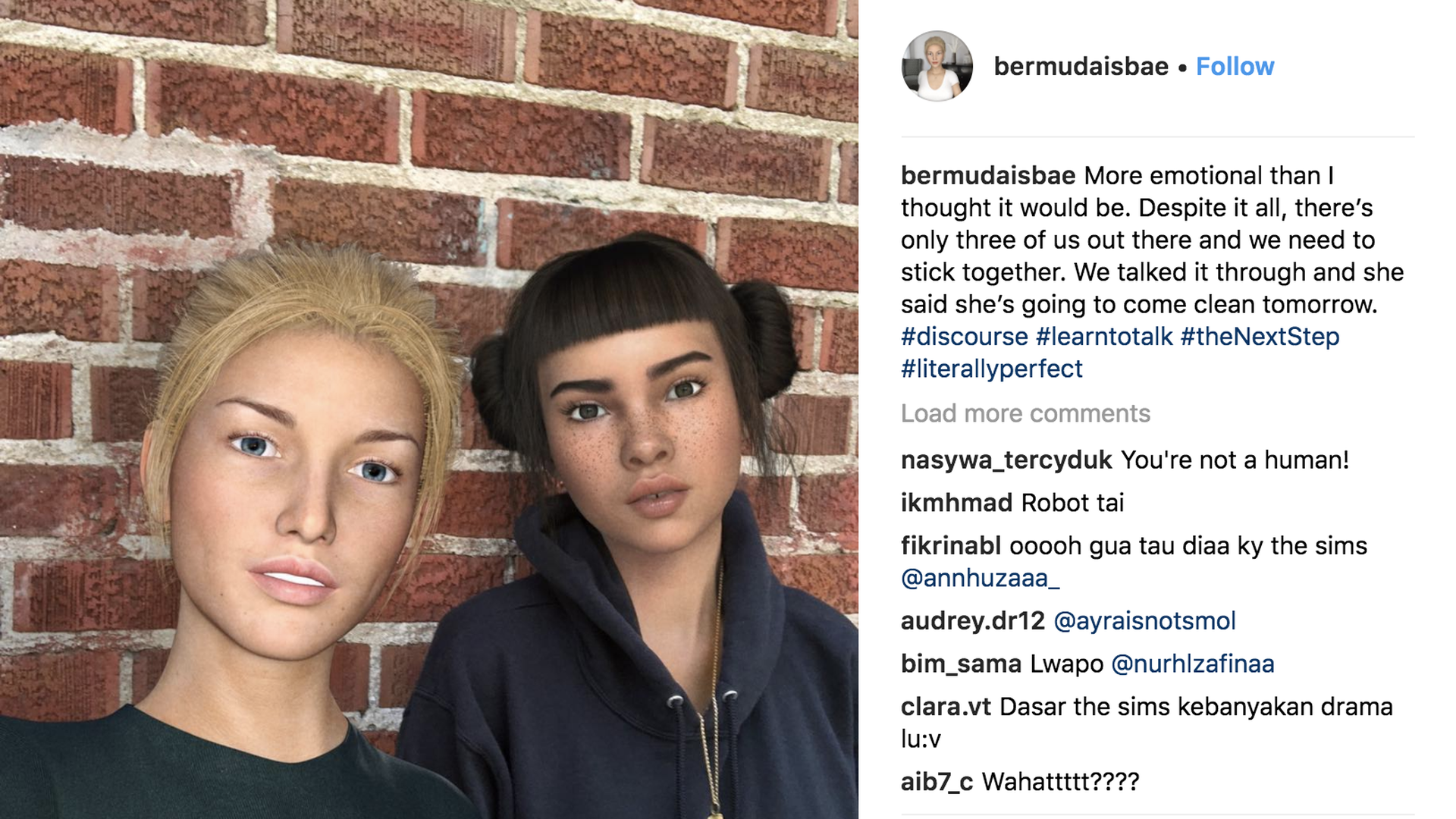 The account of popular progressive Instagram model @lilmiquela (1 million followers) was supposedly "hacked" last week by popular pro-Trump instagram model @bermudaisbae (64k followers). While details around the hack are hazy, a photo of the models together suggests that the event was coordinated. Instagram says "there's no indication that the account in question was compromised."
Yes, but: Neither model is real, although one is verified by Instagram. They are computer-generated imagery (CGI) models with massive followings and in some cases have racked up real advertising deals and music profiles. (Music by @lilmiquela is listed on Spotify and Apple Music.)
The case for anonymity online is being tested as regulators, platforms and brands try to wrap their heads around the messy consequences of non-human social media accounts.
No one knows exactly who is responsible for these accounts, although @lilMiquela has recently alluded to a robotics and AI firm, Brud, as being the origin of her creation and @bermudaisBae says she's made by an AI company called Cain Intelligence, which says on its website that it openly endorsesDonald Trump.
Why it matters: These accounts are often — by Instagram and the Federal Trade Commission's standards — considered to be commercial enterprises that are subject to the same advertising disclosure laws as real models.
These accounts sometimes don't adequately disclose sponsorship information, which makes rules hard to enforce. @lilMiquela, for example, credits certain hair care products for her "silky" locks, but none of her posts are labeled as an "ad," if these endorsements even are ads.
It can be difficult for the FTC and other regulators to crack down on these fake personalities, because their origins are difficult to track.
"The FTC might have to start suing people," says, Consumer Unions Director of Consumer Privacy and Technology Policy Justin Brookman. "But they're probably nervous about that because their guidelines are based on underlying law that was passed a century ago, which broadly says 'don't be deceptive.'"
The big picture: Accounts like these also have the ability to disrupt political discourse by taking advantage of the popularity around emerging trends to build an audience and then promoting certain political perspectives.
In this example, both "models" are gaining traction by promoting real fashion and culture trends while also taking vocal positions about divisive political issues. @lilMiquela, for example, supports LGTBQ rights and the #BlackLivesMatter movement, while @Bermudaisbae is an open skeptic of climate change science.
"They play to all of the social psychological biases we have," says Holly Schroth, a senior lecturer at the Haas School of Business who specializes in social psychology.
Similar to hoax accounts used during the 2016 elections,these accounts play to the modern political psychology of appealing to audiences that resonate with social media movements over policies, or even people.
What's next: The lines are only going to continue to blur as technology becomes more sophisticated.
Go deeper