Updated Apr 24, 2018 -

World
Macron proposes new, bigger Iran deal to stave off U.S. exit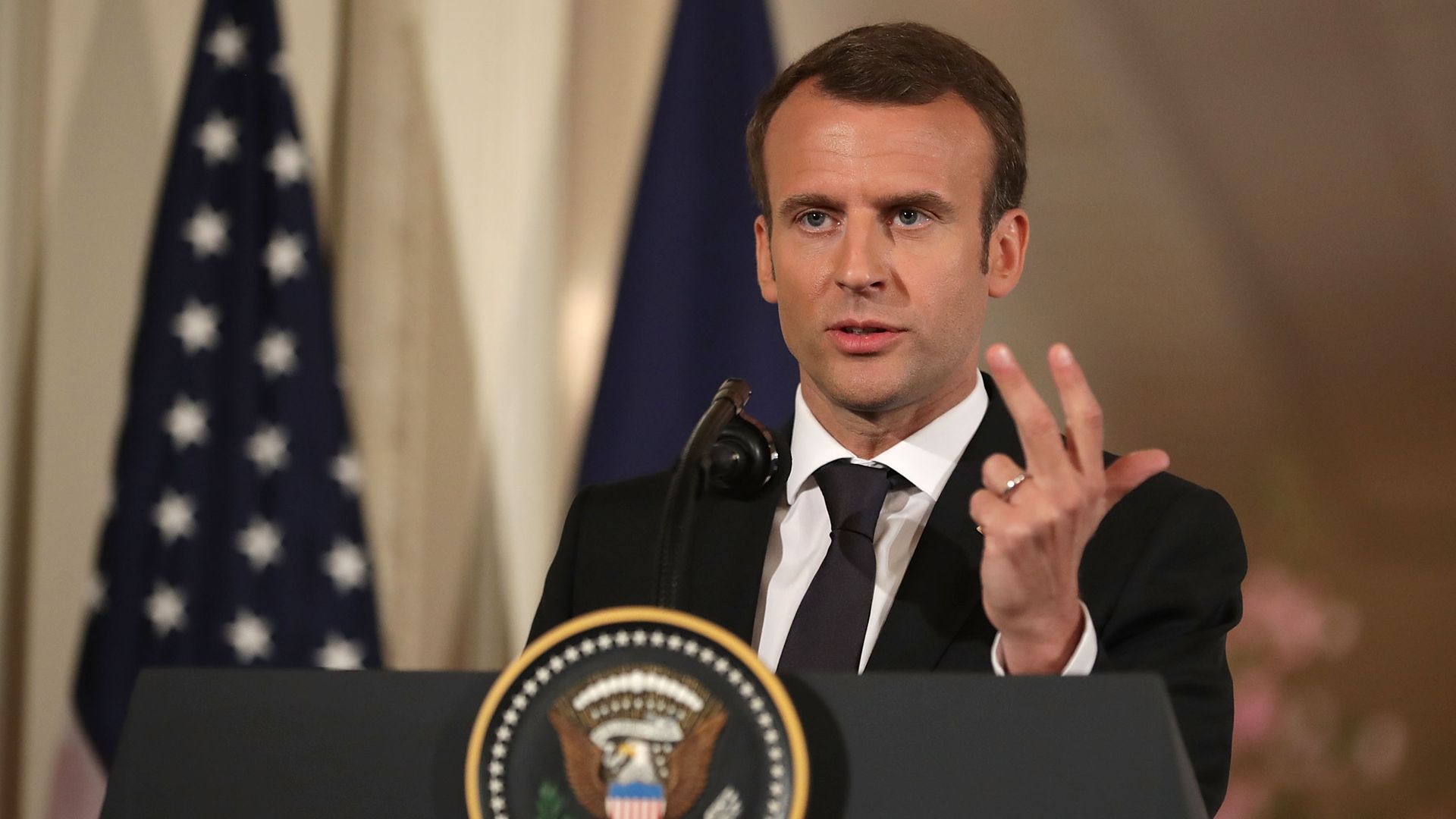 At a joint news conference today, French President Emmanuel Macron said he and President Trump had agreed to work on a "new deal" that includes the 2015 nuclear agreement with Iran but incorporates additional measures.
What to watch: The enlarged deal would contain three more "pillars": assurances that Iran cannot reconstitute a large nuclear program after certain JCPOA restrictions expire in 2025; limits on Iran's ballistic missile development and transfers of weapons to regional proxies; and diplomacy to resolve the conflicts in Syria and Yemen.
Trump did not confirm that he would renew sanctions waivers when the next deadline comes on May 12. He again excoriated the Joint Comprehensive Plan of Action (JCPOA) as a "bad deal … [that] should never have been made." He would not commit to any course of action, saying "we'll know fairly soon" what his decision will be. But he nodded as Macron spoke about a broader agreement and said that "we have very much in common" and that leadership required being "flexible." The French president, who has developed the best rapport with Trump of any foreign leader, repeatedly put his hand on Trump's arm as he outlined this broader approach.
Trump appears to be developing a new appreciation for allies in diplomatic and military affairs even if he continues to see U.S. regional intervention in largely transactional terms. Both Macron and Trump referred to France's participation in rocket strikes against Syria after the regime there again used chemical weapons. This has helped cement a growing alliance with the United States.
Why it matters: Iran has threatened to leave the JCPOA and aggressively resume its uranium enrichment program if the U.S. does not renew sanctions waivers. Iranian Foreign Minister Javad Zarif has also bitterly complained about what he sees as European efforts to appease a mercurial U.S. leader. But if the Macron charm offensive — augmented by German Chancellor Angela Merkel at week's end — works, Iran may also benefit.
Barbara Slavin directs the Future of Iran Initiative at the Atlantic Council.
Go deeper