Why Trump thinks he's winning his war on media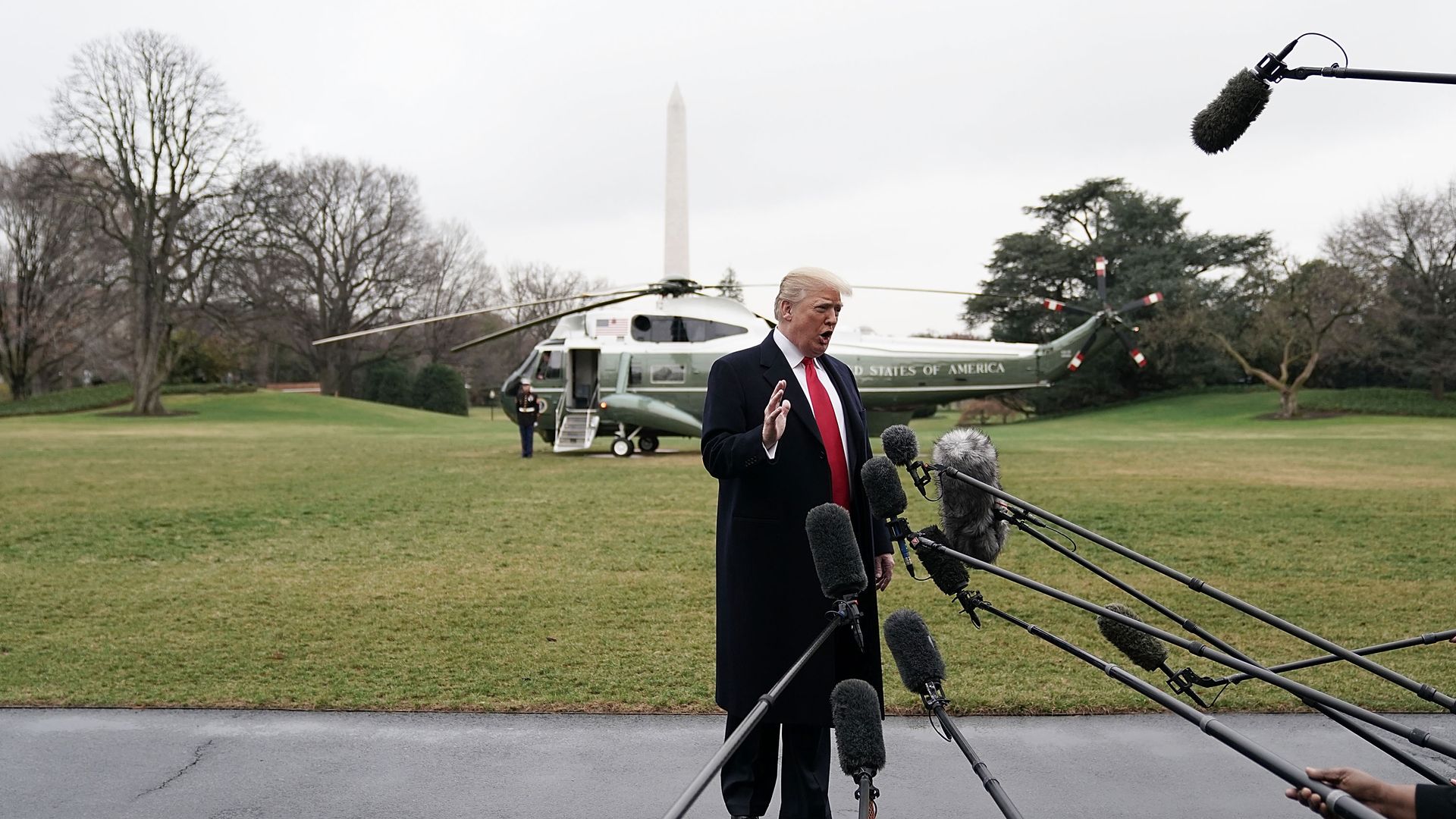 Nothing helps President Trump more — or tightens his hold on his base more securely — than his cozy, mutually beneficial relationship with conservative TV. Trump's feedback loop, including cable-news coverage, and mainstream media squawking, convinces the president that he's winning his war on media.
The two key players: Fox News — especially the morning show, "Fox & Friends" — and Sinclair Broadcast Group, the nation's largest owner of local broadcasting stations with unabashed conservative leanings.
1. Fox News: It's no exaggeration to say that the "Fox & Friends" anchors and commentators have become de facto policy advisers.
Axios' Jonathan Swan wrote in October about the special hold that Fox Business anchor Lou Dobbs has on Trump, who has followed Dobbs' business coverage going back to his CNN days. Now The Daily Beast reports that Trump "has patched in Dobbs via speakerphone to multiple meetings in the Oval Office so that he could offer his two cents."
Swan tells me: "Trump not only watches these folks religiously but consults them by phone + views Fox judges Jeanine Pirro and Andrew Napolitano as quasi legal advisers."
2. Sinclair Broadcasting: Trump backed the company in a tweet yesterday after an embarrassing viral mash-up showed dozens of Sinclair anchors on at least 66 stations around the country reading a canned promo script denouncing "fake stories" on "some media outlets."
Trump's tweet: "So funny to watch Fake News Networks, among the most dishonest groups of people I have ever dealt with, criticize Sinclair Broadcasting for being biased. Sinclair is far superior to CNN and even more Fake NBC, which is a total joke."
Be smart: The mainstream media's skeptical-to-sneering coverage of Fox and Sinclair just endears those outlets to Trump, and causes his diehard supporters to dig in even deeper.
The loyalty of Trump's base is deepened by conservative media amplifying his complaints — even of other Republicans.
Swan explains: "Trump demands instant gratification and the quickest way to do it is to kick a shared enemy of his media allies (WaPo being the one this week). He'll get instant feedback, phone calls from cable hosts and approving coverage on their shows. It's the modern version of call and response: his tweets, their chyrons."
A Trump aide told me that the president gravitates toward conservative outlets because "those seem to be the only options that aren't chronically negative or personally vicious toward him," and that voters "are weary from the constant and obsessive negativity elsewhere."
Fox and Sinclair are becoming more unabashedly pro-Trump in their commentary. And neither sounds chastened by recent controversies:
Sinclair Broadcast Group president and CEO Christopher S. Ripley told me in an email that his stations' "commentary offers a viewpoint that may be ignored by other organizations": "[O]ur critics are stretching to prove a non-business or sinister intent that just simply does not exist."
When I asked Ripley if he'd run this promo campaign again, or give local stations more flexibility next time, he replied: "The objective of the campaign was to increase viewership so it will either succeed in that regard or not and that is how I would determine if we would do this campaign again."
Jack Abernethy, co-president of Fox News, said in a statement to the L.A. Times that the network is backing host Laura Ingraham, who drew an advertiser boycott (and later apologized) after attacking David Hogg, Parkland shooting survivor and student activist.
"We cannot and will not allow voices to be censored by agenda-driven intimidation efforts," the statement said. CNN's Brian Steltersaid that's a reference to the liberal Media Matters for America.
P.S. Two ironies:
Swan notes: "The nuance is he still craves mainstream approval, especially from his hometown paper, the NYT. It's the girl he can't get. One adviser told me recently that Trump spends more time reading newspapers than people realize. Then he scribbles on them and his notes fly around the building — often creating the need for additional briefings and meetings on the issues that grab his attention."
Axios media trends expert Sara Fischer: "While Sinclair is growing and local news is the most-consumed form of TV news, TV news consumption is also declining year over year. My sense is that Trump is penetrating these dying networks that mostly reach older consumers anyway."
Go deeper