First look: Comey vs. Trump tour for "Higher Loyalty" book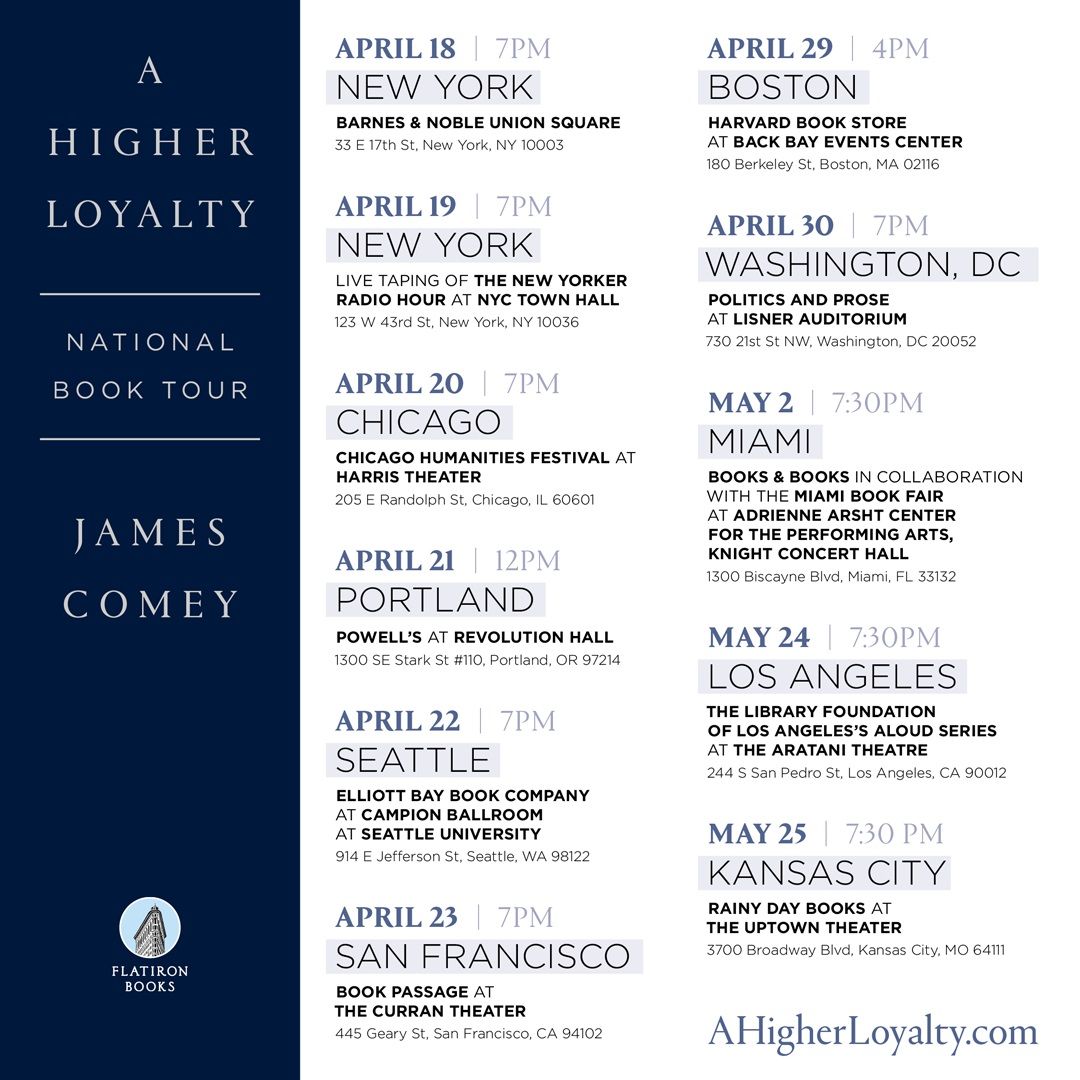 It's the Comey vs. Trump tour.
Former FBI Director James Comey plans to discuss "good, ethical leadership" during a coast-to-coast tour to promote his forthcoming book, "A Higher Loyalty: Truth, Lies, and Leadership," out April 17 from Flatiron Books.
The publication date was moved up because Comey's firing by Trump remains hot in the news as special counsel Robert Mueller continues his investigation.
The topic can be expected to cause a frenzy on the tour.
In Washington, Axios co-founder Mike Allen will moderate a conversation with Comey on April 30 at 7 p.m. (Lisner Auditorium, 730 21st St. NW), at an event presented jointly by Politics and Prose Bookstore and Axios.
That will be Comey's only D.C. event during the tour, organizers said.
The publisher's announcement says Comey will "explore what good, ethical leadership looks like and how it drives sound decisions."
"Using examples from some of the highest-stakes situations in the past two decades of American government, Comey will share yet-unheard anecdotes from his long and distinguished career."
Comey has announced three network TV appearances:
April 15: ABC News "20/20" special at 10 p.m.: interview with chief anchor George Stephanopoulos.
April 17: "The Late Show with Stephen Colbert," CBS, 11:35 p.m.
April 18: "The View," ABC.
Here are the in-person tour dates:
April 18 — New York City: Barnes & Noble Union Square, 7 p.m., 33 E 17th St.
April 19 — New York City: Live taping of The New Yorker Radio Hour at NYC Town Hall, 7 p.m., 123 W 43rd St.
April 20 — Chicago: Chicago Humanities Festival at Harris Theater, 7 p.m., 205 E. Randolph St.
April 21 — Portland, Ore.: Powell's at Revolution Hall, noon, 1300 SE Stark St. #110.
April 22 — Seattle: Elliott Bay Book Company at Campion Ballroom, Seattle University, 7 p.m., 914 E. Jefferson St.
April 23 — San Francisco: Book Passage at the Curran Theatre, 7 p.m., 445 Geary St.
April 29 — Boston: Harvard Book Store at Back Bay Events Center, 4 p.m., 180 Berkeley St.
April 30 — Washington, D.C.: Politics and Prose at Lisner Auditorium, 7 p.m, 730 21st St. NW.
May 2 —Miami: Books & Books in collaboration with the Miami Books Fair at Adrienne Arsht Center for the Performing Arts, Knight Concert Hall, 7:30 p.m., 1300 Biscayne Blvd.
May 24 — Los Angeles: The Library Foundation of Los Angeles' ALOUD Series at the Aratani Theater, 7:30 p.m., 244 S. San Pedro St.
May 25 — Kansas City, Mo: Rainy Day Books at the Uptown Theater, 7:30 p.m., 3700 Broadway Blvd.
Comey is represented by Matt Latimer and Keith Urbahn of Javelin.
Go deeper