Why Tillerson's exit could shake oil markets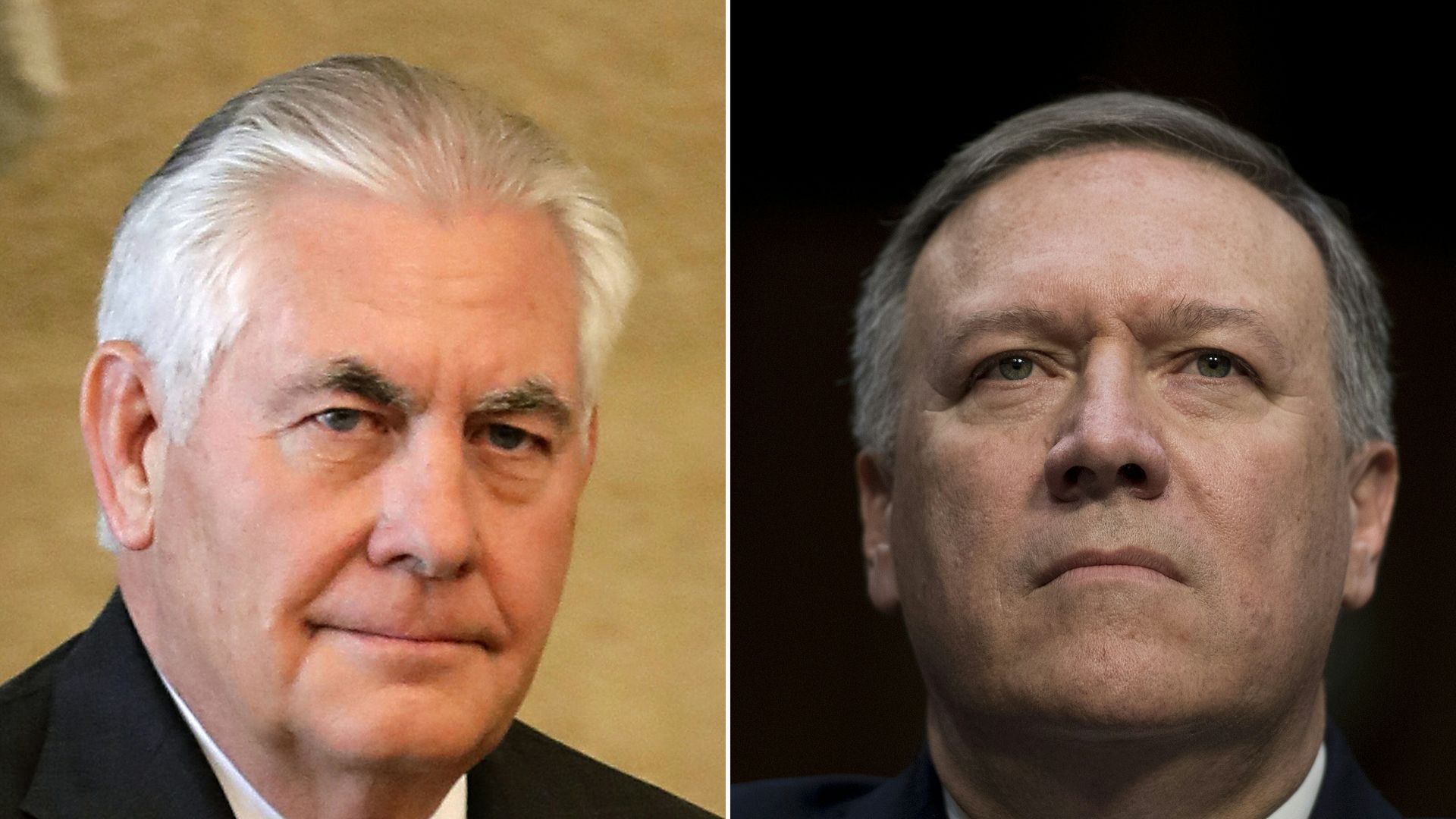 A number of analysts quickly predicted that Secretary of State Rex Tillerson's ouster and Mike Pompeo's ascendance will ensure a more aggressive U.S. posture against two major oil producers: Iran and Venezuela.
Why it matters: Beyond the security and humanitarian considerations, potential new sanctions could also alter oil markets.
"Pompeo's selection augurs a period of higher risk and volatility in energy markets. Pompeo supports a more unilateral and confrontational approach toward Venezuela, Iran, and North Korea."
— David Goldwyn, a top State energy official early in Hillary Clinton's tenure, to Axios
Iran
The Iran nuclear deal is hanging by a thread: In the near term, Trump is facing a May decision about whether to again waive sanctions against Iran's oil sector, and has signaled he won't sign another waiver absent changes to the nuclear agreement. But winning them is an uphill climb.
"[I]t is unlikely that Congress or the Europeans will take any meaningful action to modify the agreement. As a result, there is significant risk of snap-back US oil sanctions on Iran on May 12, and the nuclear deal remains on life support," Joseph McMonigle of Hedgeye Risk Management said in a note.
He believes Trump's decision to replace Tillerson "surely signals the end" of the nuclear deal. Reimposing the sanctions could take up to one million barrels of Iranian crude exports per day off of global markets, he said.
However, the figure would be lower unless other U.S. allies also renew penalties, which appears unlikely.
The fallout:
McMonigle notes that re-imposing U.S. sanctions would "inject significant geopolitical instability in oil markets."
RBC Capital Markets' Helima Croft, in a note yesterday, said renewed U.S. sanctions would likely "curb the enthusiasm" of European and some Asian companies to invest in Iran oil production," among other effects.
Bloomberg Gadfly's Liam Denning makes a similar point here. He says solitary U.S. measures might not take any Iranian barrels off the market, but adds: "America pulling out of the deal might cause foreign oil companies such as Total SA of France to think twice about committing more investment in Iran (ironically, Russian oil companies might well step in if others step back)."
Venezuela
It's another place to watch as plunging oil production has fueled an economic and humanitarian crisis.
Check out the chart above — the country's oil production plummeted in the last two years, and as EIA notes here, by January of this year it was already another 300,000-plus barrels-per-day lower than in 2017.
"Pompeo will likely align with more hawkish voices in the administration calling for stepped up sanctions, including those that would further restrict Venezuela's ability to export crude and further curtail the regime's revenue," Croft predicted in a note Tuesday.
Go deeper: S&P Global Platts breaks down the potential oil market and geopolitical effects of Tillerson's ouster here.
Go deeper