Trump gun plan doesn't involve raising age to buy assault rifles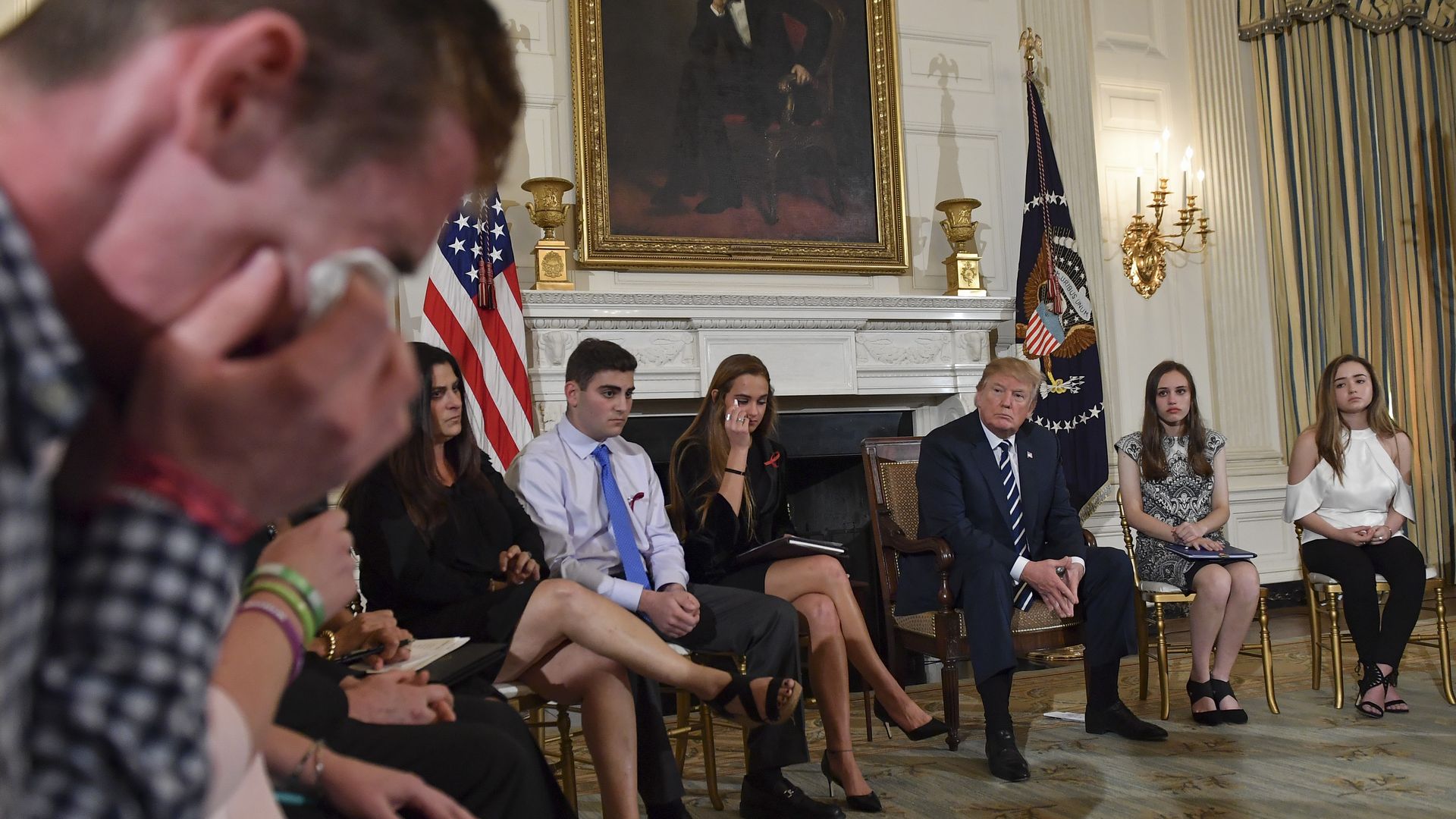 President Trump has apparently backed down from his plan to urge states to raise the age to purchase assault weapons to 21. Senior White House officials laying out his school safety agenda in a conference call on Sunday said the idea would be examined by a new Federal Commission on School Safety to be chaired by Secretary of Education Betsy DeVos.
The backdrop: This comes after The National Rifle Association filed a federal lawsuit on Friday, seeking to overturn a new Florida law signed by Gov. Rick Scott that raises the age limit to 21 and includes a three-day waiting period on gun purchases. The group, which spent millions in support of Trump's presidential bid, said it violates Americans' constitutional rights.
Asked during the call if the administration is concerned over that suit, an official responded: "N0, we're not concerned about the NRA here. ... We are very focused on ensuring that law enforcement has the mechanisms to" prevent and confiscate weapons from those who shouldn't obtain firearms "in keeping with due process."
Two big things the plan does include:
Through a partnership with local law enforcement, the Department of Justice will provide firearm training to school staff.
Trump is urging states to enact laws that would allow them to confiscate weapons from legal gun owners who pose a risk to themselves or others until a court has intervened.
Other elements:
Trump is urging lawmakers to pass a bipartisan measure from Majority Whip John Cornyn (R-Tx) and Sen. Chris Murphy (D-CT). It would hold federal agencies accountable for failing to properly document individuals' criminal histories in the FBI's National Instant Criminal Background Check system.
He wants Congress to pass the STOP School Violence Act. It would offer grants to states to beef up school security, implement systems to comb through reported threats and identify warning signs of potentially violent behavior.
The administration wants to increase mental heath and family care services at school, and order an audit of the FBI's tip line in response to the agency's failures before the Florida school shooting.
DeVos' school safety commission:
DeVos said the commission will include practitioners, teachers and other stakeholders to identify measures and policies, such as "increasing access and transparency to mental health services."
The administration has not set a timeline to present policy proposals, but DeVos vowed to "move with urgency."
Go deeper: The scramble to keep schools safe.
Go deeper