Scoop: Trump finally losing patience with VA Sec. Shulkin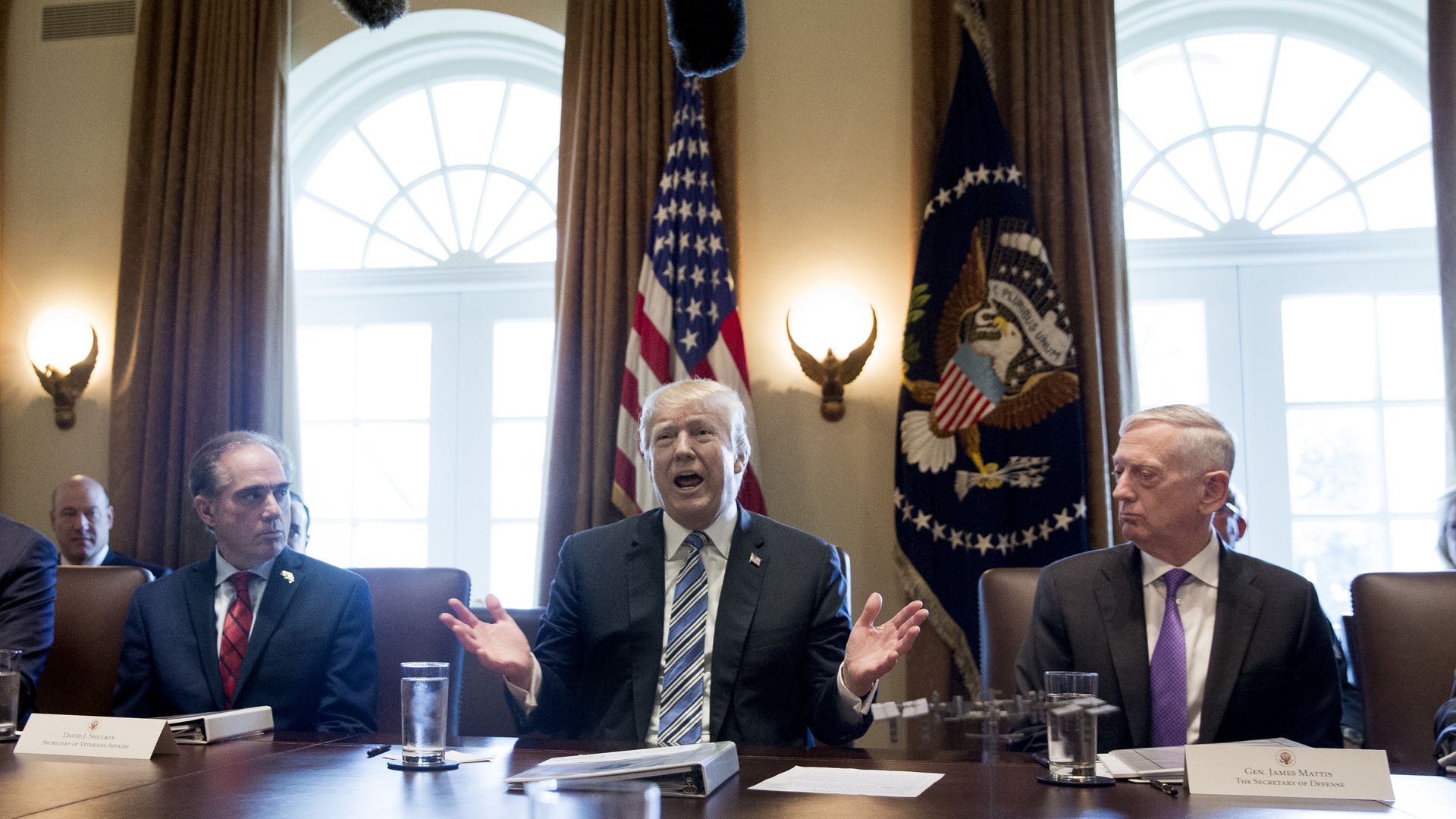 It took a few weeks to land on his radar, but President Trump now views Veterans Affairs Sec. David Shulkin as a major problem. Trump has been telling associates he doesn't know what's happened at the VA, but he doesn't like what he's hearing and he may have to fire Shulkin if the situation further deteriorates.
The short version: After the VA's inspector general reported that Shulkin used taxpayer dollars to pay for his wife to go to Europe, the VA secretary has been telling anyone who will listen that Trump appointees in his agency are conspiring to undermine him. He started handling his own media relations because he doesn't trust the agency's communications staff.
Behind the scenes last week, chief of staff John Kelly met with Shulkin at the White House on Monday afternoon. Shulkin brought along his deputy Tom Bowman and his chief of staff Peter O'Rourke, according to three sources with direct knowledge.
Kelly told Shulkin he's got to end the drama at the VA and stop fighting with his staff. Kelly's sick and tired of Shulkin freelancing and talking directly to the press. He wants Shulkin to just shut up and stop causing drama, those sources say.
Kelly's bottom line message to Shulkin: Continue your mission and get back to work. We can't keep going on like this. (But Kelly did tell Shulkin he'd help him deal with the personnel problems at the VA.)
Right after his meeting with Kelly, Shulkin was brought into the Oval Office to talk to Trump. The conversation quickly turned to discussing important legislation to reform the VA health care system.
Trump surprised Shulkin by dialing in Fox & Friends host Pete Hegseth on speaker phone to get his opinion of the legislation, according to two sources with knowledge of the conversation.
The Trump administration is debating a few different bills and trying to reconcile them. Conservatives prefer a bill pushed by Sen. Jerry Moran, while moderates prefer legislation pushed by Sen. Johnny Isakson.
The Hegseth call put Shulkin in an awkward spot, according to those sources. Hegseth competed for Shulkin's job and favors more aggressive reform for the VA. Trump talks to Hegseth regularly and enjoys watching him on Fox and Friends.
What came next shocked Kelly: After visiting the White House, Shulkin spoke to The New York Times. He declared victory, announced he had the power to can insubordinate political appointees, and said he had the White House's full support.
This paragraph in the story especially infuriated Kelly, according to two sources familiar with his thinking: "[Shulkin] said in an interview that President Trump and Mr. Kelly supported his making changes at the department, including the removal of any staff members who did not support him."
Kelly found out about the article because the NYT reporters contacted the White House press shop before publishing the story. Kelly called Shulkin to ask him if he had said this to Times. He felt Shulkin was trying to exploit the meeting he had with him.
(This isn't the first time Kelly felt that way. Senior White House officials were infuriated by an interview Shulkin gave Politico late last month, where he effectively said the same thing. The headline blared: "Shulkin says he has White House backing to purge VA." But the White House gave Shulkin no such authority at the time, and in fact stymied his attempts to fire what he perceived as Trump political appointees who were conspiring against him.)
From the WH's perspective: They agreed to work with Shulkin on fixing his staff problems. But both times they talked, he went directly to the media and declared victory. In the view of senior officials, there's a difference between discreetly and professionally handling staffing issues and publicly embarrassing and firing supporters of the president. Kelly agreed to help Shulkin with the former, and Shulkin keeps trying to do the latter.
In response to my questions, Shulkin's Strategic Communications Advisor Ashleigh Barry emailed the following quote from the Secretary: "The meeting with the President and Chief of Staff was productive, supportive and focused solely on moving forward in the best interest of our Veterans." Barry added: "we will not be providing further comment."
Bottom line: Shulkin remains in a perilous position. He has cut off communication with about a half dozen key people at the VA. They include Press Secretary Curt Cashour, Assistant Secretary for Public and Intergovernmental Affairs John Ullyot, Assistant Secretary for Congressional and Legislative Affairs Brooks Tucker, senior adviser Jake Leinenkugel, and a senior adviser at the Veterans Health Administration Camilo Sandoval. And now, his relationship with the White House is more frayed than ever.
Go deeper