Poll: People view millennials as "spoiled" and "lazy"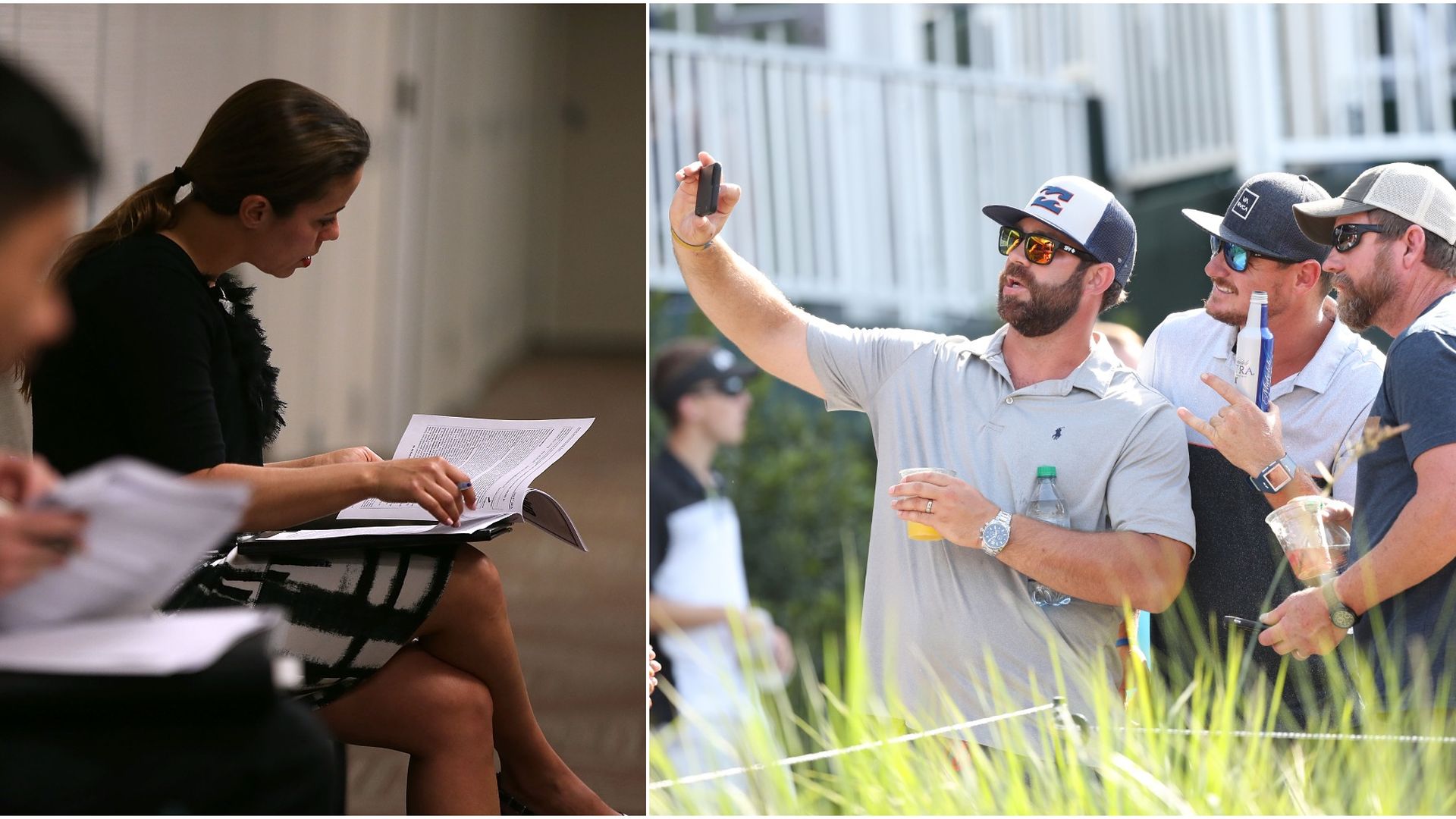 Millennials are described, by others and themselves, as "spoiled," "lazy" and "entitled," according to an Axios/SurveyMonkey survey. They've put off moving out, getting married and having kids. But millennials also appear in many ways to be more financially responsible than prior generations — saving more, taking less paid time off, and worrying more about stability.
Why it matters: Millennials are the most diverse generation ever, and the largest proportion of the American workforce. But, as they gradually take over the pillars of the economy, they are splintering into two distinct groups that struggle to relate with one another, divided by education, age, personality and achievement.
Intra-generational split
Right at around the age of 30, according to Jason Dorsey, who studies millennials for the Center of Generational Kinetics, millennials tend to self-select into one of two groups, and are "no longer able to identify with the other group in their own generation."
One is "increasingly self-reliant." These millennials are motivated and successful, and feel that they are progressing toward their goals.
The other struggles to advance through the traditional steps of adulthood, and feels that they're not making progress.
Maturity gap
Traditional adulthood:

In 2016, 56% of 34 year olds were married, according to Gallup, following a more traditional roadmap of getting married in your 20s or early 30s.
47% of millennials have $15,000 or more in savings and 1 in 6 have $100,000, according to a Bank of America study. 81% of millennials are saving for retirement, more than any other generation, according to a Discover study released last month.
54% of millennials said that if money wasn't a concern, they still would not quit their jobs in a Survey Monkey survey from last year — a slightly higher percentage than Gen Xers and baby boomers.
69% of 18–34 year olds told Axios/Survey Monkey that they considered the amount of debt they had to be "manageable."
Millennials overwhelmingly prefer a steady, full-time job to several part-time jobs and care more about working for a company that they believe in than making lots of money — in tune with past generations.

Not so traditional:

Almost half of 34 year olds who had never been married have kids — a roughly 16 percentage point uptick from past generations.
A recent GoBankingRates survey, which took into account younger millennials than the Bank of America survey, found that there is a growing percentage of millennials who have no savings — 31% in 2016 and 46% in 2017.
45% of millennials said they would quit their jobs if money wasn't a concern.
31% overall — and 33% of slightly older millennials — said their debt was "overwhelming," compared to just 22% of Gen Xers and the youngest boomers.
30% of millennials currently own a small business, with 61% believing that it brings more security, according to a 2017 study by the Center for Generational Kinetics.
There's also a growing trend in young people becoming farmers, and old-timey jobs like bartenders, barbers, butchers, craft brewers, bookbinders, furniture makers and fishmongers. These are making a comeback in some gentrifying, working-class neighborhoods in cities such as Brooklyn, Portland and Pittsburgh.
Degree vs. no degree
The millennial generation is the most educated generation ever — yet in 2016, 60% of 25–29 year olds did not have a bachelor's degree, according to Pew Research.
Millennials with a bachelor's degree have seen their wages continue to rise, while the less educated have watched theirs decline.
These trends are widening the gap between stable, successful millennials and those at risk of slipping into poverty.
Richard Fry from Pew Research tells Axios: "The fortunes of millennials are much more dependent on whether they received further education [than it was for] boomers. Their education wasn't so important. Education has increasingly changed the rewards that we see young adults receive."
Worth the debt?

37% of 18–34 year olds have student debt, according to the Axios/Survey Monkey survey, compared with 21% overall.
At double the share of Americans overall, 46% of the youngest millennials (18–24 year olds) worry about "paying off student loans."
Yet the majority of these younger millennials said that college is worth the cost, while 59% of older millennials (25–34 year olds) said that it wasn't.
The age gap
The oldest millennials are now in their mid 30s and finally "settling down," which leads to heightened concerns about finances, kids and home buying, while the youngest millennials are still pursuing their education.
"We see material differences between older millennials and younger millennials," Dorsey told Axios. "Their generational characteristics are very similar, but because of these key life moments — marriage, kids and so forth — they start to behave differently."
By the numbers:
67% of older millennials (25–34) said they were employed full-time, compared with only 27% of younger millennials, according to the Survey Monkey survey.
49% of older millennials said they worried about caring for children, compared with only 33% of younger millennials.
While both groups of millennials are primarily concerned with jobs and the economy, the younger millennials are equally concerned about education, while older millennials consider health care their number two concern.
Go deeper