Awful scandal porn: Nunberg gone wild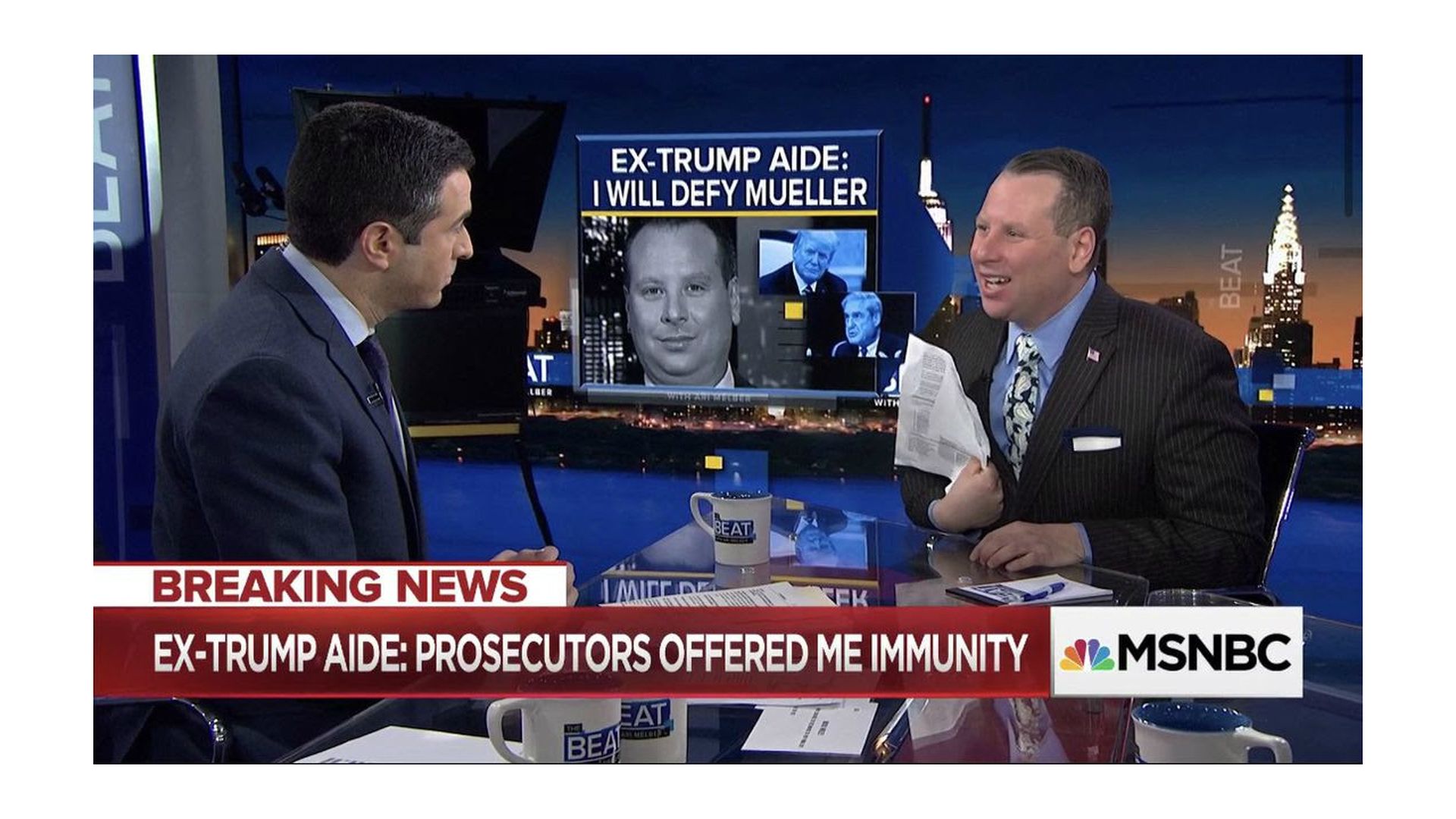 MSNBC dubbed it "a historic interview." CNN's Jake Tapper called it "a wild edition of 'The Lead.'" Drudge's banner headline, with a cable screengrab: "cRaZy!"
Here's what it was: A sad, epic meltdown — a troubled Trump flunky, pecked at and picked apart like roadkill on the Russia Interstate, in his last gasps of public fame and shame. 
Sam Nunberg, an early Trump campaign aide who was fired in 2015 but has remained a vocal alumnus, melted down cable interview by cable interview yesterday as he declared his refusal (later retracted) to comply with a subpoena by special counsel Robert Mueller.
Finally, CNN's Erin Burnett said during an on-set interview with Nunberg: "Talking to you, I have smelled alcohol on your breath. ... I know it's awkward."
Nunberg replied he hadn't consumed anything "besides my meds — antidepressants. Is that OK?"'
In a cry for help, Nunberg kept trying to top himself, giving longer and longer interviews (including a call-in to cable's NY1 in New York!).
Nunberg provided the subpoena anonymously to Jonathan Swan over the weekend, then gave it on the record to the N.Y. Times' Maggie Haberman, then waved the wrinkled subpoena on-air with MSNBC's Ari Melber, with a close-up shown on air.
And he contradicted every piece of news he made, telling AP last night: "I'm going to end up cooperating with them."
Why it matters: This is one of the reasons America hates the media. Our entire industry lit itself on fire because a troubled Trump hanger-on made an ass of himself — live. 
One of Nunberg's friends was furious, telling Axios that the anchors were knowingly taking advantage of an obviously fragile man.
The friend, who refused to be named but interacts constantly with journalists, texted an anchor during a live interview: "What the hell is wrong with you people? ... Shame on you. This isn't news."
CNN senior media correspondent Brian Stelter, wrapping up the madness under a "Nunberg's meltdown" headline in his Reliable Sources newsletter last night, posted this question for his colleagues:
"Now an ethical debate is raging in journalism circles. If your source seems drunk or drugged or just plain out of his mind, what is your responsibility?"
Last night on MSNBC, Lawrence O'Donnell asked fellow host Melber: "Did you smell alcohol on Sam Nunberg's breath? Was he drunk?"
Melber replied: "I did not ascertain that ... I do think that it's quite clear from his conduct ... that there is something going on with him ... That may be the strain and pressure that comes from a situation like this."
Melber added: "The obvious significance here is ... it's very rare to hear the names and details of a grand jury subpoena leaked."
Be smart ... Swan tweeted: "Nobody who knows Sam thinks he has anything interesting to offer Mueller. But his friends are worried about him."
"There's nothing funny about it. ... We are watching a man with serious problems unravel on live TV. It's messed up."
And Haberman tweeted: "Nunberg TV is guaranteed to do two things - aggravate Mueller and infuriate Trump."
Flashback ... Swan tweet after news broke that Nunberg would talk to Mueller: "Fearless prediction: this one meeting with Mueller will spawn more copy citing 'a source with knowledge' than any meeting to date."
"Reporters who've never written a Mueller story in their lives will burst out of the gates with colorful, rich, detailed accounts of the inner workings of the Russia investigation. Behold!"
Get more stories like this by signing up for our daily morning newsletter, Axios AM. 
Go deeper