Man of steel: Trump's secret fantasies realized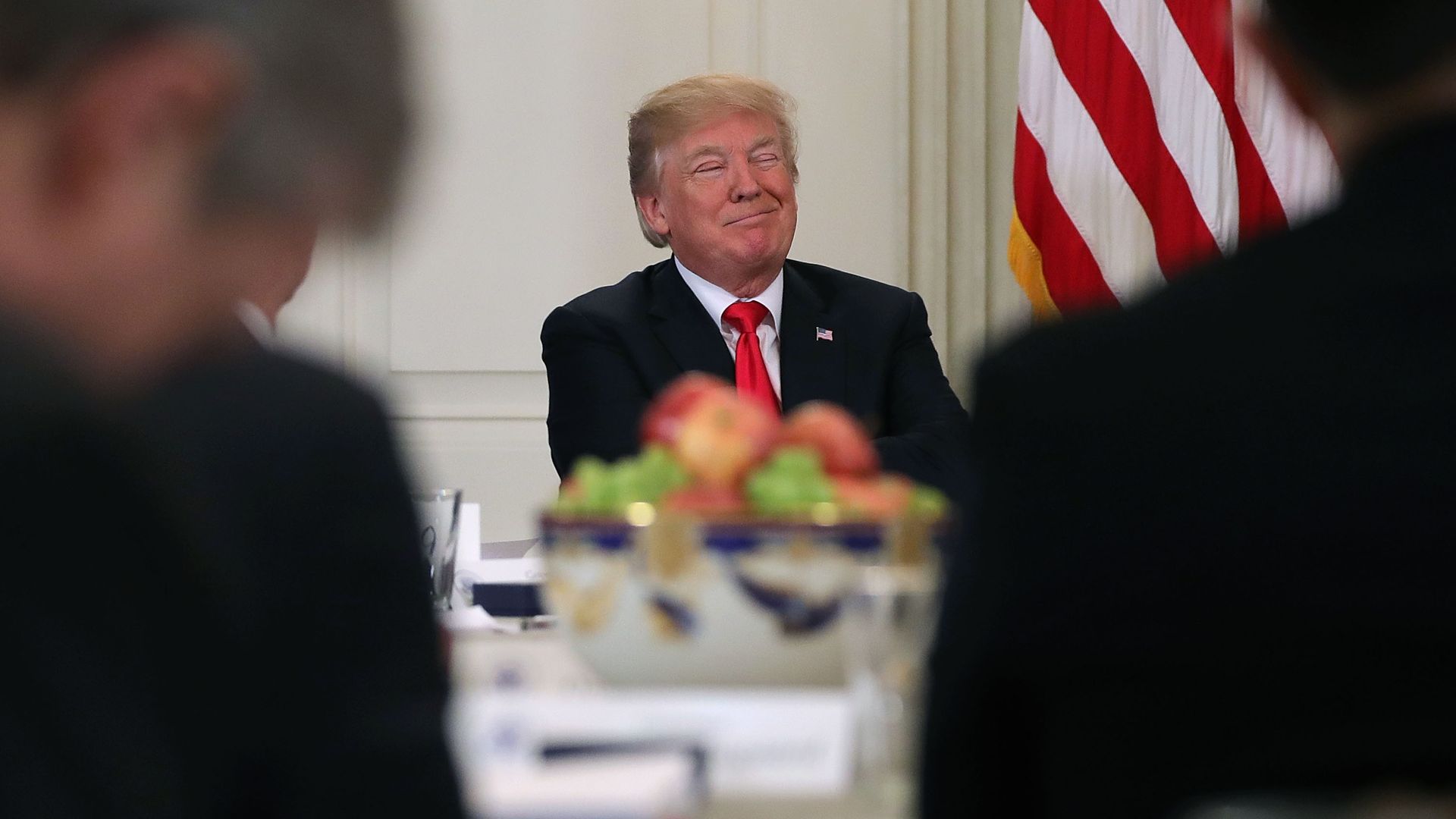 President Trump has long mused about doing what he wants, when he wants, how he wants. He wanted tariffs on steel and aluminum — big ones — now. He wanted to negotiate with Congress — in public, on his court, surprise and shock, all for the cameras. He wanted to ditch any P.C. pretenses and consider Singapore-style death for all drug dealers. He wanted to play by his rules alone. 
Why it matters: His staff at times managed to talk him off the ledge. No more. Tired of the restraints, tired of his staff, Trump is reveling in ticking off just about every person who serves him.
He tried to play by Kelly's rules. Now we all have to learn to play by POTUS' rules.
— A source close to President Trump
Trump hates rigidity and rules. He has grown to especially hate Kelly's rigid rules, so he purposely blew off Kelly's process and announced planned tariffs in a haphazard way.
There are signs Trump has also had it with his National Security Adviser H.R. McMaster, who he complains is long-winded and inflexible. MSNBC's Nicolle Wallace reported Trump is ready to bounce him.
The tariffs call was also a big middle finger to economic adviser Gary Cohn, who has fought for more than one year to kill tariffs that would provoke a trade war or higher prices for consumers, a de facto tax increase. Cohn, who stuck around to fight tariffs, now seems more likely to leave. 
Trump loves his reality-TV negotiating sessions with lawmakers, where cameras and reporters witness what would usually be private conversations:
His gun-control-friendly remarks this week during a 64-minute Roosevelt Room meeting, which left Democratic senators thinking they had scored a victory, stunned Republican congressional leaders and his own staff.
Look for Trump to do more of these.
You can't accuse him of springing a tariffs surprise on the American people — this is what he campaigned on, day in and day out:
Senior officials and staff kept slow-walking him. Trump wanted what he wanted. And when they didn't give it to him, he finally exploded.
Bottom line: Staff can try to impose their views on Trump. But when it comes to trade — the one thing he's believed consistently for 30 years — they will inevitably fail.
Trump's trade actions yesterday raise an important question:
What happens now with NAFTA and KORUS (United States-Korea Free Trade Agreement), both of which Trump has threatened to scuttle?
The conventional wisdom in Washington has recently become that Trump has softened on these deals and won't really terminate them — he'll just tweak them.
But how confident do all the best and the brightest feel about their prognostications now?
Even those of us who have been covering the White House trade fights for 13 months are humble enough to say that we have no earthly idea what Trump will do.
Be smart: Right now, Trump is feeling like a man of steel on tariffs and guns. But history shows his actions are often a very malleable cut of aluminum. 
Go deeper