Uber wants to get you to your doctor appointment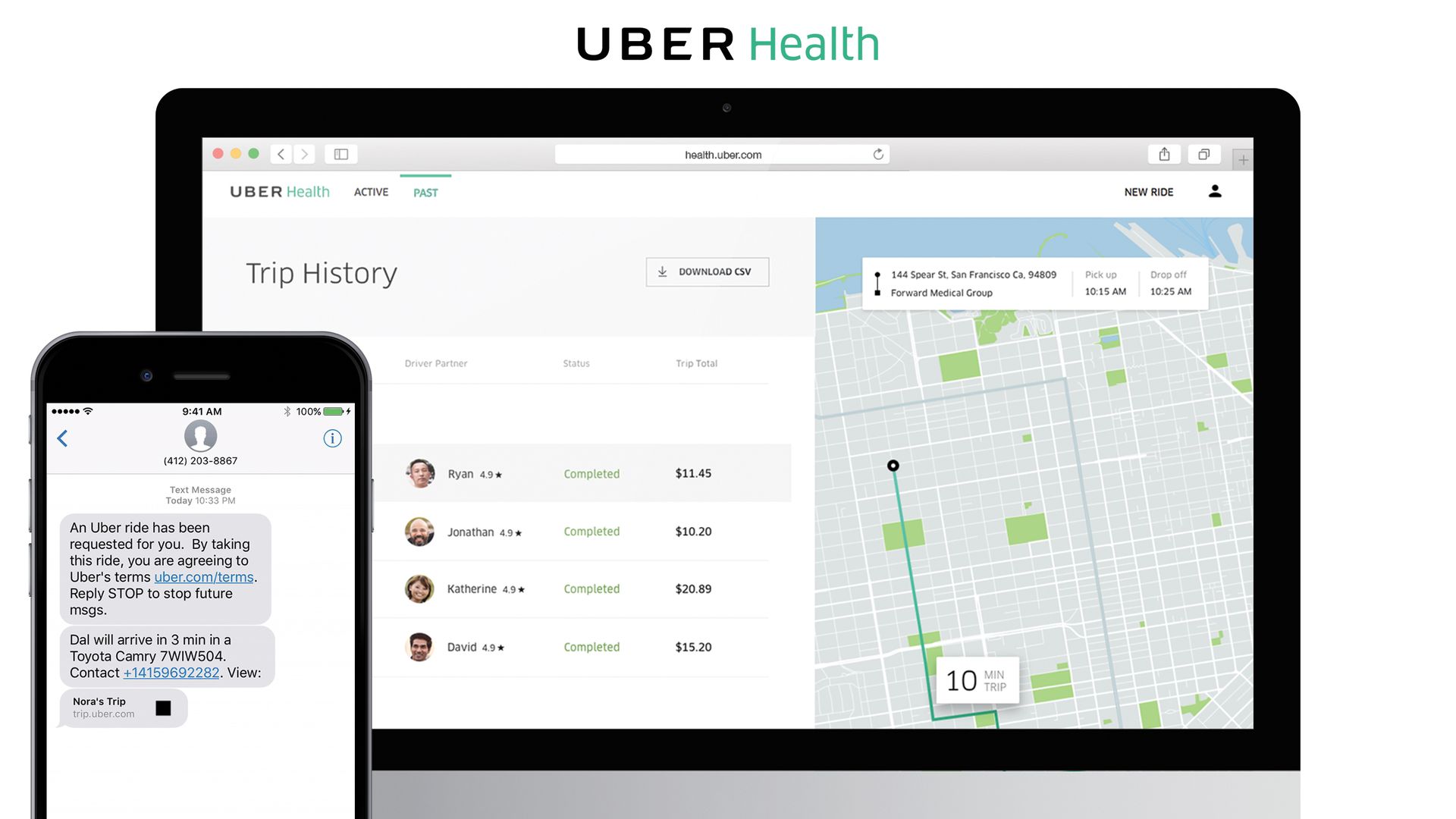 Uber has launched a new service that will allow hospitals, clinics, nursing homes and other health care organizations to order and schedule car rides for patients. Uber is not charging a fee to use the service. The health care providers only have to pay for the ride.
Why it matters: Uber sees a huge untapped market in the roughly 4 million people who skip or delay health care visits every year because they don't have reliable transportation. Hospitals, doctors and other providers could be eager to pay for those rides if it means more on-time appointments and fewer no-shows — which translates into more revenue in their pockets.
How it works: Health care providers who use the product, Uber Health, can help patients schedule rides at any time and for future appointments up to 30 days out.
Patients don't need the Uber app or a smartphone. They just need a phone number.
Providers coordinate everything and can call patients with the details, such as the license plate or type of car that is picking them up.
The product is compliant with federal health care privacy laws.
Several hospital systems have piloted Uber's service, including MedStar Health, NYU Langone Health, LifeBridge Health and Renown Health.
This is only for visits that can be scheduled and does not address the trend of patients hailing Uber rides to avoid costly ambulance bills.
Yes, but: Uber's product isn't the first of its kind. Lyft has partnered with some hospitals and health insurers, and state Medicaid programs also cover non-emergency transportation. But the service still could help poor people and seniors who don't have the means to see their doctor or nurse.
"This is something we've been looking at for a couple years now," said Chris Weber, the head of Uber Health.
The new venture is also about big business. Uber gets consistent revenue from health care organizations that book rides, and this is similar to the company's Uber Central app that lets businesses pay for rides as a way to get customers in the door.
Hospitals and other companies won't mind spending $20 or even a couple hundred dollars getting patients to and from appointments if it means those organizations can bill the much higher payments from Medicare, Medicaid or the patient's commercial insurer for the actual visit.
"They're getting another body in that bed," Weber said.
Get more stories like this by signing up for our daily health care newsletter, Vitals. 
Go deeper