Democrats hopeful after new PA map, record fundraising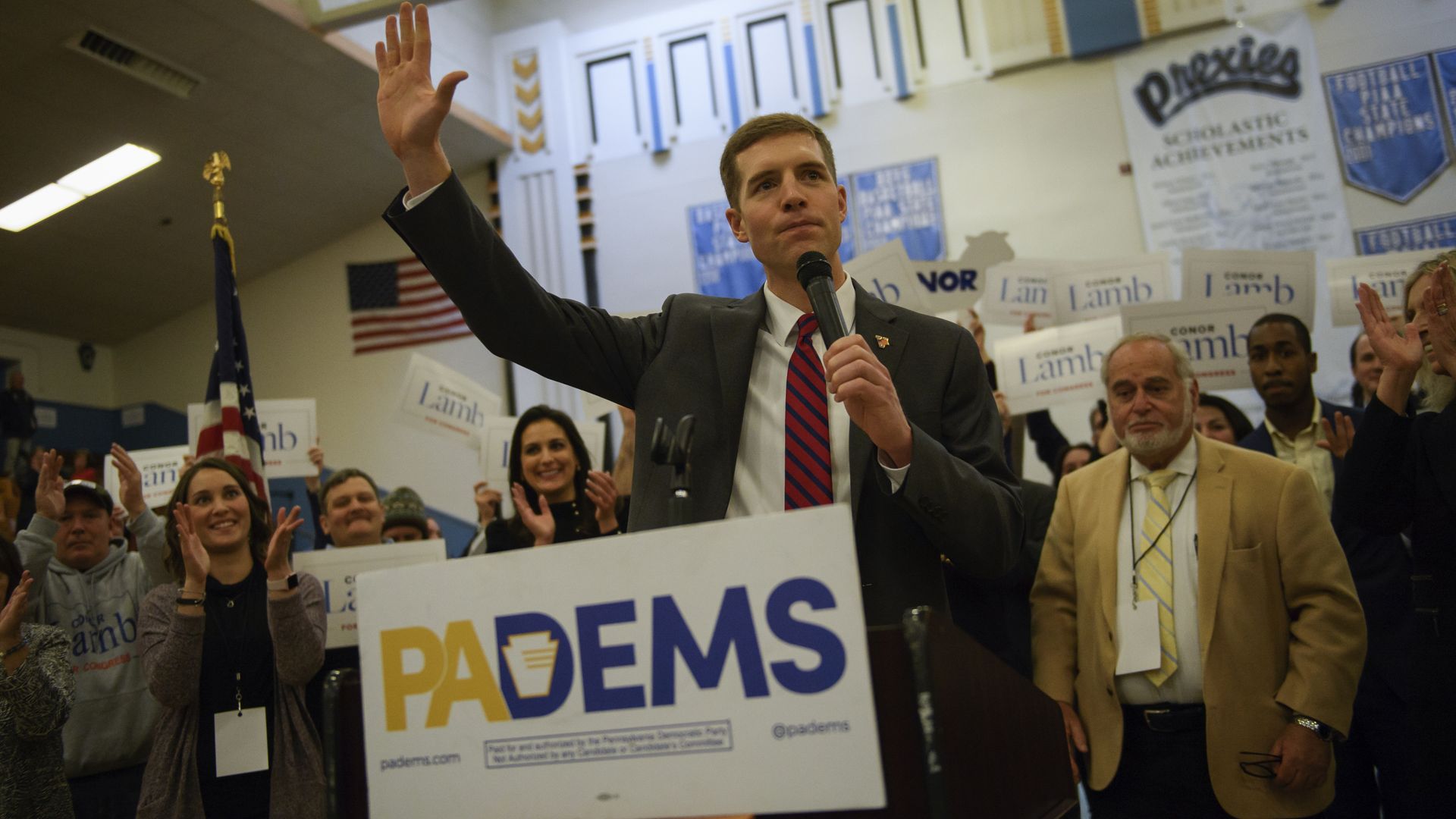 Democrats are feeling hopeful after two developments Tuesday: the redrawing of Pennsylvania's congressional map and the Democratic Congressional Campaign Committee's record fundraising.
Why it matters: They have a few advantages heading into this year's election, although recent polling suggests the so-called "blue wave" coming for Republicans might not be as strong as predicted. But addressing gerrymandering, especially in a state that went for Trump in 2016, and raising millions for House candidates could help the Democrats in some targeted races.
Pennsylvania's new map tips several districts in Democrats' favor. Previously, Democrats have only won 5 of the state's 18 House seats in each election since 2011 when Republicans drew the last congressional district map.
Why it matters: Democrats could pick up at least three seats (some predict as many as 11) given the way the new map is drawn.
Big picture: "This coming on the heels of some really tough GOP retirements in California is a real hit to Republicans' hopes to hold the House," Democratic pollster Zac McCrary told Axios.
The other side: Federal and state GOP officials are planning to sue over the new map. "The suit will highlight the state supreme court's rushed decision that created chaos, confusion, and unnecessary expense in the 2018 election cycle," said NRCC Communications Director Matt Gorman.
The DCCC announced that they raised over $9 million in January — almost $3 million more than what they raised in January of 2016.
Why it matters: DCCC also announced they've added six new candidates to their "red-to-blue" program, which includes financial support from the campaign arm. Through fundraising and candidate recruitment they're expanding their presence in a handful of battleground races across the country.
Big picture: The group also raised nearly $3.5 million just through online donations in January. This reflects the grassroots energy we've seen fueling other Democrats' efforts, like Randy Bryce in Wisconsin.
The other side: The NRCC raised over $10 million in the first month of 2018, setting a record for the Republican Congressional campaign arm.
One thing Democrats need to figure out: messaging. Numerous prominent Democrats are rebuking Nancy Pelosi for her tax cuts "crumbs" comment and that's only adding to the midterm migraines they're having months before the election.
Go deeper