Trump's history of defending the accused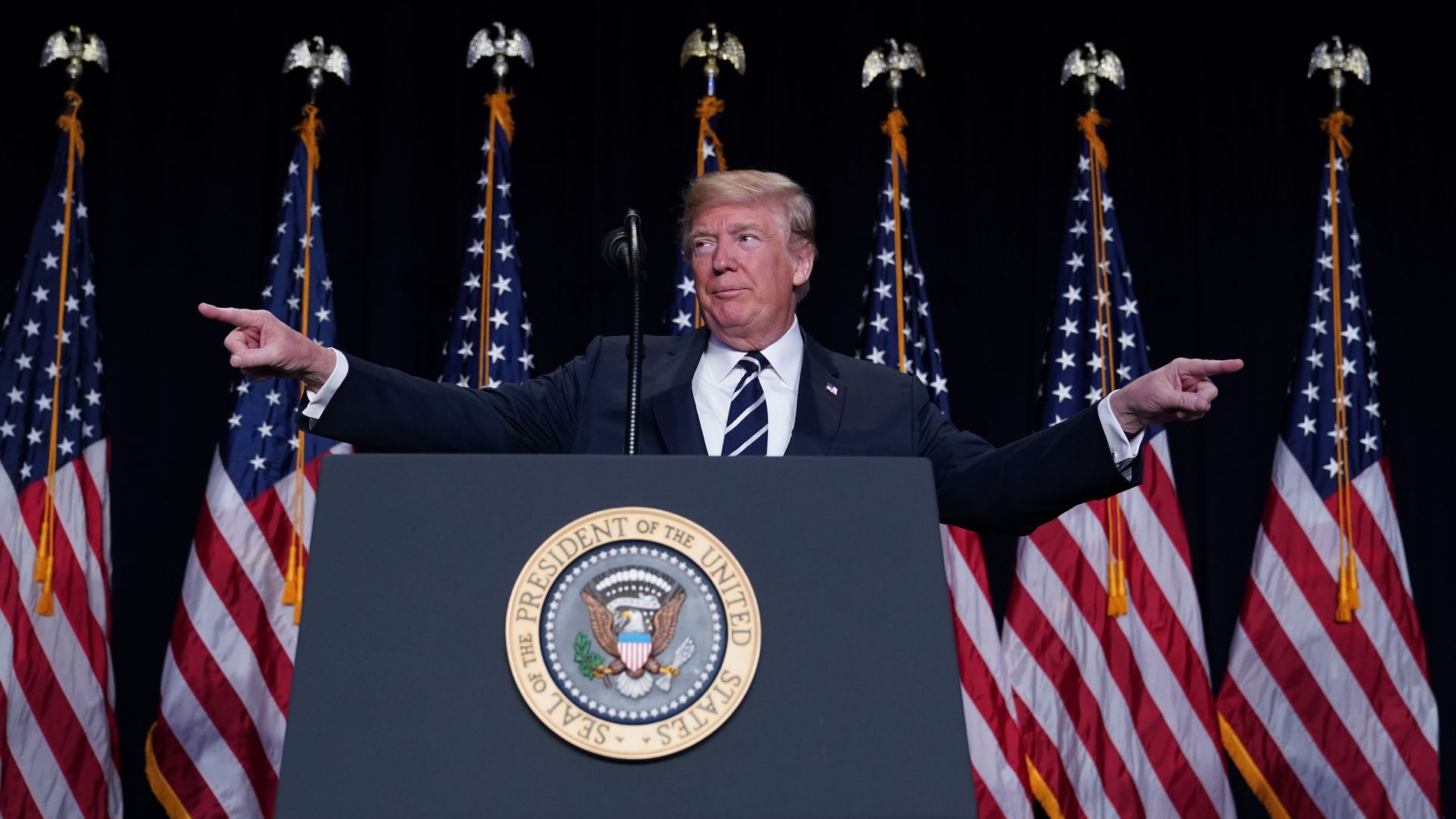 President Trump tweeted a vague defense this morning of those accused of sexual misconduct and abuse, stating that "lives are being shattered and destroyed by a mere allegation."
Why it matters: This follows two White House staffers leaving this week over domestic abuse claims, and Trump has a long history of defending those close to him accused of sexual harassment or abuse — often reiterating that they are "fine" people — and it far outpaces his statements in support of accusers.
The context: Former White House Staff Secretary Rob Porter resigned this week following allegations of domestic abuse from his ex-wives. Porter's departure was exacerbated by news of administration speechwriter David Sorensen's resignation amid abuse allegations.
Rob Porter
After Porter resigned this week following his two ex-wives' abuse claims, Trump said during an Oval Office pool spray: "I think you also have to remember...he said very strongly yesterday he's innocent." Trump did not say anything about Porter's accusers.
Roy Moore
Trump said in November, after Moore was accused by several women of harassment and assault: "Let me just tell you, Roy Moore denies it. That's all I can say. He denies it. By the way, he totally denies it."
Corey Lewandowski
Trump's former campaign manager was accused of battery, and prompting the then-candidate to tell Good Morning America: "He is a fine person...He is a very good person. And I don't want to destroy a man, you know, if you let him go, you would destroy a man, destroy a family."
Roger Ailes
Trump said of Ailes, who was ousted as the CEO of Fox News in 2016 after several sexual harassment allegations, that he's "a very good person," and "that some of the women that are complaining, I know how much he's helped them, and even recently."
Bill O'Reilly
After the Fox News host was accused of sexual harassment and verbal abuse by a number of women, and made settlements worth millions, Trump said: "He is a good person...I don't think Bill did anything wrong."
Bill Clinton
Per ABC, Trump said in 1998: "I don't necessarily agree with his victims, his victims are terrible...He is really a victim himself. But he put himself in that position...The whole group, Paula Jones, Lewinsky, it's just a really unattractive group. I'm not just talking about physical."
Mike Tyson
Tyson was convicted of raping an 18-year-old in 1992, and while Trump said he was "totally opposed to...what happened," he also said: "You have a young woman that was in his room, his hotel room late in the evening at her own will. You have a young woman who was seen dancing for the beauty contest [the next day], dancing with a big smile on her face, looked happy as could be."
Himself
When he was accused of sexual harassment, he tweeted: "100% fabricated and made-up charges, pushed strongly by the media and the Clinton Campaign, may poison the minds of the American Voter. FIX!"
Worth noting: He has been accused of sexual misconduct by at least 22 women, per Business Insider, and was famously caught on an Access Hollywood hot mic detailing his strategy for sexually assaulting women.
One counter to this trend:
Go deeper