Exclusive: Conservative group calls for Rod Rosenstein's head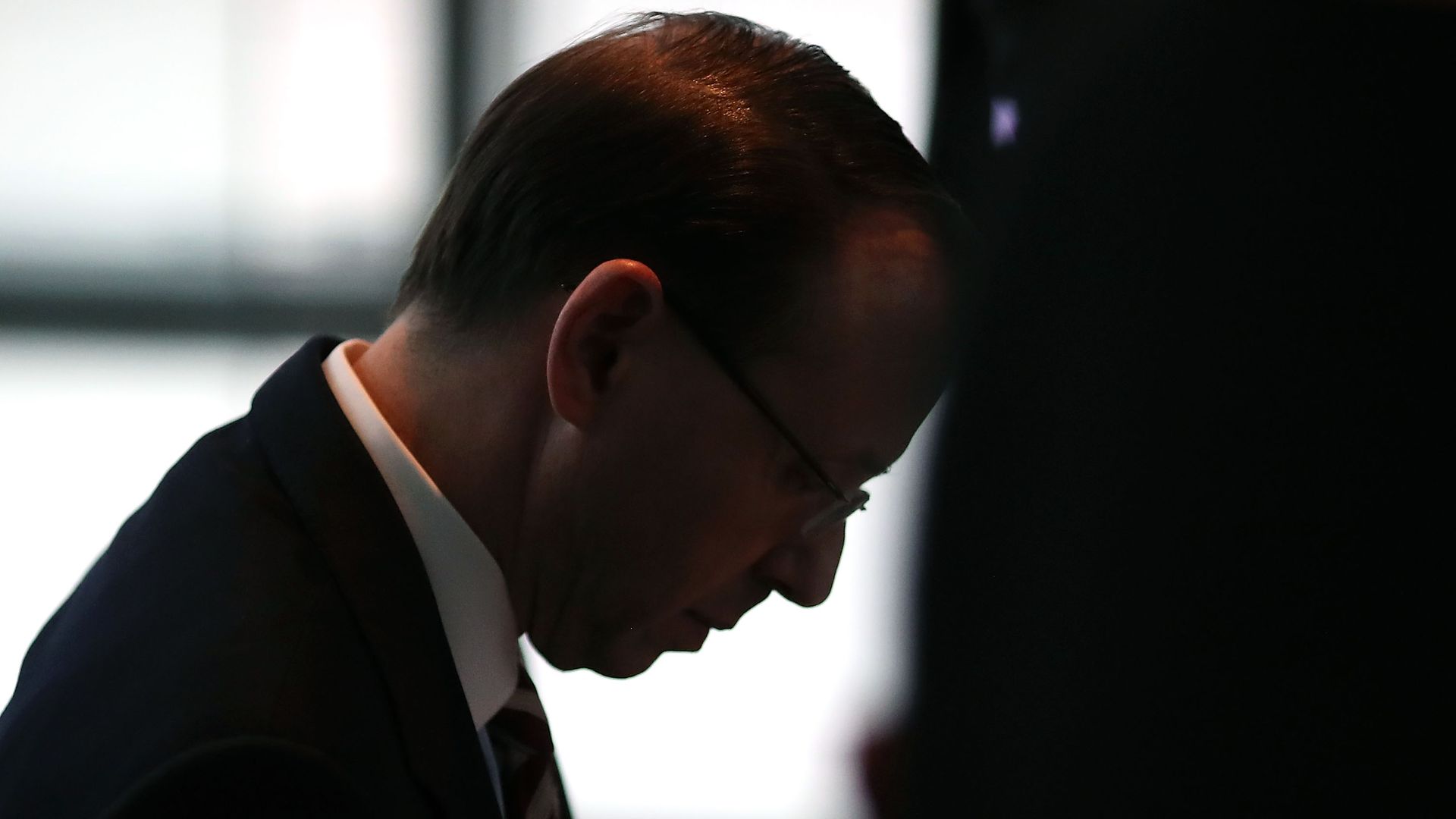 The Tea Party Patriots, a conservative activist group, is launching an advertising campaign calling on Deputy Attorney General Rod Rosenstein to "do his job, or resign."
Why this matters: The campaign is modest — initially a six-figure spend on digital and TV in Washington D.C. — but the attack is a canary in the right-wing coal mine. I expect other conservative groups to follow. Such attacks have outraged many in the Justice Department and the FBI.
I
The ad:
Text of ad:
"Rod Rosenstein.
"A weak careerist at the Justice Department. Protecting liberal Obama holdovers and the Deep State, instead of following the rule of law.
"His incompetence and abuse of power have undermined congressional investigations, led to stonewalling and tarnished the credibility of the Department of Justice.
"Time for him to stand up for the rule of law and stand up for the American people. 
"It's time for Rod Rosenstein to do his job, or resign."
What we're hearing: A conservative movement leader told me Rosenstein is "becoming a conversation at every conservative gathering."
Another movement leader told me:
"If there's one personality right now who's unifying the movement it's this guy."
In recent days, major figures in the conservative movement have been emailing around this Wall Street Journal column by Kimberley Strassel. The column suggests — without explicitly stating so — that Rosenstein is part of the left-wing resistance against President Trump:
"The slippery shadow in all this is Deputy Attorney General Rod Rosenstein. Attorney General Jeff Sessions' recusal put Mr. Rosenstein in charge of digging into the actions—right or wrong—of the Justice Department and FBI in 2016. Instead of taking up that challenge, he named an old and dear friend of the FBI as special counsel, and directed him only to look at Mr. Trump. And Mr. Rosenstein appears to have signed up as an active participant in the effort to thwart any congressional investigation of the other side of the issue."

Update: CNP Action, a sister group of the Council for National Policy, an influential group among conservative leaders, has sent the Tea Party Patriots ad to its allies. The email urges them to keep applying pressure to Rosenstein and to spread the word to other activists:
"Call DAG Rosenstein at (202) 514-2000 and demand he commit publicly to doing his job and stop the politicization of critically important institutions or resign immediately."
Go deeper