The fog around the new health care mega-venture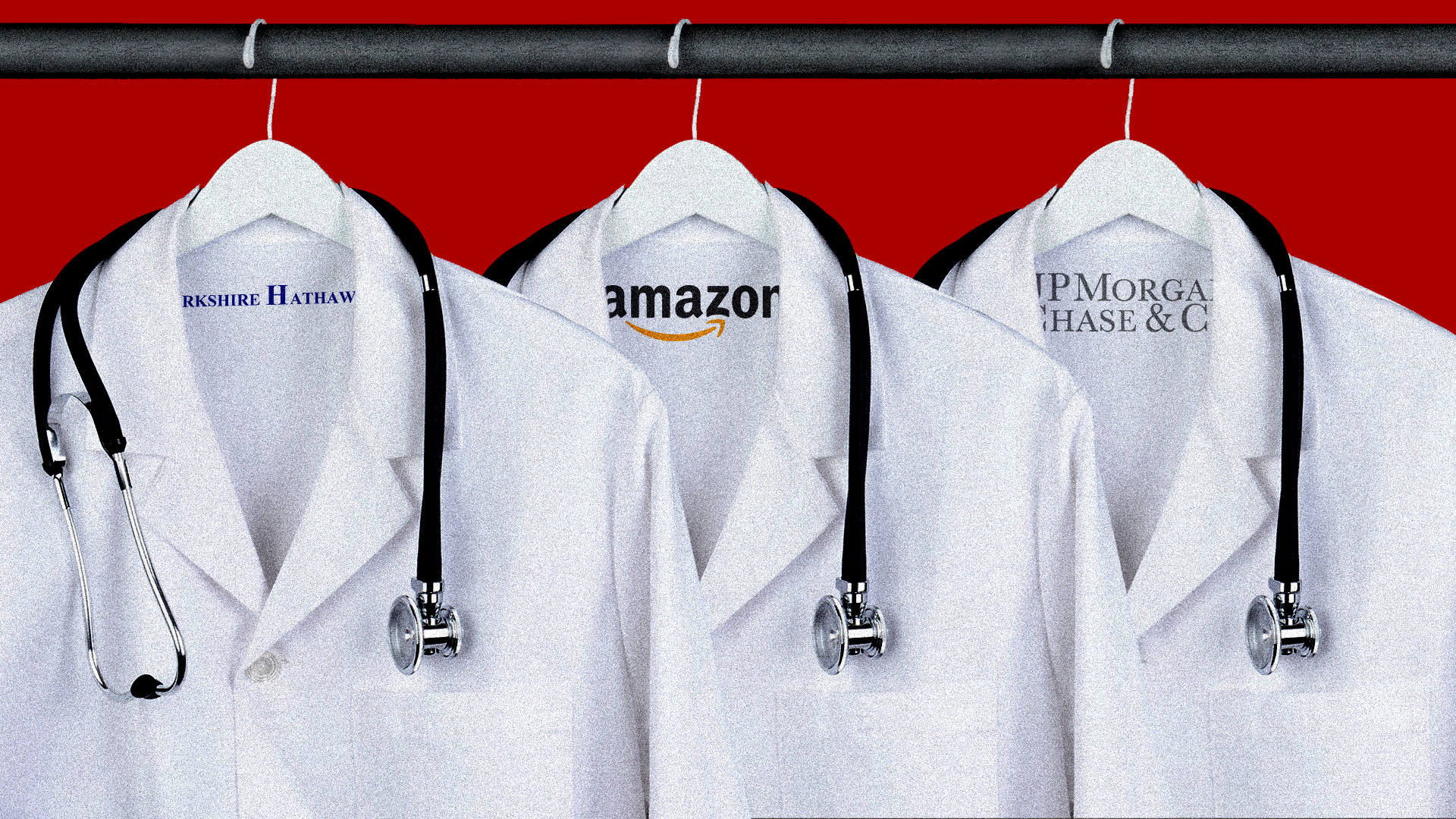 Jeff Bezos, Warren Buffett and Jamie Dimon — the billionaire leaders of Amazon, Berkshire Hathaway and JPMorgan Chase — sent shockwaves through the health care industry yesterday when they disclosed plans to start a not-for-profit company with the hope of reducing medical costs for their employees.
Reality check: A lot of companies have promised to "disrupt" health care, but few have succeeded. The U.S. still spends wildly on a system with poor outcomes. It's far from clear this new conglomerate, premised on a vague PR, will be able to do any better.
What we know: Very little.
The companies said they will come up with "technology solutions that will provide U.S. employees and their families with simplified, high-quality and transparent health care at a reasonable cost."
An Amazon spokesperson said Amazon would not comment beyond the release. JPMorgan did not respond to questions.
At least for now, the focus will only be on the health coverage of their employees and dependents, but could "potentially" expand to "all Americans," Dimon said in the release.
The bottom line: Rising health care costs truly are soaking employees. To reverse that trend, experts say, this new entity would have to find ways to bring down the underlying prices of health care services. But there are two problems.
Even with an estimated 1 million to 2 million covered lives as negotiating leverage, they still employ a tiny fraction of the employer health insurance market. "Three companies...don't have the scale to negotiate lower prices," said Andrea Harris, a health care analyst at Height Securities.
Companies also can control prices by limiting access — narrowing their provider networks and tightening drug coverage. However, "employers generally have not shown a willingness to do that," said Larry Levitt, a senior vice president at the Kaiser Family Foundation.
The unanswered questions: There are a lot.
Will this involve new experiments, or rely on ideas — like direct contracting with hospital systems, or reference pricing — that already exist?
Are they just trying to cut out the middlemen? Most companies this large already are self-insured — meaning the companies pay for their employees' medical costs on their own and hire health insurers to carry out the back-end work.
How will this company be different from the numerous other employer coalitions that try to band together for better deals? Amazon and JPMorgan are already part of the National Business Group on Health, and one of Buffett's companies, BNSF Railway, is part of the Health Transformation Alliance — which so far hasn't done a whole lot.
"We've seen so many employer coalitions trying to leverage their purchasing power," Levitt said. "Those tend to go nowhere in really addressing the fundamental health care cost growth."
What technology is actually involved? Amazon reportedly has interest in distributing prescription drugs. Will JPMorgan want to get in on the fees from managing health savings accounts? How do Buffett's companies fit in?
Health care is literally a matter of life and death, and therefore is heavily regulated. Any new company looking to make a dent in health care costs will have to navigate a thicket of state and federal rules.
Will this end up like another Kaiser Permanente, a health insurer that uses its own closed system of hospitals and doctors? This is doubtful for now, but Kaiser Permanente started out as a workers' comp program for shipyard and construction workers.
Flashback: Last summer, Buffett endorsed a single-payer system in an interview with PBS NewsHour, arguing the health care industry does not have the incentives to chip away at its own income.
Go deeper