ACA stabilization bill is getting a serious second look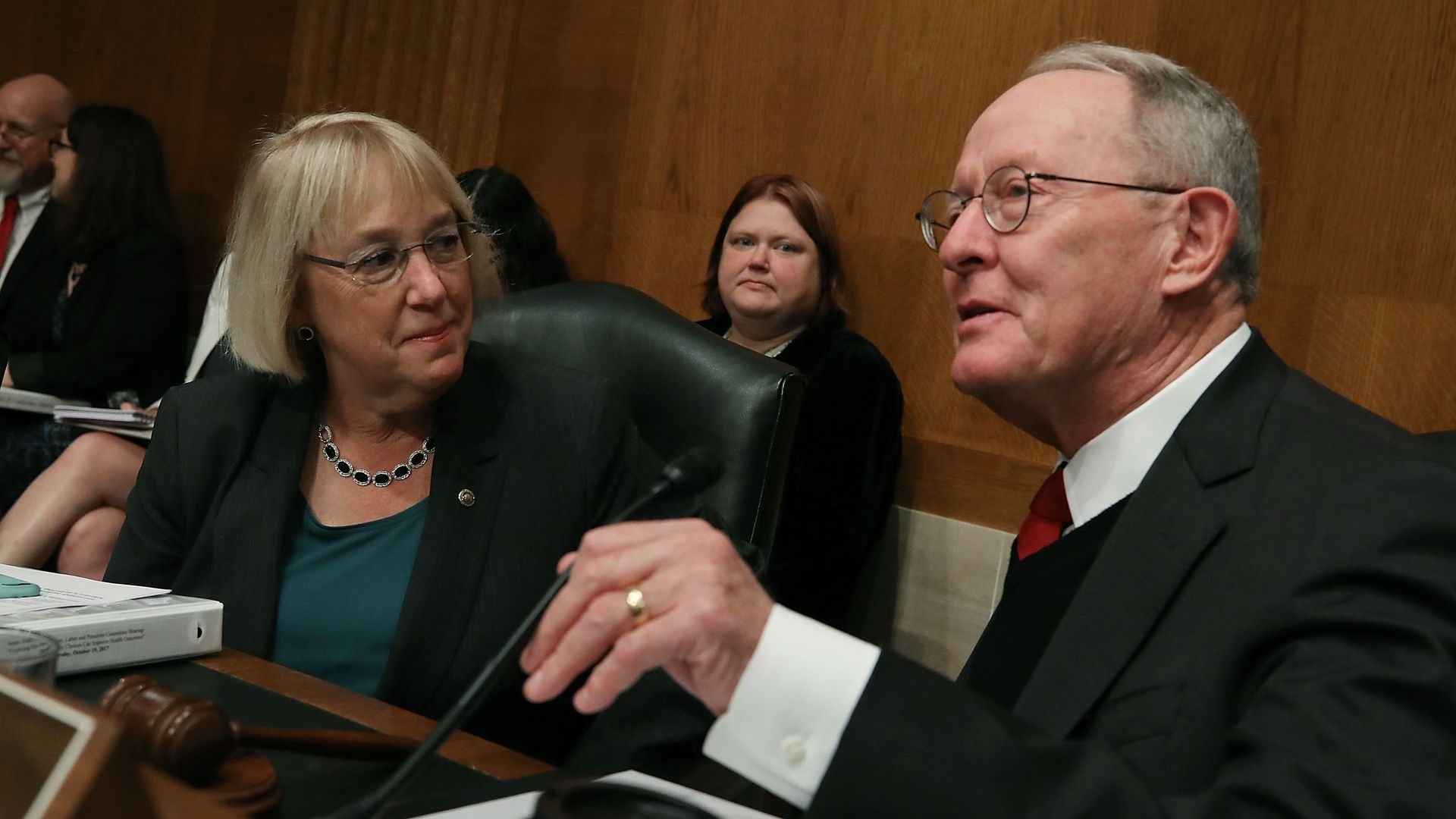 Senators from both parties are taking another look at efforts to stabilize the Affordable Care Act's individual market. Democrats are reassessing the initial bipartisan proposal, while Republicans seem increasingly open to new federal spending they once opposed.
Why it matters: Experts say a fresh review is a good thing, if members want their legislation to actually bring down premiums. The health care landscape has changed a lot since the stabilization bill was introduced last year , and it's just common sense to take that into account.
The big picture: Congress put this package together before it repealed the individual mandate. And it simply may not make much sense any more.
Sen. Chris Murphy: "I think we have to go back to the drawing board and sit down with health care economists to understand what it means to operate these marketplaces without the individual mandate."
Sens. Lamar Alexander and Patty Murray are being tight-lipped about the changes being negotiated.
Reinsurance is on the table. There's now a much bigger focus on reinsurance, particularly a bill sponsored by Sens. Susan Collins and Bill Nelson. Last year, most Republicans were opposed to the idea. But that's changing.
"Everyone is in love with Collins-Nelson now," a senior GOP aide told me.
Larry Levitt of the Kaiser Family Foundation: "Without endangering protections for pre-existing conditions, the things that would help with market stability without an individual mandate are reinsurance or premium subsidies for people with incomes above 400% of the poverty level."
Chris Condeluci, a former Republican Finance Committee aide: The best thing to do would be to give "federal funds for States to set up a reinsurance program or 'invisible high risk pool.' The funds have to be enough to have a material impact on premiums." He also suggested not funding the ACA's cost-sharing subsidies, along with some regulatory changes and giving states more flexibility.
CSRs may be out: One of the biggest, weirdest questions is whether it even makes sense to fund the ACA cost-sharing subsidies, which President Trump stopped paying. Originally, funding the subsidies — known as CSRs — was the foundation of the bill.
Murray, when asked whether she's questioning whether it's a good idea to fund the CSRs: "Absolutely. I think how it's structured is going to be really important."
Some lower-income could see their premiums go up if Congress restored the CSRs. "The most natural way to address this problem would be to use the budgetary savings from restoring cost-sharing reduction payments to finance greater financial assistance for consumers," says Matthew Fiedler of the Brookings Institution.
But, said Ed Lorenzen of the Committee for a Responsible Federal Budget: "People above 400% of poverty who pay full premiums would be better off" if the subsidies are funded.
Joe Antos, of the American Enterprise Institute: "No one on either side is interested in paying CSRs...This is also short-term when it should be a long-term policy."
Go deeper