Scoop: Macron sent aide to lobby Palestinians over Trump peace plan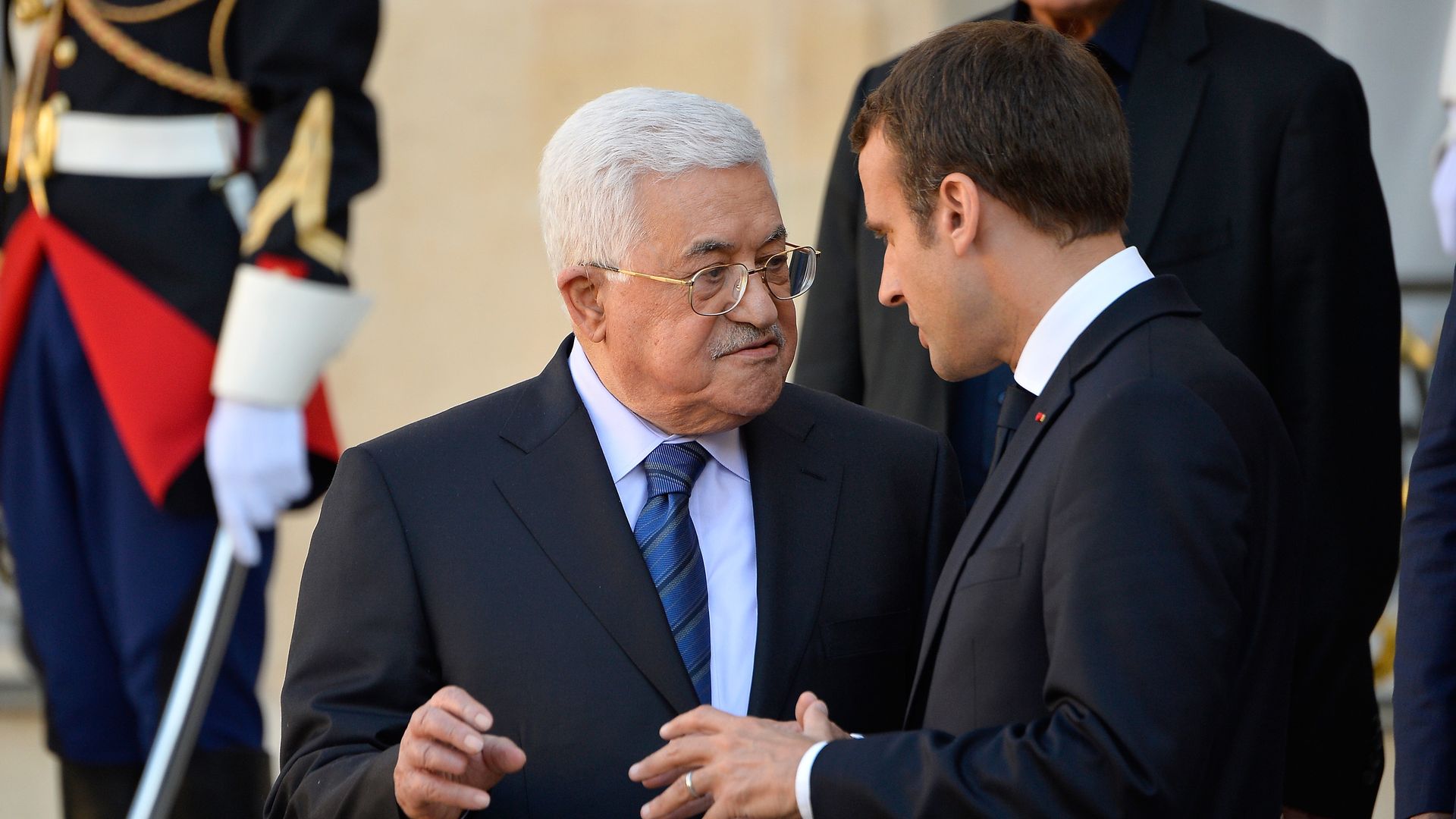 French President Emanuel Macron sent his deputy national security adviser Aurélien Lechevallier for a secret visit in Ramallah earlier this week to convey reassuring messages to the Palestinian President Mahmoud Abbas, French and Palestinian officials told me.
Their main message was that the Palestinians must give a chance to the Trump peace plan, which could be unveiled in the coming months.
Lechevallier met in Ramallah with the head of the Palestinian general intelligence service Majed Faraj, PLO secretary general Saeb Erekat and several other senior officials. According to French and Palestinian officials, Lechevallier emphasized that President Macron expects the Palestinian leadership to stay committed to non-violence and to the two state solution. But the main message, they said, had to do with the Trump peace plan.
According to the officials, Lechevallier told his Palestinian counterparts, "You might be right and the plan might turn out to be bad but don't blow it up right now. The plan might have things you don't like but maybe it will also contain interesting and positive things for you. It will be a shame if you throw the plan to the trash even before you received it. Read it first and then decide if you want to say no".
The bigger picture
Lechevallier's visit to Ramallah was part of a broader move by the French which started on December 22nd when Abbas visited the Elysee palace to see Macron — two weeks after Trump's Jerusalem announcement. French officials said Macron found Abbas frustrated and angry over Trump's announcement and over his upcoming peace plan.
According to French officials, Abbas told Macron in the December 22nd meeting that the leaders of the Arab world are totally consumed in their own domestic crisis and are not interested anymore in the Palestinian issue or in Jerusalem. Abbas added that for this reason Israel can do whatever it wants and create facts on the ground.
"I don't want violence but it is hard for me to control the situation inside Fatah (Abbas's party) and the PLO", Abbas told Macron.
The French President tried to calm Abbas down, promised him to give him international support but demanded he avoid radical moves.
On January 5th, in another attempt to calm down the Palestinians, Macron invited a senior delegation of the Fatah party to the Elysee. French officials said that during one of the meetings Macron popped-in and told the members of the Palestinian delegation that he requests two things — commitments to prevent violent escalation in the West Bank and to keep the two state solution as the Fatah policy.
French diplomats told me Macron and his advisers coordinated their moves with Trump and the White House. They said that during the last few weeks Macron and Trump had frequent phone calls which among other foreign policy issue also dealt with the Israeli-Palestinian conflict. The White House declined comment.
Go deeper