What Bannon is reading: the NYT on Trump and unions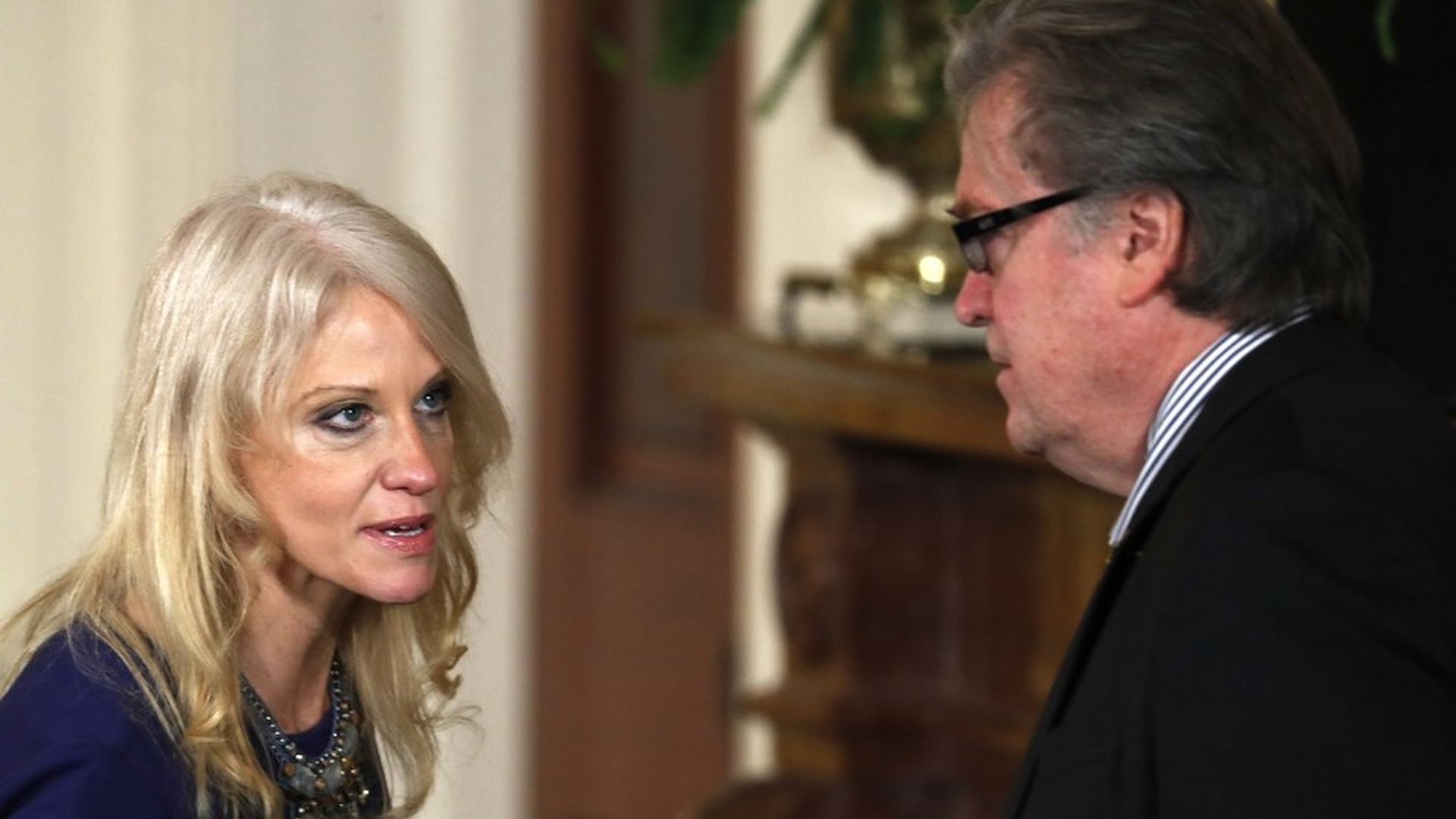 The New York Times reports that President Trump's aggressive economic nationalist pitch and "evocation of a lost Industrial Age" is "upending the alliances and tactics of the labor movement..." That's all music to Steve Bannon's ears. Trump's chief strategist has long sought to use economic nationalism to wrench organized labor away from Democrats.
Highlights from the piece:
Membership vs leadership: Union heads are struggling to respond to their members who like Trump's rhetoric.
The infrastructure meeting: Trump summoned union leaders to the White House three days after inauguration. "It was a substantial meeting about good middle-class jobs," said Terry O'Sullivan, general president of the Laborers' International Union of North America, adding that Mr. Trump was the first president to invite him to the Oval Office.
And the projects lined up on it: "Some of Mr. Trump's other early moves, like his presidential memorandums giving the go-ahead to the Keystone XL and Dakota Access pipelines and killing the Trans-Pacific Partnership trade agreement, and his announcement that he would quickly seek to renegotiate the North American Free Trade Agreement, were clearly conceived with a similar objective."
The UAW's Trump flirtation: "Dennis Williams, head of the United Auto Workers union, which endorsed Mrs. Clinton, has professed eagerness to meet with Mr. Trump to discuss how they might undo Nafta and protect American jobs."
What about the AFL-CIO? "Many union leaders are at a loss to explain how Richard L. Trumka, the head of the A.F.L.-C.I.O., the nation's pre-eminent labor federation, will navigate these crosscurrents in the coming months...Mr. Trumka's answer for the moment is to proceed gingerly. In an interview, he said that he had a productive meeting with Mr. Trump during the transition, and that the president deserved praise for killing the Trans-Pacific Partnership trade deal. But he has vigorously protested other policies, like Mr. Trump's immigration restrictions."
We shouldn't, however, get too carried away here.
As the Times points out, there are at least two potential legislative actions that could undermine the goodwill Trump is building among unions: 1) A national right-to-work law; 2) Suspending Davis-Bacon Act, which requires prevailing wages for construction workers on government contracts.
Go deeper