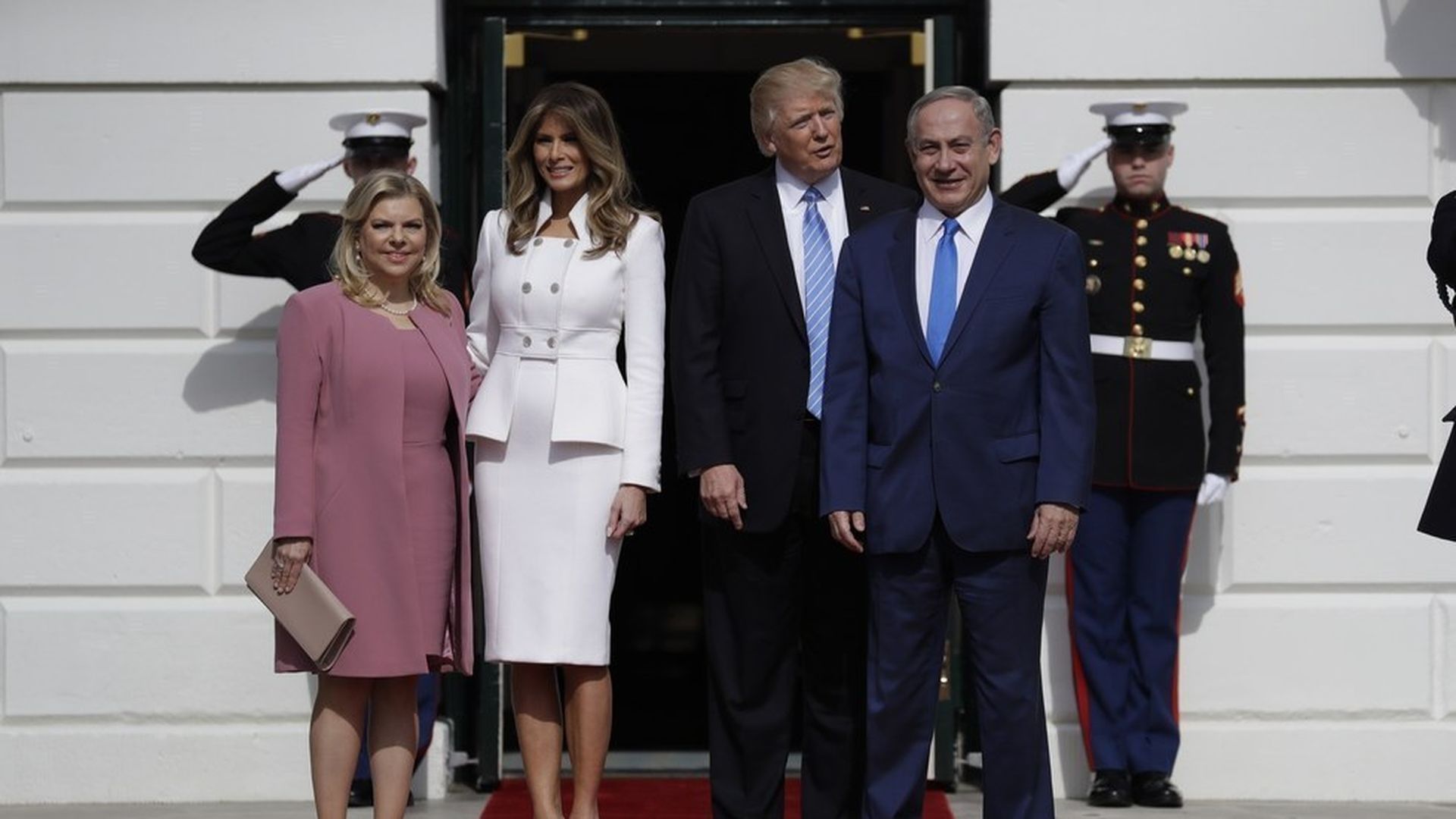 Every American president fantasizes about being the Middle East peacemaker. It's the great unattainable — a sure-fire Nobel Peace Prize, and your own page in the history books.
Influential figures in the conservative pro-Israel community have concluded that President Trump and his son-in-law Jared Kushner have convinced themselves that their dealmaking talents can clinch this "ultimate deal" between Israel and the Palestinians.
Trump the dealmaker has begun inching to the left on Israel:
The Trump administration alienated some allies in conservative pro-Israel circles by allowing the State Department to hire Michael Ratney, who was a senior U.S. diplomat in Jerusalem under John Kerry. In recent days, a number of influential conservatives have reached out to White House officials, urging them to fire Ratney.
On the campaign trail, Trump promised to "move the American embassy to the eternal capital of the Jewish people, Jerusalem." As president, Trump is keeping the embassy in Tel Aviv as a bargaining chip to extract future concessions from Israeli Prime Minister Bibi Netanyahu.
Trump infuriated Palestinians by breaking with U.S. policy and saying he could potentially support a one-state solution. But during the same recent visit with Netanyahu, Trump threw a bone to the left by gently chiding the Israelis on settlement building.
On Friday, Trump spoke by phone to President Mahmoud Abbas of the Palestinian Authority. According to the White House, they "discussed a comprehensive agreement that would end the Israeli-Palestinian conflict." Trump invited Abbas to visit the White House in the near future.
So what comes next?
The hardbitten view: A conservative pro-Israel leader tells me Trump's aspirations "will run up against the reality of dealing with the Palestinians."
The most hopeful words: In a recent interview on David Axelrod's podcast, The Atlantic's editor Jeffrey Goldberg repeated a joke that Jared Kushner's principal qualification to be Trump's Middle East peacemaker was that he'd been to Jewish summer camp. But Goldberg wisely noted that the "great geniuses of American diplomacy" have all failed to achieve a deal:
There's almost like a Jewish comic novel in this ... And then a boy named Jared Kushner emerged from Trump Tower and brought peace to the tribes of Abraham. I mean ... who knows?
Go deeper