The premium-lowering idea that probably isn't going anywhere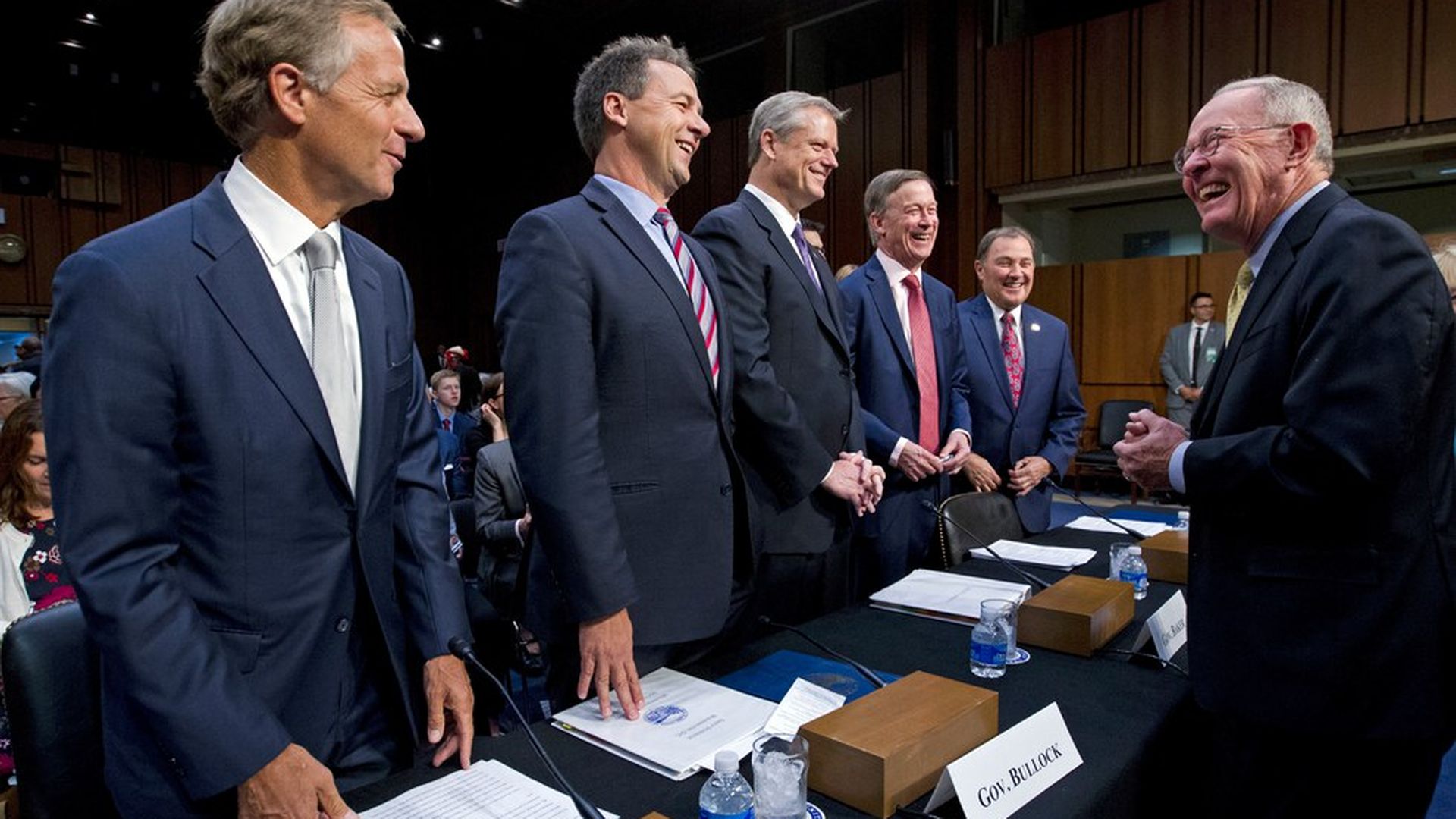 Nearly every witness before the Senate HELP Committee over the past two weeks has testified that creating some kind of program to help pay the costs of expensive enrollees would be an effective way to reduce premiums and stabilize the Affordable Care Act's insurance markets.
But Chairman Lamar Alexander has made it clear that federal funding for such programs — called reinsurance — isn't likely to be part of the stabilization package he's working on.
What we're watching: While it seems like Alexander has made up his mind, there's still a (very remote) possibility that support for federal seed money for reinsurance programs could end up being part of the package, if only because such programs undeniably lower premiums. If it isn't included, expect reinsurance to remain part of the health care conversation.
The witness testimonies naturally raise the question: Why wouldn't the committee want to include a proposal endorsed by almost every expert it's heard from? There are two big reasons:
Creating a federal reinsurance program would, at least initially, cost money. Besides, several states — including Alaska and Maine — have been able to set up such programs on their own, without federal assistance. And coming up with offsets is never easy. "States are free to set up their own reinsurance programs, there's nothing magic about the federal government setting up a reinsurance program. States can do that, just like Maine did," Alexander told me.Politically, creating a federal reinsurance program could sink the bill. Finance Committee Chairman Orrin Hatch has already spoken out strongly against funding the Affordable Care Act's cost-sharing subsidies, dubbing them an "Obamacare bailout," without significant reforms to the law. If powerful Republicans like Hatch feel that strongly about a policy change that doesn't cost the government any money, they almost certainly wouldn't go for one that would.Yes, but: Several witnesses have said some states, especially poor ones, don't have the money or infrastructure to set up their own reinsurance program, and federal support would help.
Former Utah Gov. Michael Leavitt: "If money was readily available to states, more would do it and more would do it quickly."
Tennessee Gov. Bill Haslam: "Long term, I definitely feel like a state should run those programs…for the first year, you're going to have to have the federal government help on that."
Tennessee's insurance commissioner, Julie Mix McPeak: "The federal reinsurance program has a benefit for states like mine that may not have the ability to upfront receive money to start the process."
What senators are saying:
Sen. Patty Murray, HELP's top Democrat: It's "absolutely" still possible. "I understand the political challenge of getting a bill through in the short term when we have such a real challenge on our hands, as the insurance companies come out with their premiums. But we'll see."Sen. Ron Johnson: "I'd be supportive of that, but with some pretty strict guardrails in terms of how you go about it. I just don't want to throw money at the states... why don't we listen to these expert witnesses, as opposed to politicians that truthfully don't know what they're talking about?"Sen. Thom Tillis: "The discussions we've had about getting more resources into the state and making it available, whether that's through the waivers or through some other funding mechanism, I'm open to either one. We got a problem to solve."
Go deeper