Stitch Fix CEO talks IPO, Amazon and why she doesn't care about unicorns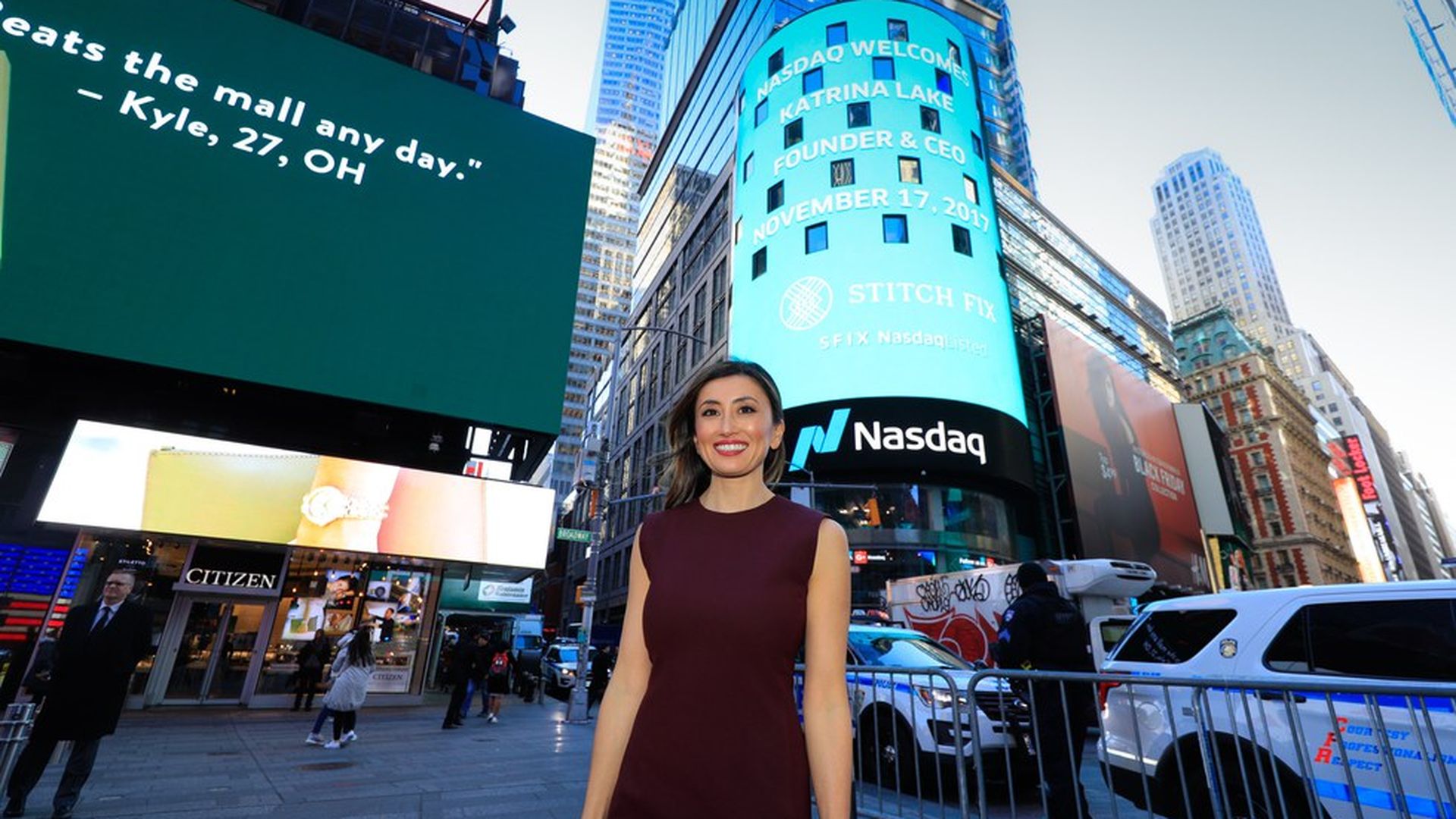 Stitch Fix, a personalized shopping subscription service, began trading on the NASDAQ this morning after raising $120 million in its IPO. Axios spoke with founder and CEO Katrina Lake. Here's the quick read:
She believes Stitch Fix serves a very different need than does Amazon.
Stitch Fix struggled in its early days to raise venture capital, which caused it to focus more on profitability.
Going public is about having increased flexibility to pursue bigger opportunities.
Setting the scene: Stitch Fix's IPO last night comes across as a dud, given that it sold fewer shares than expected at a price below its stated range. But this isn't the disaster it might be for other VC-backed startups, in that Stitch Fix raised relatively little venture capital ($44 million) at a modest valuation (last post-money was $300m). That means both investors and employees should be in the money at the $1.5 billion, post-IPO (fully diluted) value — something that wouldn't have necessarily been true if Stitch Fix had chased bloated unicorn dreams. Plus, shares are up in early trading.
Here is the Q&A:
Why did the IPO come up a bit short of your expectations?
"It's hard to say. The story of Stitch Fix is a nuanced one to tell and can take a little time for people to get their heads around. The data science and personalization is a different business model from other things out there. It's not e-commerce, it's not stores. But while we maybe didn't get the exact price we expected, we're very excited to get top-tier investors and are happy to go prove ourselves to those who might have underestimated us. I'm not going to be focused on the stock price from day-to-day, because we want to generate value over years. My deep conviction is that the company will end up being worth more in the future than it is today.
Stitch Fix only raised $44 million from VCs, which is relatively little by today's standards, and never at a valuation higher than $300 million. Why didn't you go for a "unicorn" round?
"It was hard to raise money for this company, so we always treated every dollar very preciously and focused early on profitability. I'm also not valuation focused, so we weren't going to raise money if we didn't need it. When it came to recruiting, there was a lot of upside in having a valuation to grow into."
Why go public now?
"We have plenty of capital on the balance sheet, so there was no forcing function. We're at a place where we've grown year-over-year consistently, felt there is a lot of predictability in the business and just felt like it was a good time. I'm glad we didn't go a year ago because there might have been out-sized expectations based on growth rates... It gives us flexibility, and helps us see how big a business personalization can be and how pervasive in the retail experience."
Your moat against Amazon is curation and personalization. Can that be maintained?
"We see ourselves as solving a very different problem in a very different way. Amazon is a lot about faster and cheaper when it comes to clothing, and in a lot of product categories that's a great value proposition. But the reality in fashion is that to find that one great pair of jeans that fits perfectly, you don't want endless choice or the cheapest option. You want the one thing on the planet that's best for you."
Go deeper