OPEC to decide fate of production-limiting agreement this week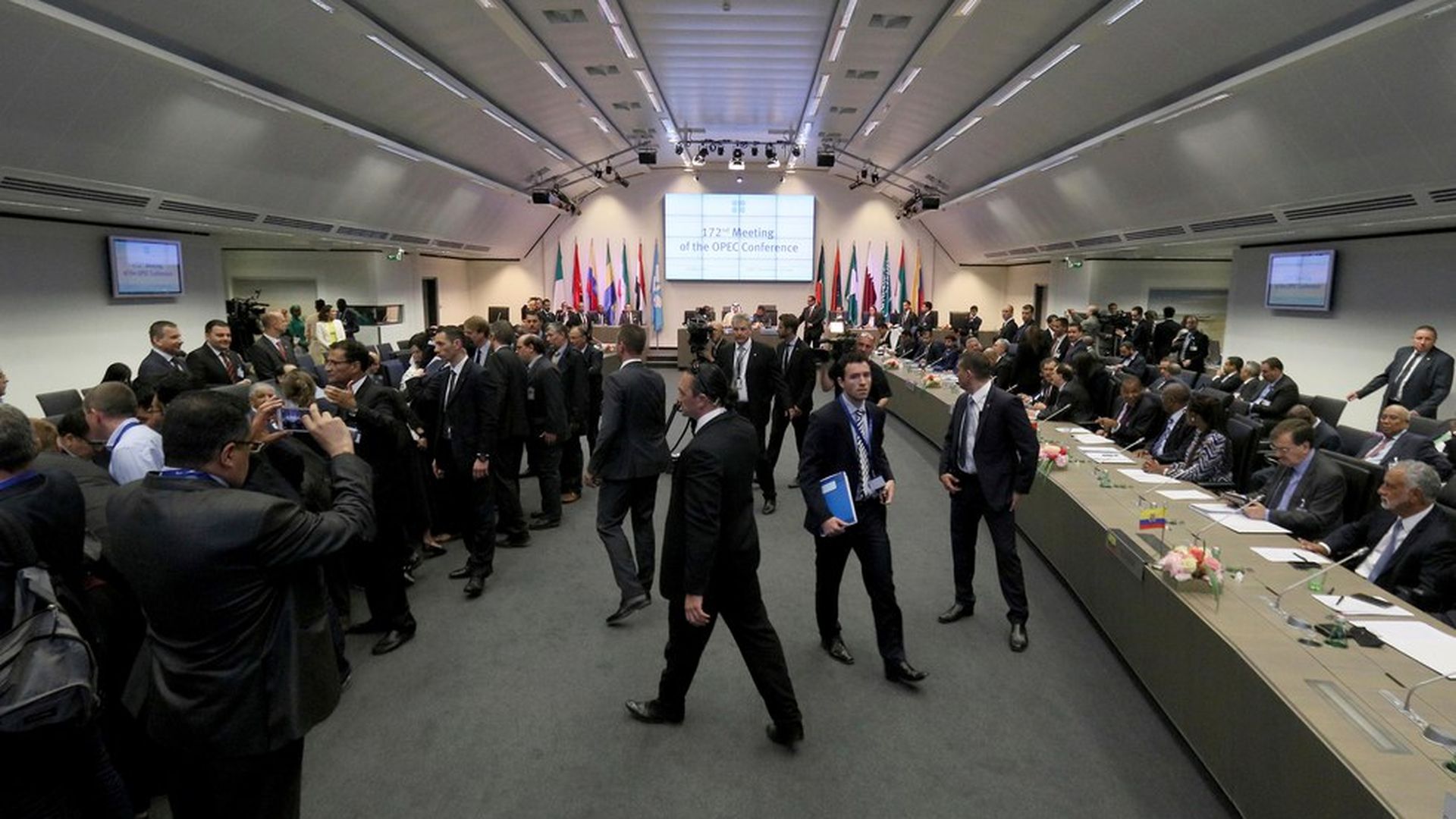 OPEC ministers are huddling in Vienna this week where talks will culminate in a Nov. 30 meeting about the future of the production-limiting agreement between the cartel, Russia and some other producers.
Why it matters: The near-term future of oil markets and the competitive landscape for U.S. producers rides in part on whether an agreement is reached to extend the roughly year-old deal — under which producers have jointly cut 1.8 million barrels per day — and what the particulars would be.
The agreement and intense interest in its future signals how the U.S. production boom has upended the global crude oil market, forcing longtime heavyweights Saudi Arabia and Russia to make difficult tradeoffs between prices and market share — and driving new cooperation that has an uncertain future.
What to watch: Analysts are certain there will be an extension of the deal beyond the first quarter of next year, when it's currently slated to expire. The big questions are how long and whether there are changes to the production levels.
Crystal ball: A Barclays research note making the rounds Monday morning forecasts either a six-month or nine-month extension, but predicts that oil ministers will punt on a very pivotal question.
"Whether or not the countries extend and the duration of the deal are not the relevant questions in our view. We believe the level of the cut is what really matters, and we assign a low likelihood to this detail being announced on November 30," it states.
Player to watch: Vladimir Putin. One dynamic getting some attention in recent days is Russian producers' angst at continued output limits and whether Putin will again override those concerns.
Speaking on CNBC on Sunday, RBC Capital Markets analyst Helima Croft said markets have been expecting the deal to be extended through the end of 2018, but now there's some uncertainty.
"Now there has been a new jittery-ness coming into the market because the Russians don't look quite as solid as they did a few weeks ago, and a number of the major Russian corporates have been very public about their displeasure about extending the agreement beyond Q1 of 2018," she said, adding that if Russia doesn't extend the cuts, prices could drop.
To be sure: A piece in the Wall Street Journal looks at the potential market effects of extending the deal. They report: "Some [OPEC] members, along with outside analysts, say that OPEC could overstimulate the market and send prices too high next year. That, in turn, risks depressing demand for crude."
Go deeper